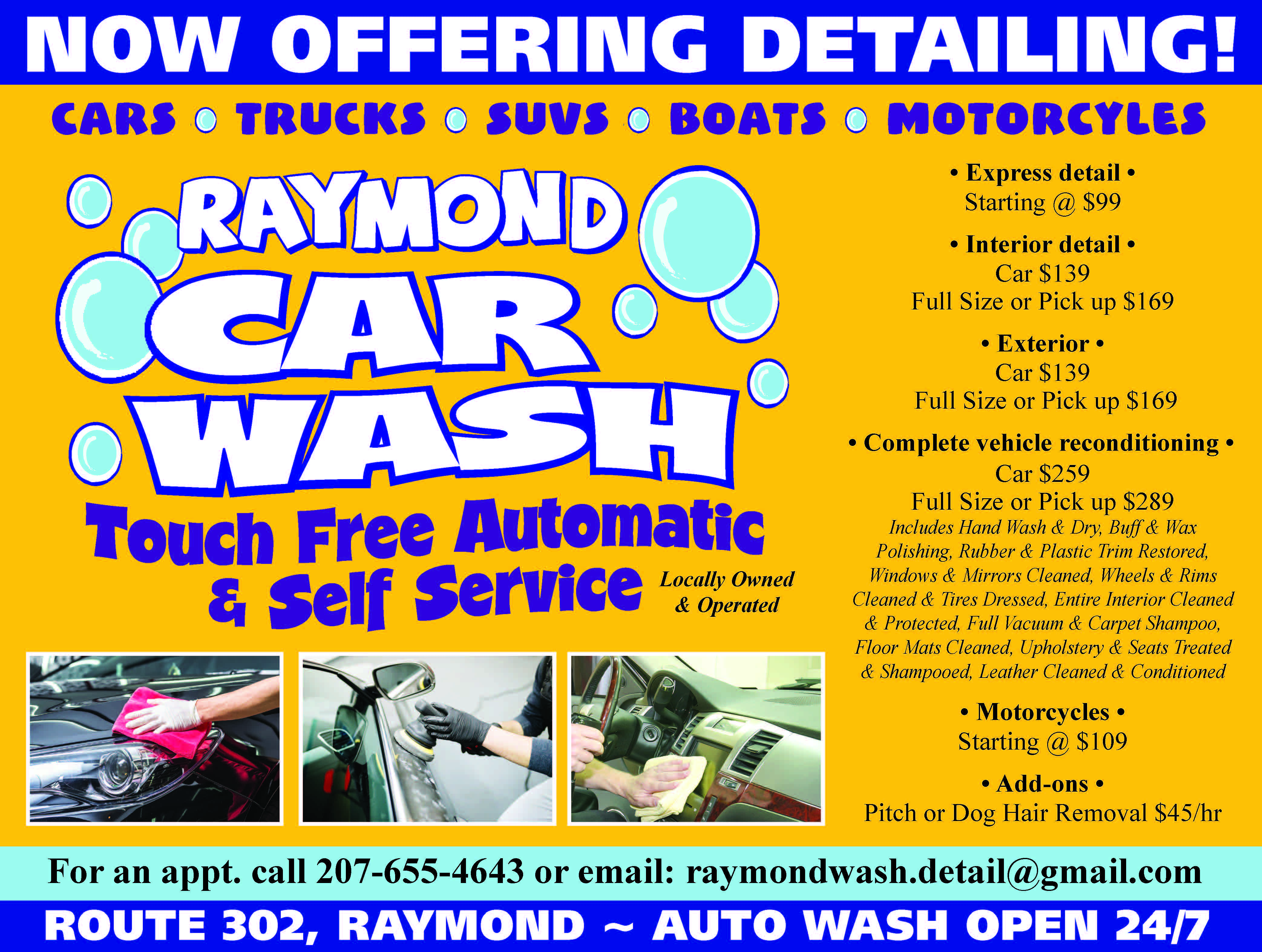 Click to email or schedule your appt.
By Lorraine Glowczak
Raymond Car Wash has been a trusted Lakes Region business with happy and steadfast customers from the greater Raymond area, as well as to summer visitors, for the past 16 years.
And now - as a result of the many requests by area patrons, Raymond Car Wash has recently incorporated an additional service. "We have been asked for a long time to add detailing services to the car wash," stated Owner, Drew Taylor. "So, last spring I decided to accommodate those requests and now offer express detailing and complete detailing packages for most vehicles including boats. We are now in our second year and are already taking appointments for two weeks out."
Being a full-time entrepreneur who owns the building and storage units next door to the car wash, Taylor, married and a father of two, also keeps busy as the owner of Kingsley Pines Camp. Knowing that his schedule would not allow his own personal touch to detailing on a daily basis, he sought out another local entrepreneur who knows the importance of customer service and satisfaction to manage the demand for service.
Melissa Duchesneau, Raymond Car Wash and Detailing Manager is a Maine girl who works hard at making sure customers drive away happy – and are proud owners of their "like new," clean vehicles once they leave the lot. She began managing last spring after taking courses on detailing and working at other shops to gain experience and expertise.
"I tend to be very meticulous," stated Duchesneau, who also owns MidRidge Farm in Casco with her husband. "Owning my own business, I can't help but bring the level of detail and customer satisfaction from that area of my life to this business as well."
Melissa Dechesneau, manager and
Drew Taylor, owner
This is what makes Raymond Car Wash and Detailing stand out – the quality of service they provide as well as the care and personal touch they add to each vehicle that comes through their detailing doors. "We are not in the business of rushing a vehicle in and out," Taylor stated. "We often like to have the vehicle come to the location prior to the appointment so we can take a close look at all the areas of concern. Each vehicle is unique, and each requires different attention. By examining the vehicle prior to detail cleaning, we are able to set the right expectation and the customer can then leave with that expectation met and be ecstatic with the service we have provided."
This type of quality relationship with the customer is their driving force to success. Paul Druchniak became a detailing customer last year and has had three vehicles and a boat detailed at Raymond Car Wash and Detailing. "I tried most of the detailers in the area and Raymond Car Wash is by far the best!"
Nina Kamman concurred with Druchniak's assessment. "Melissa met and exceeded my expectations," Kamman said. "Close attention to detail was very evident. I would highly recommend Raymond Car Wash."
Below is just a small list of the various detailing options one can obtain at Raymond Car Wash and Detailing:
Express detail includes wash, wax and vacuum. The vehicle will be washed and scrubbed with an express wax and protectant on the exteriors. This service also includes window cleaning (both inside and out) as well as interior vacuuming, dash wipe down and cleaned tires. This service begins at $99.
Other options include a complete exterior detail, complete inside and out reconditioning and complete interior detail. Theses services begin at $139.
When asked what the most difficult cleaning service they offer was, there was an emphatic, "Tree sap removal," from both Taylor and Duchesneau. How do they successfully remove tree sap? "It's a secret," joked Taylor. "We can't give away our secrets."
Duchesneau also stated that dog hair removal is a close second to sap removal in terms of difficulty.
For a spotlessly cleaned vehicle or boat – and personalized service to boot, contact Taylor or Duchesneau by email at
raymondwash.detail@gmail.com
or by phone at 207-655-4643 to make an appointment. Detailing services are offered from May through October, weather permitting. Hours are 9 to 5 on Tuesdays through Fridays and Sundays. The self-serve wash remains open 24/7 year-round.