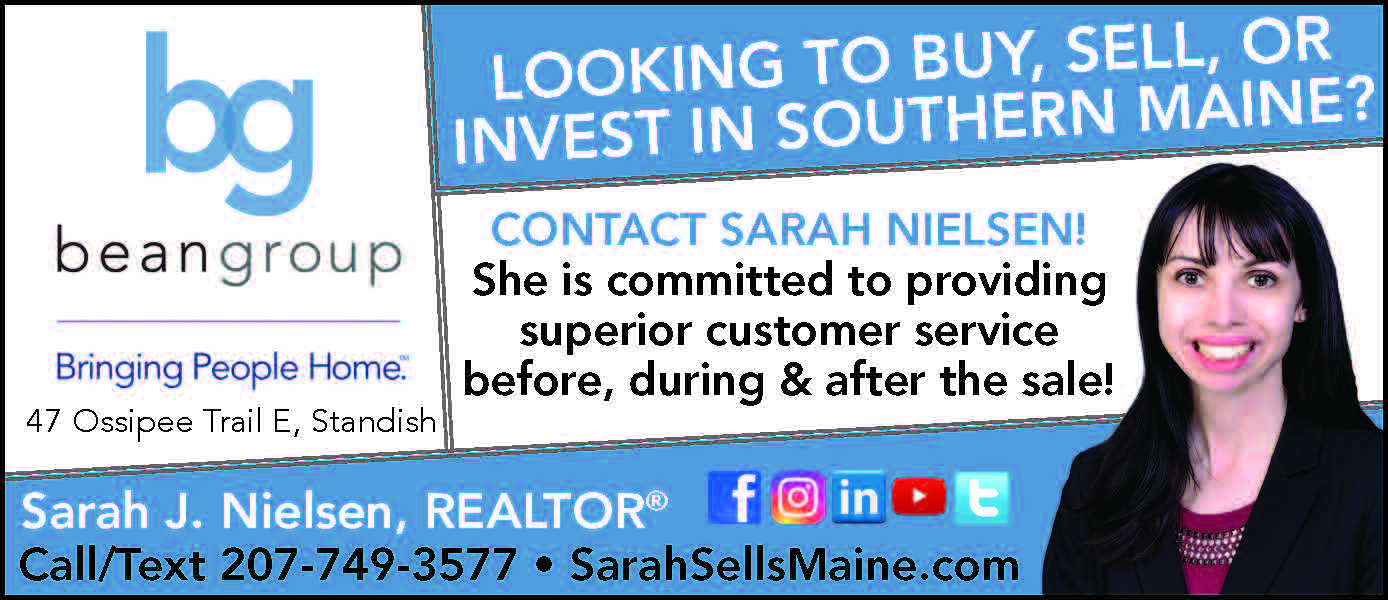 By Gayle Plummer
You've just purchased your dream home and you delight in the comfort of walking into your front door, after a long day at work or a weekend getaway. However, the first few months after the purchase of your new home, there may be many questions and concerns that you have, but feel you are all alone. There is no need to worry with Sarah Nielsen of the Bean Group. In fact, if you are looking for someone who will be there post-sale to help with all of your questions and concerns that may come after the transaction, Nielsen is the Realtor® you can trust.
Nielsen opened her business in April of 2018 and works out of the Standish office at 47 Ossipee Trail East; and has a strong background in her field. She grew up in Gorham and now resides in Windham and fully understands the local market conditions. With her love of Maine and her dedication to her clients she says, "I want my clients to know that I go above and beyond the call of duty for each of them. It's very important to me that all of my clients feel they are my top priority at all times throughout our entire relationship. I grade my success based upon my clients' satisfaction."
Anyone who works with Nielsen will not be disappointed. In fact, a former client and first-time homebuyer, Karla Briggs stated that Nielsen was amazing throughout and after the entire purchasing process. "Sarah has always been available to answer my ridiculous, first home buyer questions, Briggs said. "She has been here for the last 8 to 9 months in search of my dream home. The time, effort and care she has put into this is nothing short of astonishing. I really can't say enough good things about her! She's there day and night and has helped me through this process more than I ever could have imagined. I am beyond impressed with her customer service skills. Thank you so much Sarah for helping me and my dogs find a place to call home. We are so grateful to you and your guidance through this entire thing. I would highly recommend Sarah to anyone and everyone looking for a Realtor®."
Nielsen is a Sales Agent and is currently working towards earning her Associate Broker license. Before completing her State Exams for her license she earned her bachelor's degree in English at USM and graduated with honors. She has a strong background in customer service jobs where she learned the value of always putting the customer first. She has real, hands-on experience representing clients ranging from investors to first time home buyers; as well as assisting buyers with the purchase of homes that were for sale by their owners.
Nielsen strives to continue growing her business and making connections. It is her dream to someday run her own brokerage where she can help other agents launch successful careers in real estate. Although she has only been a Realtor® since last year, she has achieved her goal of representing numerous clients with a variety of different needs. She looks forward to continued success in the years to come.
Sarah Nielsen
Nielsen goes on to say, "I work for a great agency whose tagline is 'Bringing People Home.' Bean Group is one of the largest real estate firms in New England with offices in Maine, New Hampshire, Massachusetts and Vermont. Bean Group agents sell more than $2 billion worth of real estate annually and I'm proud to work for a company with a proven track record of success."
She tells us that, "As a Realtor®, my goal is to provide superior customer service to all Maine buyers and sellers, I represent. My clients' satisfaction is of the upmost importance to me. From the beginning of each transaction to the end, I strive to offer support ranging from property research, negotiation, deadline management and beyond. As my clients can attest to, my support does not end at the closing table."
Let Nielsen bring you home, today. She is available at your convenience, seven days a week. You can her contact by phone at 207-749-3577 or email at Sarah@SarahSellsMaine.com. You can also contact her on her website at

www.SarahSellsMaine.com

. Nielsen is on Facebook, LinkedIn, Instagram and Youtube.