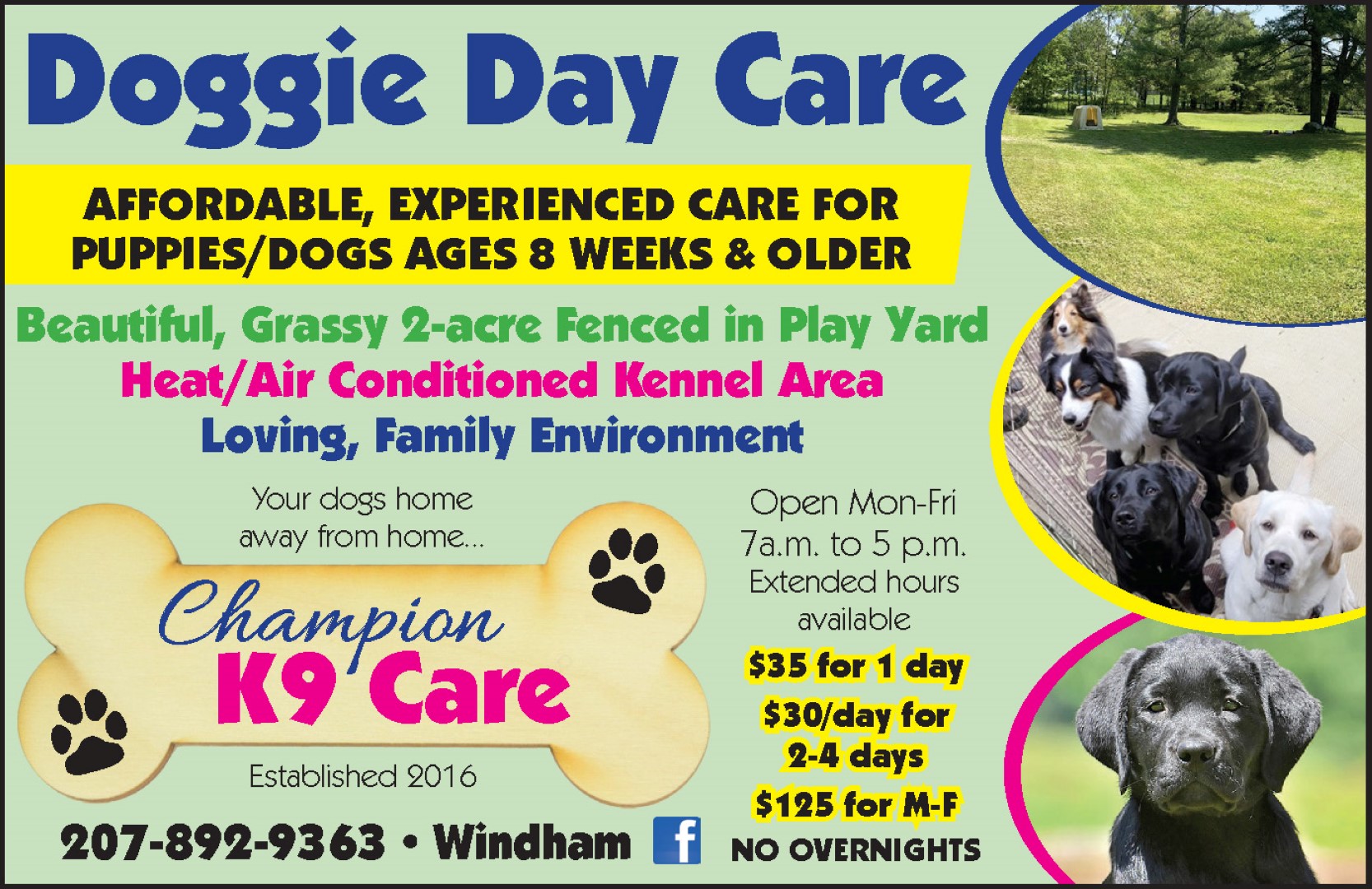 By Briana Bizier
Few things are as exciting as the moment you bring home a new member of the family. From
sleepless nights to lessons about potty training, welcoming a puppy into your home is a major commitment.
Tina Constantine and her daughter Abby of Champion K9 Care in Windham are here to help! A self-described
"stay-at-home farm mom," Tina has recently opened her home to puppies between the ages of eight weeks to twelve months. Pups who come to spend the day are treated to plenty of one-on-one attention, outdoor play time, walks through the forest, and basic training.
"
Sometimes, puppies can get into trouble if they're left home alone," Tina explains. "You hear people
say, 'Oh, my puppy ripped up the couch.' That can happen when they're bored."
When puppies come to Champion K9 Care, they have the chance to exercise, to socialize with other dogs and humans, and to become better canine citizens. Basic training is emphasized, so puppies learn to keep four paws on the floor, to sit when they
're receiving treats, to walk with a leash and to settle in their crates for nap time.
Located on a quiet road in Windham, Champion K9 Care is part of a working farm. Leaves fluttered through the air as Tina led me on a tour of their expansive outdoor play area for the pups, which features a
"ball tree" full of tennis and soccer balls and a large fenced-in area where pups can play safely.
"
We work on playing with balls, and we do a lot of work on potty training," Tina explains.
Larger doggie daycare facilities, Tina tells me, will sometimes have concrete floors and no designed place for
"potty time," which can be very confusing to a young puppy. Champion K9 Care, on the other hand, is run out of Tina and Abby's home.
"
So, potty training is important here," Tina adds, with a laugh.
During my visit, the pups were enjoying
"nap time" in their crates. Several adorable puppies snuggled stuffed animals while soft music played in the background of the quiet, warm, and carpeted room. Tina explains the puppies get several playtimes and nap times during the day, as well as lunch. The room is cleaned only with natural products, because puppies have such a habit of exploring the world with their mouths!
The walls of the pup
's nap room are lined with ribbons Tina and Abby, who breed dogs of their own, have won in various dog shows. "I did have a dog who showed in Westminster," Tina tells me, pointing to a picture of a gorgeous golden retriever. "That was pretty exciting."
Despite her history with purebreds, Tina emphasizes that all puppies are welcome at Champion K9 Care, regardless of their pedigree. "
Lots of bigger doggie daycares don't accept puppies," Tina explains. "We're trying to fill that niche and provide home care for younger dogs."
Their goal is to have your puppy
get the one-on-one care they need to blossom into an obedient and happy dog that you can be proud of.
In addition to their training program and regular day care, Champion K9 Care also offers baths and nail clippings, as well as the option to add additional training sessions for your puppy. Consistent, positive interaction and teaching will be the guide to their future behavior and they know the importance of providing a learning environment while allowing the dog to still be able to be a puppy.
Abby, a current student at York County Community College, is enrolled in their Animal Care and Management program, where she
's learning how to manage a pet care business. While Abby attends classes, Tina watches the puppies.
"
The dogs are never alone," Tina explains. "We're here to provide a good, safe, fun place to come and enjoy the day. Dogs get so excited they jump right out of the car when they arrive," Tina adds, with a laugh. "Because all of their friends are here!"
With the holidays approaching, keep in mind that Champion K9 Care also offers gift certificates. If you know someone who has just welcomed a new four-legged arrival, both the owner and the puppy will love the gift of fun-filled farm days at Champion K9 Care!
They are open Monday through Friday from 7 a.m. to 5 p.m.
Puppies can be dropped off or picked up at Champion K9 Care at any time.
For more information or for a tour of their daycare located at 8 Cartland Road in Windham please call 892-9363. You can also find them on Facebook. They are excited to welcome your puppy into their home.