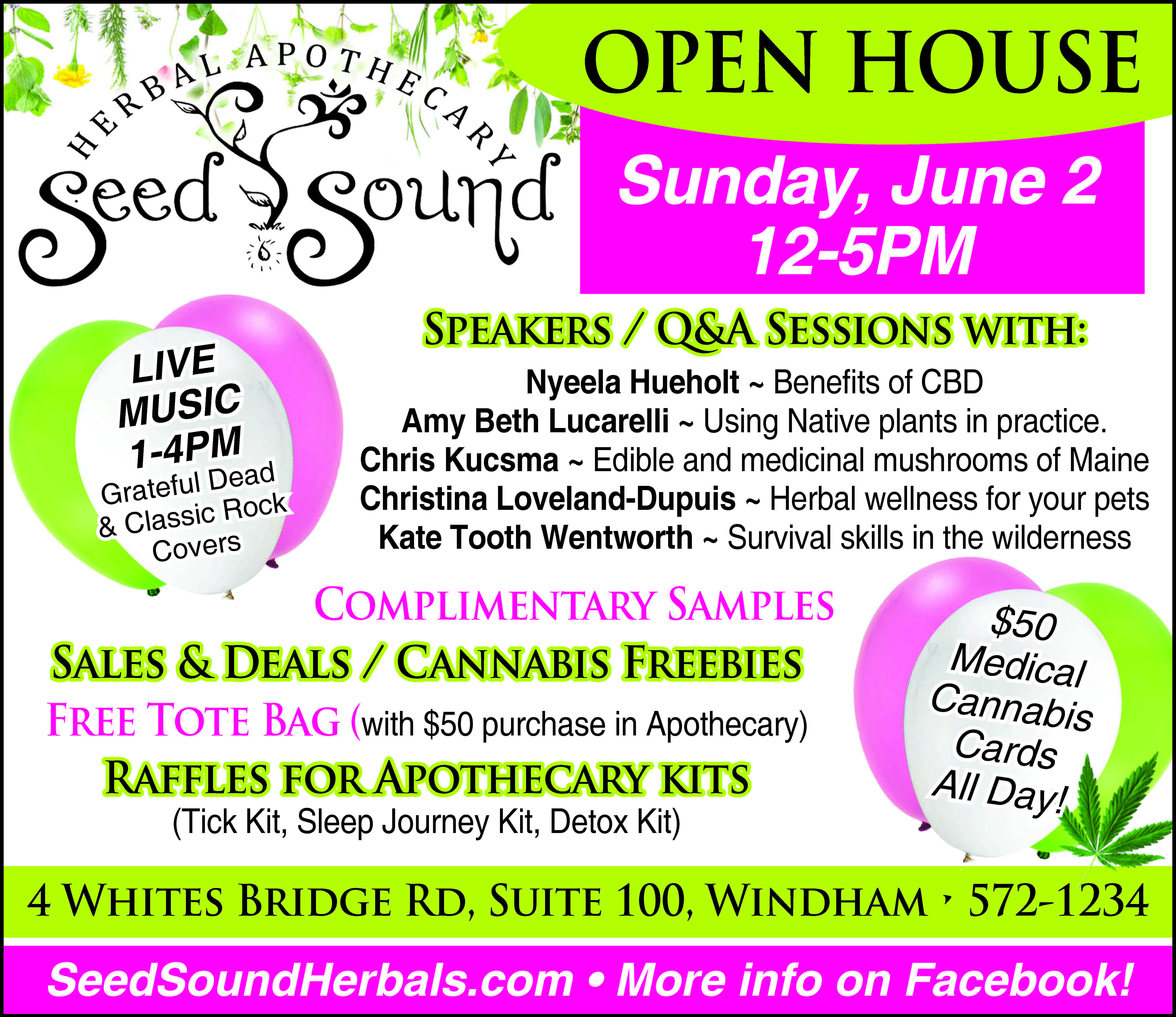 In the early 1900s homeowners and farmers would grow and harvest their own herbs for cooking, decoration and medicinal uses. Today, this is not something that most people have time for. Luckily, Lauren Beatrice at Seed Sound Herbal Apothecary, took her passion of making natural remedies and turned it into a new business in Windham.
Beatrice is a clinical herbalist and a medical marijuana caregiver. She runs the two businesses completely separate. She opened her apothecary five weeks ago in the building at 4 White's Bridge Road. Beatrice has been a licensed cannabis caregiver for two years, but has been in the industry for eight years.
Last year she completed her two-year certification as an herbalist under the direction of Debbie Mercier from Greenwood Herbal in Limerick. She had been harvesting herbs on her own for 10 years before this class. She participates in herbal classes offered locally, many taught by well-renowned herbalists. One of the classes she took was herbal anatomy and physiology.
"I love it so much," Beatrice said.
The shelves of the apothecary are lined with jars of herbs and bottles of plant extracts. The store is rounded out with unique crystals, gems and minerals, salves and jewelry made my local artisans.
"Cannabis is a medicinal herb that should be on the shelves, but the law forbids it," Beatrice said.
"Herbs can be used as medicine. I use it as medicine and teach people. They go hand and hand."
Since the beginning of July business has been picking up with repeat customers and word of mouth referrals, Beatrice said.
The most popular items in the store are CBD oil and CBD salve. Her tea blends are also in demand. For those who are not local to the store, items can be mailed. Once the website is up and running, orders can be placed there.
"Her stuff is top of the line," said customer Jo Moser.
Herbs should be recommended by someone who knows the reactions and interactions with prescription medications, pregnancy and certain medical conditions. Beatrice will be offering consultations to recommend which herbs and extracts could help certain people and how much of an herb to use.
Lauren Beatrice at her apothecary shop
"Consultations will be very thorough," she said. She will focus on spirituality, health, social history and pharmaceuticals during the sessions.
Herbs can help with a multitude of ailments including Lyme Disease. Herbs like teasel, cat's claw and japanese knotweed all can help in the treatment of Lyme. Many people come in for popular herbs such as, lavender and eucalyptus, Beatrice said.
She has an extract blend that she recommends for migraines and teas recommended for certain ailments or rejuvenation, she said.
"When herbs present themselves in your path, I believe it's something you need or someone in your life needs," she said.
Beatrice grows her own cannabis using organic methods. She also makes full spectrum CBD oil using the whole plant. The hemp in the shop comes from MOFGA certified Wild Folk Farm. Candies infused with hemp derived CBD in the apothecary are made by Beatrice's friend, Jillian Pelletier of VirgoMoon Botanicals, LLC. Other friends make the salves, toothpowder, creams and deodorants. The apothecary sells essential oils made locally.
The extracts in the shop are made with organic grain alcohol and spring water. All of the dried herbs available are organic or wildcrafted.
Customers coming into the apothecary are split with half looking for herbs and the other half looking for cannabis. All dried medicinal herbs are priced individually by weight and the extracts are $13 for a 1-ounce bottle or $24 for a 2-ounce bottle. Custom blends are $15 per ounce.
"She really is a scholar of this," said Moser.
Tim Hanrahan of Lovelight Medicinals also is a medical marijuana caregiver who rents space at the apothecary.
There will be a grand opening celebration on Saturday, August 18 from 11 a.m. to 7 p.m
. For more information, call 207-595-2060, visit
www.SeedSoundHerbals.com
once it's active, or find them on Facebook or Instagram.