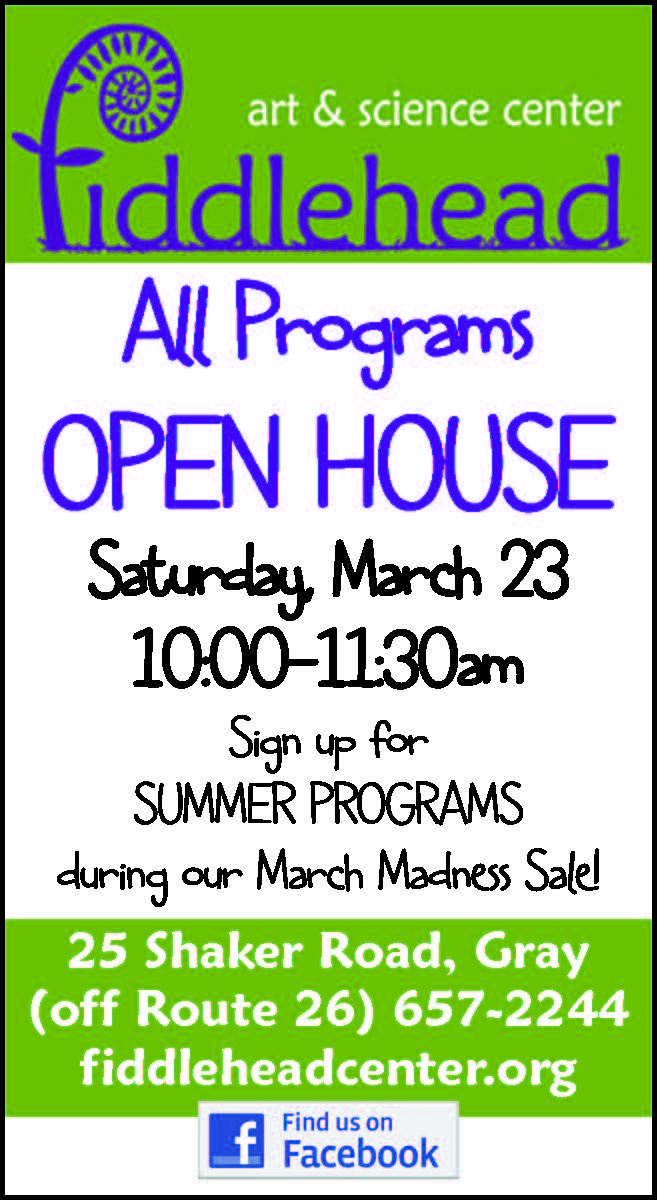 Learning and enrichment take center stage at Fiddlehead Art and Science Center on Shaker Road in Gray. The non-profit is in its 15th year as a preschool, before and after school program and private music, theater and art classes.
The program started in the center of Gray, moved to Pineland and is now in its' 10th year at the current location, where they have 16,000 square feet for all of their offerings; including a large backyard for gardening, playing ball and other outdoor activities. There are plenty of classrooms including an art room with clay wheels, a theater with a stage and private music rooms. Fiddlehead has offered 40 summer camps options this season, "and we have had about 60 campers each week enjoying art, science, theater and music" said executive director Kimberly Allen.
"Based on the Reggio Emilia approach, it is child directed, explorative play," Allen said. The children learn from the world around them, inside and outside and what is on their minds. Their creativity provides the learning opportunities. Teachers use art, story books and science projects based on what the children are interested in or have questions about.
There are classes offered as a part of the afterschool program, along with additional learning opportunities for those that want to participate outside of the after school program. Classes in music, theater, pottery and art are offered most week nights.
"The private music program is really a secret," said Allen. "People don't realize we offer private music lessons once a week for adults and children." The classes vary depending on the needs of the students: a music appreciation class for younger students, voice lessons or lessons in violin, guitar, piano, fiddle, woodwinds and brass. Many of the instructors are the same ones that teach in Portland. The half hour lessons are once a week September to June with an optional recital at the end of the year.
Music classes are offered to those who know little about music to someone who wants to refine their current skills. "No experience is necessary," said Allen. There are guitars and violins for rent from Fiddlehead. "We want it to be accessible for anyone interested," she said.
Fiddlehead has space for 60 students in its before and after school programs and 22 in its preschool program and 100 private music spots available each week.
The fourteen employees are highly trained and knowledgeable in early childhood education for preschool. The after school program has instructors who are local artists, performers and formally trained teachers. The music teachers are professionals from the community and some are music students in college pursuing music education.
"We have really talented staff. We are offering what people are looking for, a deeper experience in arts, science and music," said Allen. "We are about caring and building relationships with people."
Kids come back to visit even after they have left the school. One student came back to be a teacher and the present program manager was a music student.
"It's really a special place. You're part of a community when you're here," Allen said. "I think the students enjoy being here, they are excited as they arrive to tell us about their day and look forward to what the classes are offering. Each child is welcomed and I hope that they feel cared for while in our center."
Students come from a 20 mile radius for the programs offered at the center. Other places have components of the Fiddlehead's program, but none have the all-in-one-place availability. Fiddlehead even offers an unlimited program for after school students, where they can partake of everything from music to pottery to acting for one price. "They have the opportunity to try everything and learn what they enjoy the most and go deeper into that subject," Allen said.
Fiddlehead isn't only for children - as they offer private music classes, theater programs and pottery classes for adults.
Fiddlehead is open from 7 a.m. to 5:30 p.m. with preschool from 9 a.m. to 3 p.m. and music from noon to 8 p.m.
There are openings in the preschool class and for two after school teachers, particularly teachers that are well versed in science.