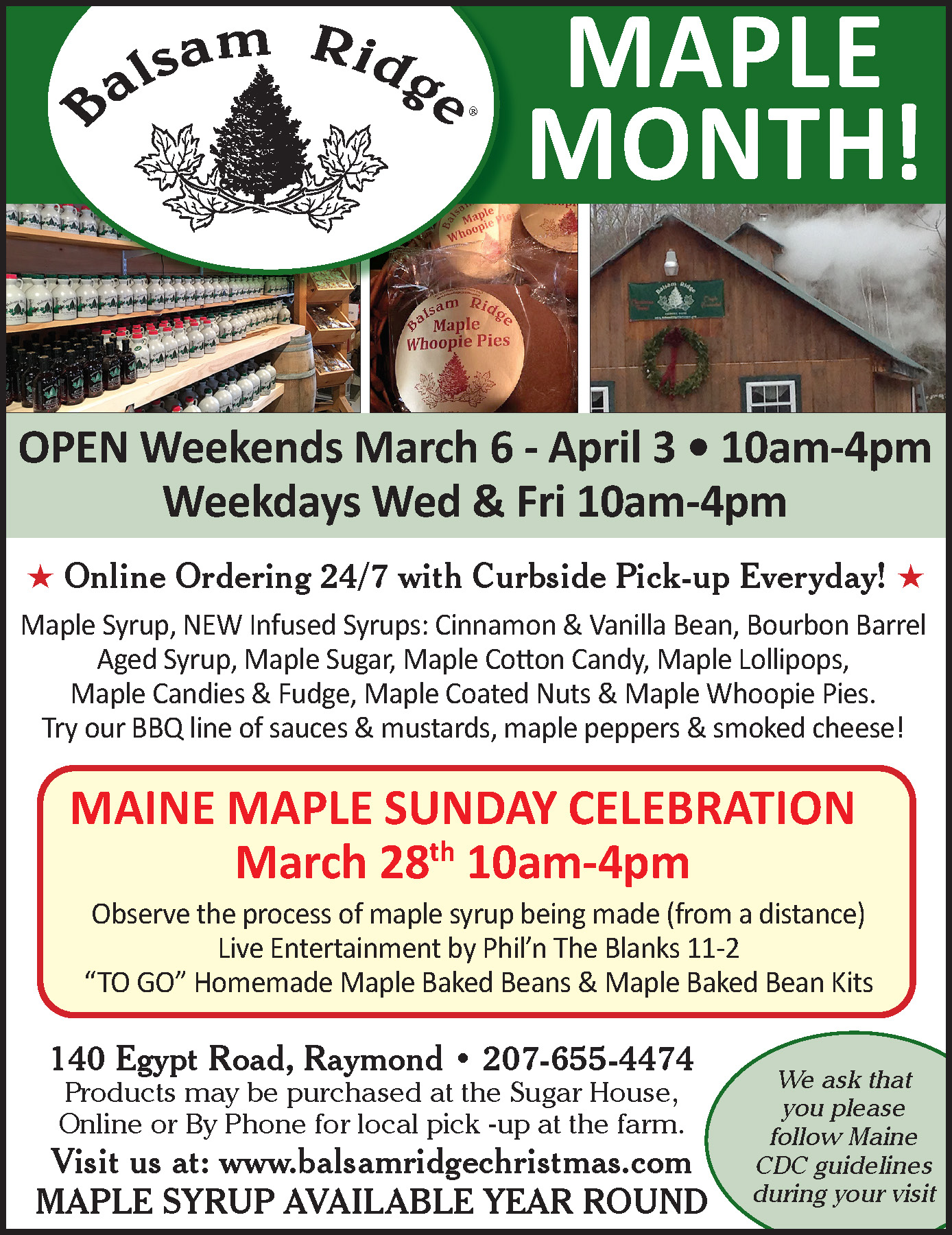 Balsam Ridge Farm is gearing up for this year's Maine's Maple Weekend, this Saturday and Sunday - March 25th and 26th. Located on Egypt Road in Raymond, Balsam Ridge is a family owned farm that started as a Christmas tree farm in 1993 when Dewey and Sharon Lloy bought the property. They cleared the land for the farm before even building their home, Sharon said.
The business started as a hobby, but became a year round operation with the syrup production and over 10,000 Christmas trees. Dewey had an aunt and uncle who owned a tree farm, so the Lloys had been exposed to the business. Coming from South Portland, the couple and their three children longed for more space.
Each season there is always something that must be accomplished, from new tree plantings, to hand trimming each tree, to making maple syrup. "We hand sheer each tree based on the characteristics of the tree. Like people, they come in all shapes and sizes," said Sharon.
In the late winter/early spring, sap starts running from the over 1,000 taps on the property. The sap runs through tubes into the pump house, which then pumps the sap into the sugar house. Seventy percent of the syrup is made by Sharon in the oil burning evaporator. With a young family when they first started, she offered to take the helm if it was automated. Dewey made that happen and she was able to run a household, take care of the kids and their needs, as well as produce close to 300 gallons of syrup each year.
Boiling sap
"That satisfied the needs of the farm," Sharon said. The farm now offers online sales and shipping for those who can't make it to Raymond. Customers come from all over to visit the farm and return year after year for their supply of Maine syrup. "Families come from all over - Massachusetts, Connecticut and beyond. They come for skiing and visiting family. We have a following," she said.
Education has been important at the farm. Watching and learning how sap is boiled down into syrup brings back childhood memories. Most people remember when they made syrup with their grandparents and that they did something to help out.
"It brings them back to childhood," Sharon said. "People are always amazed at the amount of sap it takes to make a gallon of syrup." It's said that 40 gallons of sap make 1 gallon of syrup, but at times it takes a little more sap to make it the right consistency, Sharon said.
This year Balsam Ridge is bringing back its popular Pancake Breakfast from 9 a.m. to 2 p.m. on Saturday and Sunday. The Raymond Lions Club will run the breakfast and all the proceeds will go to them to help support their programs in the community.
In addition to the pancakes, there will be demonstrations of tree tapping at 11 a.m. and 2 p.m., and if the pancakes weren't enough food, there will be hot dogs cooked in sap and homemade maple baked beans from 12 p.m. to 4 p.m. At 1 p.m. visitors can try taffy on snow, which is when heated syrup is poured over snow and it turns into taffy. They will also have maple syrup over ice cream, a Maine's Maple Weekend staple.
On Sunday, there will be live entertainment featuring Red Beans & Rice from 11 a.m. to 2 p.m. All weekend there are self-guided tours and the Sugar House and Gift Shop will be opened for all maple needs - including homemade confections such as maple whoopie pies, maple cotton candy and more. People are also encouraged to snow shoe through the Christmas trees if conditions are right.
March has always been Maple Month at Balsam Ridge. Don't miss out on the fun. For more information on the farm or to purchase syrup and other goods online, visit:
www.BalsamRidgeChristmas.com
or visit them on Facebook to find out when they are boiling sap for a drop in visit by appointment.