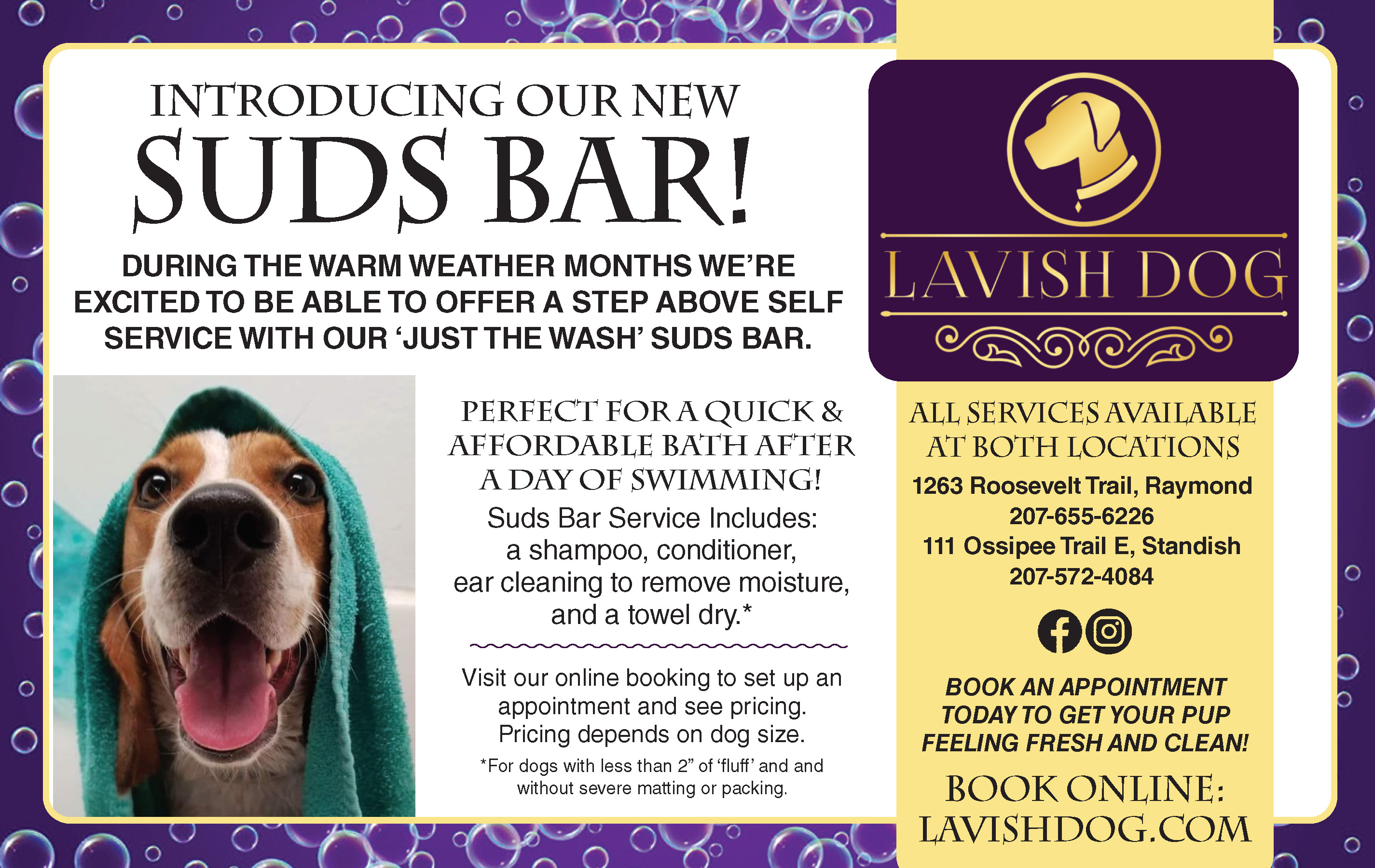 Having a dog groomed doesn't have to be stress for the owner or for the dog. At Lavish Dog Day Spa dogs are treated with love and respect as they are groomed one-on-one from start to finish. Lavish owner and stylist Caitlyn Brundage has worked in the industry for nine years and has seen what some grooming styles can do to the stress level of dogs. She opened Lavish to be an alternative to large corporate groomers. At Lavish each groomer sees only one dog at a time and grooms them from start to finish. She does not crate dry them and spends quality time with each dog.
Recently Brundage brought on a second stylist Briana Ring, who works three or four times a week.
"I've had pets my entire life. It's great to hang out with people's dogs," said Ring.
"I like dogs being able to bop around. It's relaxing and comfortable," said Brundage. Since opening last year, Brundage said she has gotten a lot of positive feedback. "A lot of people say their dogs are normally not good for groomers, but now they are." She especially sees a difference in the dogs that followed her from her last grooming job due to spa-like environment she provides. Atmosphere makes all the difference.
Grooming can take anywhere from between 1 ½ hours for a small or medium dog to up to three hours for a Newfie or other large breeds.
"We want to make it as easy for the owner as possible," she said. They keep their clients informed with an active Facebook page and post pictures of "the cuteness" as often as possible.
The basic package for grooming includes a premium shampoo and conditioner for the coat. Each dog that is "extra furry" gets a shed-less bath to reduce the amount of hair left around the house. The groomer brushes the dog's teeth and does a blueberry facial scrub. They also grind their nails and clean their ears. One of the best treatments is the mud bath which helps restore the coat, detoxify, nourish, protect, decrease smell and overall rejuvenates the dog. It also works on hot spots and dry skin. Prices for the mud bath vary depending on the coat and size of the dog but range between $10 and $25 on top of the groom.
One of the unique services is pet safe dye. The non-toxic dye shows off the human and dog personalities. This type of creative grooming is safe for the dogs. "Some enjoy it. They love the attention," said Brundage. "I try to familiarize myself and excel in all areas of dog grooming," she added.
The prices vary depending on the breed, coat and temperament. Lavish does not groom cats.
New features this year are a chip card reader or pay with phone options. They are also doing online booking, which gives dog owners the option to check their schedules and book 24 hours a day, when it is convenient for them. Through the booking site, which is linked to the salon website, clients can get an idea of the cost of the services they are signing up for.
Lavish is looking forward to having a professional photographer take pictures of the dogs one Saturday each month and grooming appointments will book up quickly.
The salon hours are by appointment, but they try to be as flexible as they can. Regular hours are generally Tuesday through Saturday from 9 a.m. to 4 p.m. Evenings are available by request. Visit them at www.lavishdogdayspa.com and click on the book now button. Choose the closest breed to what the dog is. Brundage will take phone appointments for multiple dogs or those uncomfortable with online booking at 207-572-4084. She returns phone calls as soon as she is in the salon.
Lavish Dog Day Spa is celebrating their first year anniversary in just a couple weeks. If you haven't had your dog groomed there you don't know what you are missing. It's an experience your dog will be begging for. Make an appointment for fall grooming now, as their schedule fills up fast. They are located at 1004 River Road in Windham. Don't forget to like them on Facebook to keep up with their work and maybe even see pictures of your dog!