With spring right around the corner, there's never been a better time to consider sprucing up your home's exterior using the services of Viking Power Wash, a company known for its meticulous attention to detail and exceptional customer care.
Based in Standish and serving the Lakes Region and most of Southern Maine, Viking Power Wash goes above and beyond to make cleaning a home's exterior as easy as possible for homeowners.
"We want our customers to know that when they deal with us, we want to make it the easiest possible process for them," Viking Power Wash owner Ryan Carpenter said. "We keep our focus on the customer through open communications and provide tremendous value for the services that we offer."
Those services include house washing, pressure washing, roof cleaning, wood restoration, and deck and patio cleaning using a soft-washing approach that cleans thoroughly and is gentle on exterior surfaces.
"Truly the best thing about what we do is helping people," Carpenter said. "It's amazing to watch it all unfold when a property is cleaned and then seeing the people's reaction when it's all done. It's extremely rewarding."
According to Carpenter, while there are several companies that can be hired to clean a property, he believes that Viking Power Wash's never- ending journey to improve and enhance their customer experience is what sets them apart from the competition.
"From communication, on-time technicians, a completely transparent sales process, and a 100 percent satisfaction guarantee, our customers can expect nothing but the best results and a customer experience that they can use as a new standard when dealing with local contractors," he said.
Viking Power Wash uses a specially formulated process for cleaning homes that is not only safe for the environment but is also a much safer alternative to traditional pressure washing.
"This process will also protect the warranties in place on the building materials on your home," Carpenter said. "I would like the customers to know that when they are doing business with Viking that they are dealing with a trusted, highly rated, locally owned and operated company."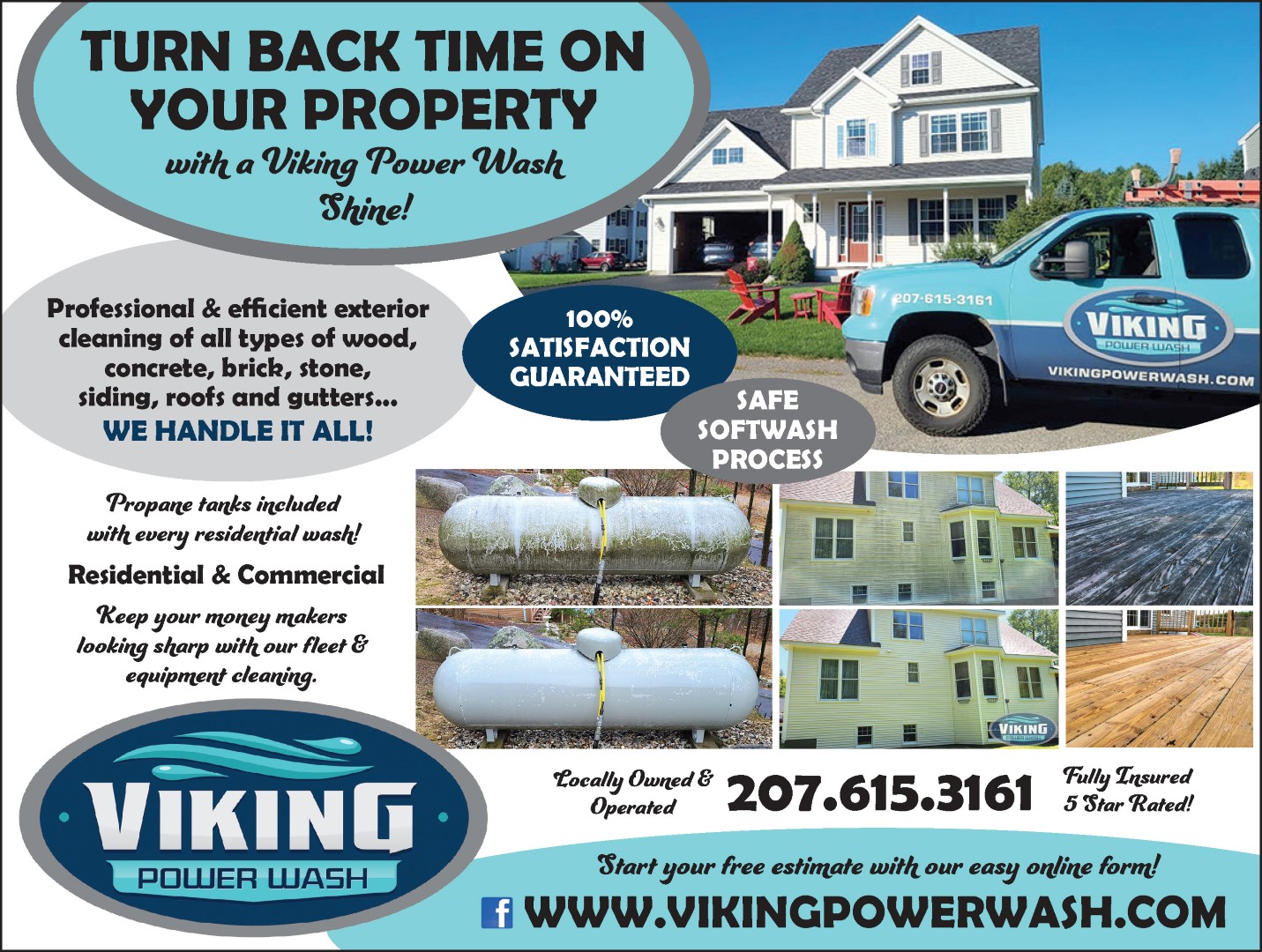 Featuring competitive pricing, experienced, trained, and insured technicians who provide superior customer service, Carpenter said Viking started as a small side job for himself in 2017 after washing his deck and having neighbors and friends interested in having theirs done. The business took off and now Viking Power Wash is looking to add a few hard-working members to its team for the upcoming season.
The company is always seeking ways to staying on the cutting edge of the exterior cleaning industry for its clients.
"From the products we use to the equipment mounted on our trucks, we are constantly trying to improve our processes and procedures so that we can become more efficient and provide better and longer lasting results to our customers," Carpenter said. "We aim to ultimately save them time and money in the long run and help protect their largest investment."
He said the biggest misconception with power washing is that traditional "pressure washing" is the only way to clean your home.
"While high pressure cleaning has its place for brick, stone or concrete, when it comes to your home, soft washing is the safest and most effective process. This is a low-pressure approach that has been outlined by the manufacturer of 99 percent of residential building materials," Carpenter said. "This process uses a blend of specially formulated, environmentally safe soaps and degreasers to remove the staining and buildup on your home, all while using not much more pressure than your average garden hose."
Reviews have been outstanding.
"Highly recommended! I can't tell you how many clients reach back to me and thank me for the referral, but Ryan runs a top-notch service that can add value to your home just by the way it will show when they're done!" Andrew Nash
"I am so impressed with this company. They returned calls or texts quickly. Ryan is very friendly and very professional. He pressure washed our house and garage and did a great job. I even had him clean the gutters and did a great job with that. I definitely will have him again and would recommend them 100 percent." Jim Whalen
"Excellent service! Ryan did a top-notch job. He was in and out in three hours and our entire house looks great!!!I highly recommend this service." Scott Fitzgerald

To schedule an appointment with Viking Power Wash or for an estimate, call 207-615-3161 or visit them online at
www.vikingpowerwash.com
. Find them on Facebook under VikingPowerWash207. <