The cornerstone of any successful optometry practice is providing exceptional care, expertise, state-of-the-art technology, and taking the time to listen to patient concerns while offering comprehensive treatment and quality eyeglass products. All of that and more can be found at Gray Family Vision Centers.
With convenient locations at 6 Turnpike Acres Road in Gray and 8 Crimson Drive in Windham, Gray Family Vision Center focuses on patients and creating a family type atmosphere for everyone who walks through the door.
"Our philosophy is being able to help our patients to take better care of their eyes," said Dr. David Guiseley of Gray Family Vision Center. "We offer comprehensive eye exams and really take the time with patients to ensure they receive the utmost in customer service."
Gray Family Vision Center treats patients of all ages and provides routine eye exams, emergency eye care, dry eye treatment, and care for chronic ocular diseases. It also offers a large inventory of eyeglasses and fits all the most up-to-date contact lenses.
Known for its outstanding customer service and experience, the practice's staff members take great pride in being there for their patients when needed and providing the same level of care and assistance as they would want for our own families, said Dr. Jonathan Cook of Gray Family Vision Center.
"We're independent, locally owned and make our own decisions," Dr. Cook said. "The emphasis is we are patient focused."
Featuring highly competitive pricing, Gray Family Vision Center accepts most major medical insurance and has eyeglass packages starting at $99. It also offers competitive prices on contact lenses, sometimes being even less than some major online sellers.
"We have the experience and the latest in technology to give you the most accurate prescription eyeglasses, the best fitting contacts, and early detection of ocular disease," Dr. Cook said. "The best thing about what I do here is that we get to interact with a lot of different patients from 6 months old and up. We see them when they're young and continue throughout their lives. I find that to be quite rewarding."
Dr. Guiseley first opened the practice in Gray in 1989 and then opened the Windham location with Dr. Cook in February 2013, recently celebrating the Windham facility's 10th anniversary. The practice employs three optometrists, recently adding Dr. John Hamilton, and has 10 staff members, some of whom have been with the Gray Family Vision Center practice for more than a decade.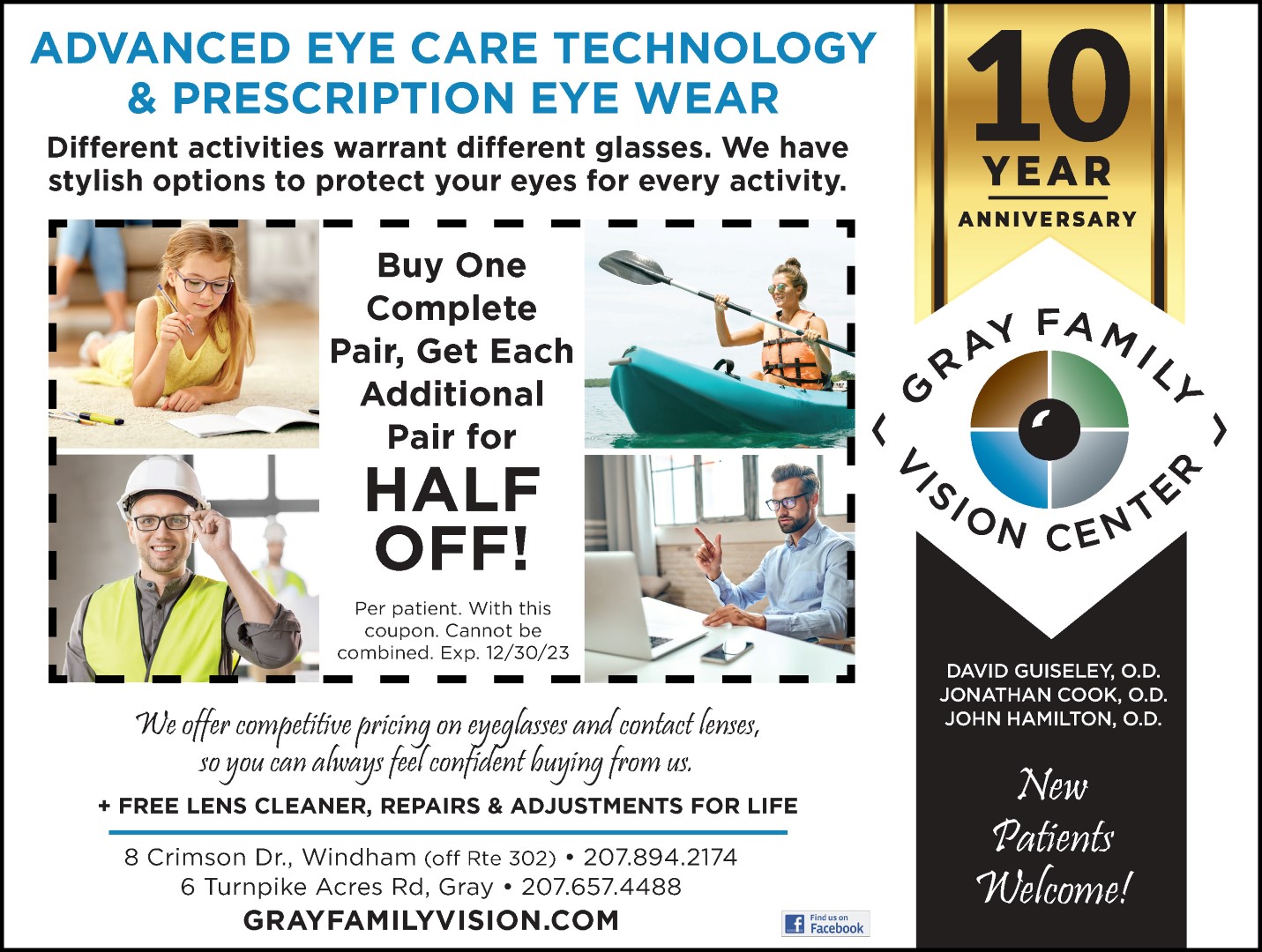 Reviews for Gray Family Vision Center are overwhelmingly positive.

"This was my first visit at Gray Family Vision Center. My appointment went incredibly well. I was late to my appointment, and they still took me in. Dr. Cook and his staff are amazing. He was incredibly honest and didn't try to sell me anything I didn't need in glasses or contacts. He also brought closure to me for a question that had gone unanswered after many years of eye exams with other optometrists. I will make all of my future appointments through this place and have recommended my family and friends here after that first visit. 11/10 experience." Robert Machado

"Wonderful experience! Latest technologies and Dr. Guiseley spent as much time as I needed, answering my many questions." Becky Burns Lee
"I have been going to Gray Family Vision Center since 1994! Couldn't be more pleased with the professionalism and friendly staff – my "vision" family!" Barbara Wentworth
According to Dr. Guiseley, Gray Family Vision Center has strived to remain a relatively small, intimate practice so it can continue to provide the attention to detail that its patients deserve.
"To us, our patients are what make our practice successful," Dr. Guiseley said. "We hear all the time from new patients that they've never had a more thorough exam."
He said a common misconception about Gray Family Vision Center is that they're more expensive than competitors, but counters that it's not the case.
"We have glasses for all price ranges and our patients are surprised at how affordable our products are and the exceptional quality that we provide."
For more information about Gray Family Vision Center or to schedule an appointment, call 207-657-4488 for the Gray office or 207-894-2174 for the Windham office. Or visit
www.Grayfamilyvisioncenter.com
or find them on Facebook under Gray Family Vision Center, P.A. <