Sky's Med Spa, located at 4 Whites Bridge Road, Suite B-5 in Windham, has quickly become known as the area's most luxurious and full-service aesthetics facility and med spa. It's menu of services and list of satisfied clients has continued to surge in popularity not only because it delivers exceptional results but because it places the needs of people first. The quality of products and services along with personal attention is the reason behind their growth and success.
Over the past year they have added several new services offering all the latest and greatest technologies available on the market. Services range from anti-aging and medical aesthetic treatments to skincare solutions, including cosmetic injectables, Botox, dermal fillers, bio-stimulatory collagen fillers, non-surgical thread lifts, laser hair removal, body contouring, radio frequency skin tightening, micro-needling, skin resurfacing, IPL skin rejuvenation, anti-aging and acne facials, chemical peels, teeth whitening, vitamin shots, body treatments, and lash lift and tints.
Sky's is owned and operated by Erin Thompson, an RN, and Licensed Esthetician with more than 10 years of experience in the field. "I have named Sky's Med Spa after my son, Skyler' Sky,'" says Thompson. Since opening in 2021, they have moved to a larger location downstairs and created a calming, inviting atmosphere where people feel comfortable and accepted. The newly renovated space includes three cloud-named treatment rooms and an infrared sauna.
Thompson and her team love helping people feel good and confident about themselves but wants everyone to know that these services are part of personal self-care. Skin is the largest organ, yet often neglected. "We offer free consultations to create a tailored treatment plan and will always go the extra mile to assist clients in reaching their desired look. This includes helping our clients understand the importance of caring for their skin at home to achieve optimal results."
She said that educating customers is a huge component of what Sky's Med Spa does. "Education is huge, and people appreciate the insight we give them," Thompson said. "Often people do not know what to expect, and we can help them understand what services are available for them, which combination treatments complement each other, and provide the guidance necessary to yield the best outcomes." Our staff continues to earn additional certifications for aesthetics to stay up to date with the most innovative trends and techniques.
Their dedicated Licensed Estheticians incorporate therapeutic head, neck, and shoulder massages in every facial. Clients say the facials at Sky's Med Spa are the best, most relaxing they have ever received. The HydraFacial is one of their most popular services. This dermabrasion treatment uses the best serums in the industry and leaves skin refreshed and rejuvenated.
Other new services which are becoming increasingly popular are the Silhouette InstaLift which is used to instantly give lift to sagging skin in the mid-face, jawline neck or brows. The results continue to be apparent for up to two years due to the way it activates your natural collagen production. BellaFill is a treatment that also stimulates collagen for up to five years and not only smooth smile lines but improves overall skin texture and is effective for treating acne scars.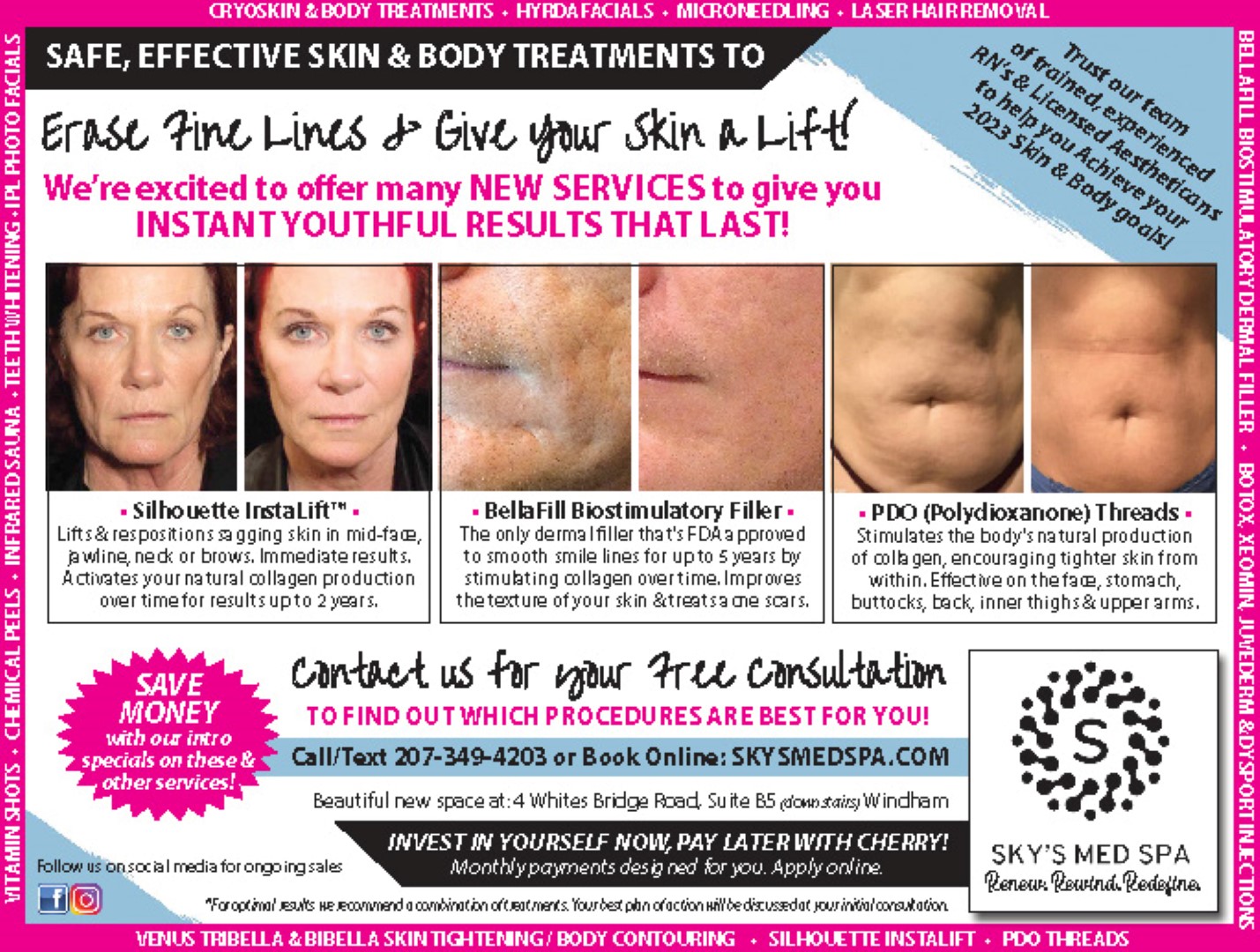 Starting in February, PDO (Polydioxanone) thread lifts will be available at Sky's Med Spa. Thread lifts are non-surgical and effective on not just the face, but also the stomach, buttocks, back, inner thighs and upper arms. Threads are anchored and inserted into different layers of the skin using cannulas, instantly lifting, and pulling sagging skin through Neocollagenesis, also known as the formation of new collagen.
Everyone's face and body are different, so there is an art to it all," Thompson said. "We will assess which procedures are best for you and even offer payment plans to make your dreams a reality."
"Aesthetics help people build confidence and take care of themselves. Our goal is to help people, so I decided to pursue a master's in nursing to expand upon our services in the future. Plans are to incorporate weight loss programs and hormone replacement therapy." Although I started this business on my own originally, I could not be more grateful for my team of trained professionals. They truly are the best in the business and take pride in everything they do."
Sky's Med Spa offers excellent services at highly competitive prices. With monthly promotions, there has never been a better time to take advantage of their expertise and reach desirable outcomes. "We also have membership programs for a complete skin wellness approach that exceeds expectations," Thompson said.
To learn more about each service, apply for financing or make an appointment, visit
skysmedspa.com
, or call or text 207-349-4203. Also follow them on Facebook and Instagram @Sky's Med Spa. <