Going above and beyond to provide quality care for its clients and sharing a lasting commitment to treating clients and staff as family is at the heart of the ongoing success of FirstLight Home Care of Windham.
The company's dedication to health and wellness is exemplary and its team of compassionate caregivers has made a difference in the lives of countless community residents. Located at 944 Roosevelt Trail in Windham, FirstLight Home Care is family owned and operated and devoted to giving everyone the peace of mind to enjoy the quality of life they deserve.
Recently honored with the national distinction as a Best of Home Care Provider of Choice for exhibiting highest levels of professionalism, quality and expertise in home care, FirstLight owners Peter Gartland and Carol Larkin give credit for the award to the company's focus on exceptional customer service delivered by an extraordinary team of skilled caregivers.
FirstLight Home Care offers senior care, personal care, companion care, dementia care, respite care and specialty care that's affordable, reliable, and trustworthy. It offers care for those recovering from surgery, or anyone who just needs a little assistance.
Care services range from friendly conversation to helping with basic household tasks and individual needs like bathing and personal hygiene. From a few hours a day to 24-hour care, FirstLight caregivers exceed expectations to help with daily tasks and activities that may become difficult for individuals to manage as they age.
The goal for FirstLight caregivers is to keep clients in their own homes and provide them with the support they need to maintain their independence.
In business for the past 11 ½ years, FirstLight Home Care offers a highly experienced, and long tenured team of caregivers that are thoroughly screened and vetted before working with clients. Caregivers are compassionate and empathetic, undergo a rigorous background check and are drug-tested.
The Gartland Family believes in taking care of its caregiving staff and always treat them like members of their own family, who in turn then pass that on to the clients.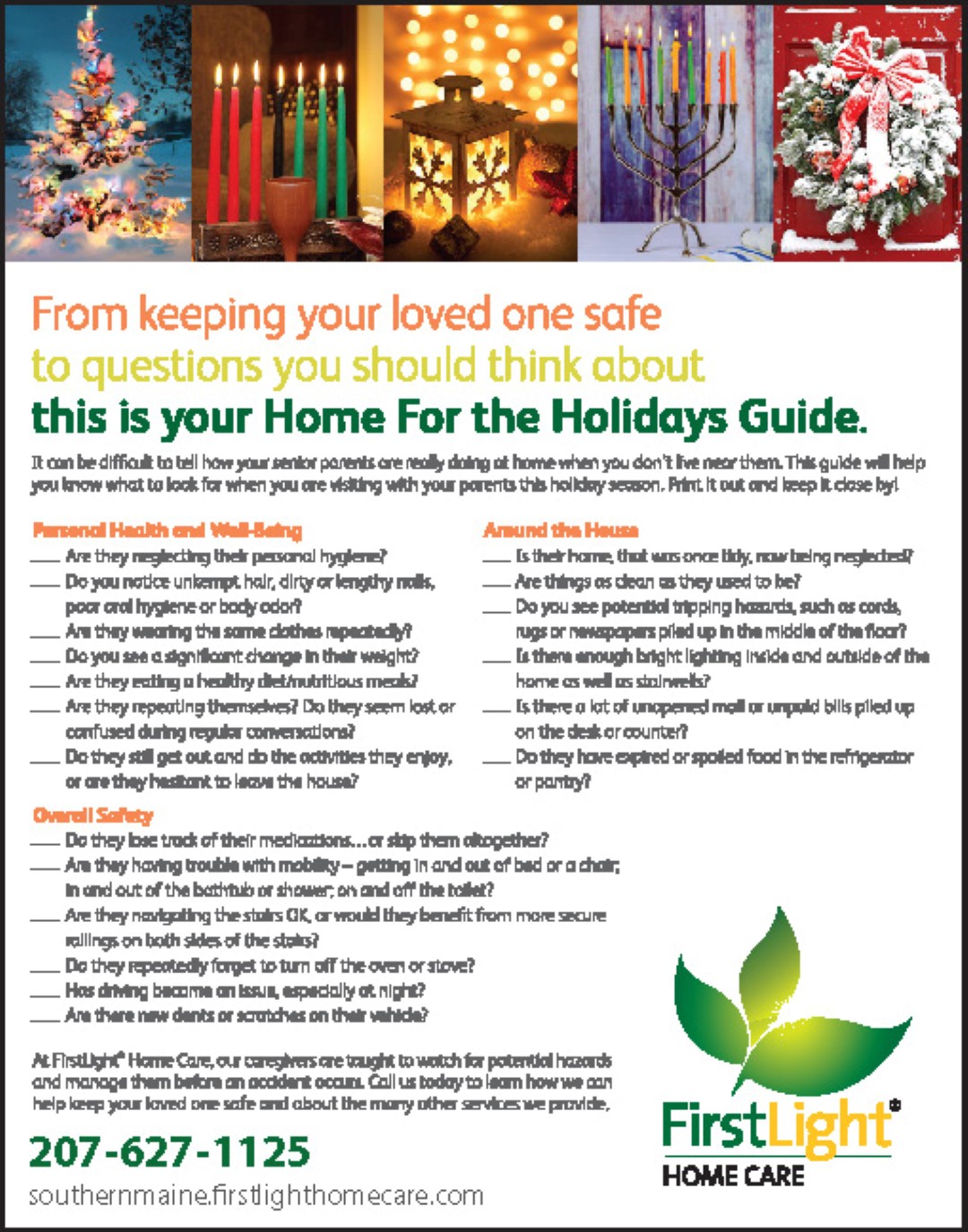 Jessie Gartland of FirstLight Home Care said that sometimes clients are hesitant to obtain home care service and are under the misconception that caregivers are going to come in and take over.
"We work with our clients, so they are comfortable with the caregivers. Needs change over time and we certainly adapt to them," she said. "It's more economical to stay in your own home and many of our clients look forward to the visits from their caregivers who are there to help them."
She said sometimes it may be necessary for a client to go into a nursing home, but otherwise FirstLight Home Care is available as an option.
The quality of services rendered to clients is exceptional and ranges from one single shift to complete 24/7 care.
For families, communication about the care that their loved ones receive is paramount, so all client care notes, caregiver schedules and even the option to pay a bill is available online.
FirstLight Home Care reviews on social media are outstanding.
"All sorts of reasons to recommend them. They are professional, helpful, and understand caregiving from their own experience. The people that work for them are wonderful with my aunt, and help me when I ask questions about dementia, aging, or their own experiences with elderly. When I needed more hours, or an extra day because I had an appointment, there was no problem." Ann D.
"This company has been working with my mom and her friend for 6 months. They have been amazing people to work with. Mom is 96 and her friend 100. Their health and home needs have changed several times in the 6 months we've had their support. I have never dealt with nicer group of accommodating people. Whenever we need time adjustments it's done or add on another task it's done. I have never heard "we can't do that"; it's always "yes we can do that." The agency has been a Godsend helping to care for the aging parents we love so much. Thank you First Light!!" Cheryl C.
For more information about FirstLight Home Care, call them at 207-627-1125 or visit their website at
www.firstlighthomecare.com/
Find them on Facebook at FirstLight Home Care of Southern Maine.