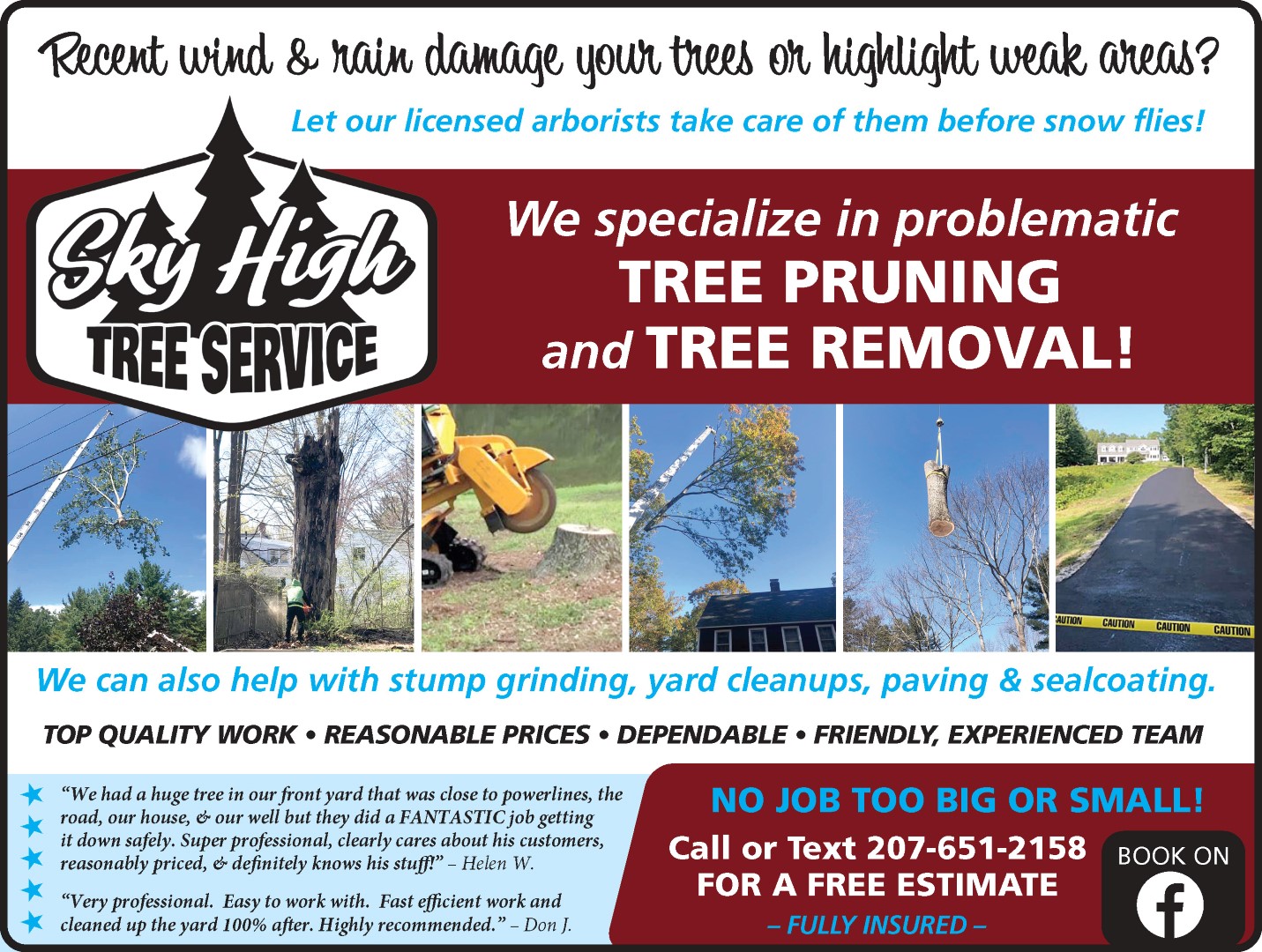 Trees certainly add charm to the landscaping of homes, but poorly maintained trees or trees damaged by storms create safety hazards for families and inflict costly property damage to a home. But that's where Sky High Tree Service can lend a hand.
Based in Buxton and serving the entire Lakes Region, Sky High Tree Service has been in business for four years and is owned by Marcus Lefebvre, who has the expertise and equipment necessary to remove tree problems before heavy winds or a sudden snowstorm can result in disaster.
Sky High performs hazardous tree removals, crane work, chipping, stump removal and pruning work, along with tree trimmings and takedowns close to buildings and structures, in and around leach fields, close to power and utility lines and hanging over roadways. It also works on roofing, spring and fall cleanup jobs, and paving and sealcoating projects.
But the company specializes in tree work, no matter how large or small a project may be.
"I truly enjoy hazardous removals and seeing how the properties look before and then after," Lefebvresaid. "The work is remarkably transformational for properties."
Licensed and fully insured with contract climbers available, Sky High's owner accepts how challenging
Marcus Lefebvre, owner of Sky High Tree
Service, takes pride in providing expert
service at a fair price. His customers rave
about his friendly demeanor, clear
communication and thorough work.
SUBMITTED PHOTO
it can be to maintain properties in today's economy, so Lefebvre strives to make services more affordable than the competition.
"Everyone thinks tree work should cost nothing," Lefebvre said. "This is a physically demanding job that requires attention to detail. Experience matters significantly when it comes to crane work and when trees are near structures. We do recognize that affordability is important, and we always do our best to offer the lowest prices possible."
Lefebvre also believes that being up front with homeowners regarding services is paramount to establishing a great relationship with potential customers.
"Communication is key to what we do at Sky High Tree Service," he said. "I'm a firm believer in doing what you say you will for the price that you quote. The price you are quoted will always be the price you pay."

Every property they work at is different and most jobs are priced according to the proximity to nearby structures, size, weight and other factors, Lefebvre said. "We specialize in top quality work all the way from roofing to tree pruning and removal. Spring and fall are the busiest months, but we do work year-round."

Because of the company's thorough knowledge of trees, precision extraction experience and exceptional customer service, Sky High Tree Service has a loyal following of satisfied customers.

"Marcus did a fantastic job, and we would highly recommend him and his crew!! We had four major trees removed and 20 others of medium size. Marcus gave us a price, a timeline on when he could do the job and the best part, he showed up and on time! Great job, great work ethic and very reliable!! We will use it his services again. Thank you Marcus!!" Colleen O'Connor Griffin

"HIGHLY recommend these gentlemen for any tree needs!! We had a huge tree in our front yard that was close to powerlines, the road, our house, and our well but they did a FANTASTIC job getting it down safely for us and we are SO grateful!! They are fully insured, but even beyond that, the gentleman in charge (Marcus) was amazing! Super professional, understanding, clearly cares about his customers, reasonably priced, and definitely knows his stuff! I've never experienced a tree professional (or much of any professional really) SO wonderful and gracious!! SUPER impressed and SO beyond grateful for their help! Will definitely call them again if we need work done!" Helen Wood

"Did an amazing job grinding down our tree stumps. Went above and beyond. Were quick and reasonably priced. I will use them again." Megan Boldter

"Very professional. Easy to work with. Fast efficient work and cleaned up the yard 100 percent after. Highly recommended." Don Jamison
Providing peace of mind, free estimates, affordability, outstanding customer service, expertise, and all necessary equipment to get the job done right, Sky High Tree Service is the first and only call a homeowner needs to make when experiencing a tree problem. For more information about Sky High Tree Service, call 207-651-2158 or find them on Facebook at skyhightree1 <