"I want people to step into a space that they feel connected with nature, that is inclusive, that their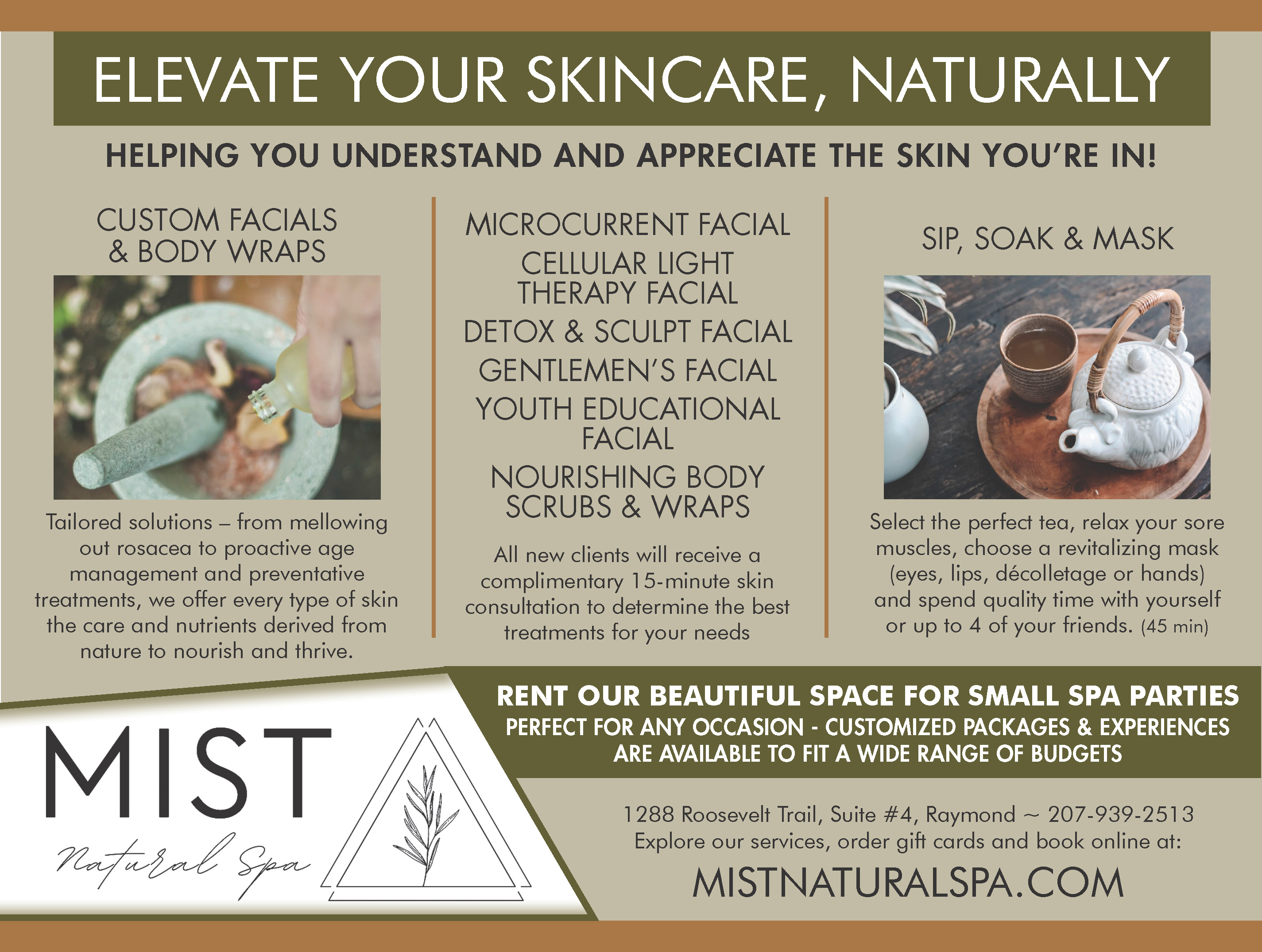 skin needs and wants are being heard," Munster said. "I want clients to leave feeling refreshed, relaxed and renewed. I believe and practice with natural skincare and wanted to offer mindfulskincare to the Lakes Region area."
A new facility is opening soon in Raymond that promises a relaxing experience and a space that will invite your senses to reconnect with nature and unplug for a little while.
Located at 1288 Roosevelt Trail, Unit 4 in Raymond, Mist Natural Spa opens Nov. 1 and specializes in facials, nourishing body scrubs and wraps, and a sip, soak, and mask bar, along with a breathtaking site to relax and unwind with friends, family, or by yourself. Mist Natural Spa is owned by Megan Munster, who has created a spa that focuses on the whole well-being process in beautiful surroundings inspired by nature and lush flora.
Megan Munster is the owner and creator of
Mist Natural Spa, opening on Nov. 1 in
Raymond. COURTESY PHOTO
"This is a new and exciting journey for me. I come from a 15-year career with NetJets private aviation," Munster said. "When COVID entered our lives, flying globally was no longer an option for our family. I was lucky to have the financial support and emotional backing of NetJets to move onto a new chapter. Traveling to a multitude of countries allowed me a unique opportunity to talk to a wide variety of skin care professionals and experiment with products I was unable to find stateside. I was able to take part in skin care rituals and beliefs unique to the counties I visited. This showed me the importance of natural skin care, but also the mind, body connection and the importance of family, nature, and all things water."
Intended to serve clients throughout the Lakes Region and Greater Portland area, Mist Natural Spa aims to deliver exceptional customer service, attention to detail, effective communication and a reliable and trustworthy experience while listening to and responding to client concerns.
"I think the most significant aspect of my business is my journey here, my personal skin challenges and my love of natural, clean products. Having struggled with rosacea, reactive, and keloid forming skin my whole life, I haven't been able to receive a lot of services available today," Munster said. "I needed to explore through school, the trial and error of what services and products work best for my skin and others, and what reactions were caused."
She says what will distinguish Mist Natural Spa from competitors is the overall vibe that she wants her clients to feel.
Aimong the other services available at Mist Natural Spa are microcurrent facials, often called the non-invasive face lift, that delivers true microcurrent.
"The 7E Myolift 600 sets the standard for non-invasive technology and the ability to provide a lasting, natural lift and toning results for all clients," Munster said. "Celluma-led light therapy facial is a wonderful device that addresses both aging skin and acne. The high intensity light emitting diodes (LED) improve skin health, tone and texture. Detox and Sculpt is a great way to get your lymphatic system moving. Helping to reduce puffiness, push waste and toxins from our lymph nodes, the youth facial is an excellent and informative introduction to skin wellness."
According to Munster, Mist Natural Spa's sip, soak and mask area is a real treat.
"You come in solo, with friends or family. It's a space to unwind, laugh and share stories," she said. "The music is a little more upbeat than the treatment room. You can choose an invigorating cup of tea or a relaxing herbal cup, next is your choice between a dry sauna or a river rock soak for your feet, followed by a mask choice for your eyes, lips, décolletage or hands."
The microcurrent and Celluma devices are FDA cleared and Mist Natural Spa strives to provide products that are free from harsh chemicals, parabens, perfumes.
"I am not always a fan of trends. I like to stick with devices and services that I see results with," Munster said. "However, I am always searching to further my education and training. I am very excited for additional training I will undergo in January which will allow me to offer additional services. I will always continue to peruse future education and training."
Pricing for services offered at Mist Natural Spa are competitive but attainable.
"I have made sure to include options for a wide variety of finances. You can come in for a full-service facial, body wrap, express light therapy, or enjoy time hanging with your friends or family," Munster said. "My goal is to provide something for everyone's time and budget. I look forward with a passion, excitement, and never-ending curiosity for how our skin behaves."
To make an appointment or for more information about Mist Natural Spa, call 207-939-2513 or visit
www.mistnaturalspa.com
<