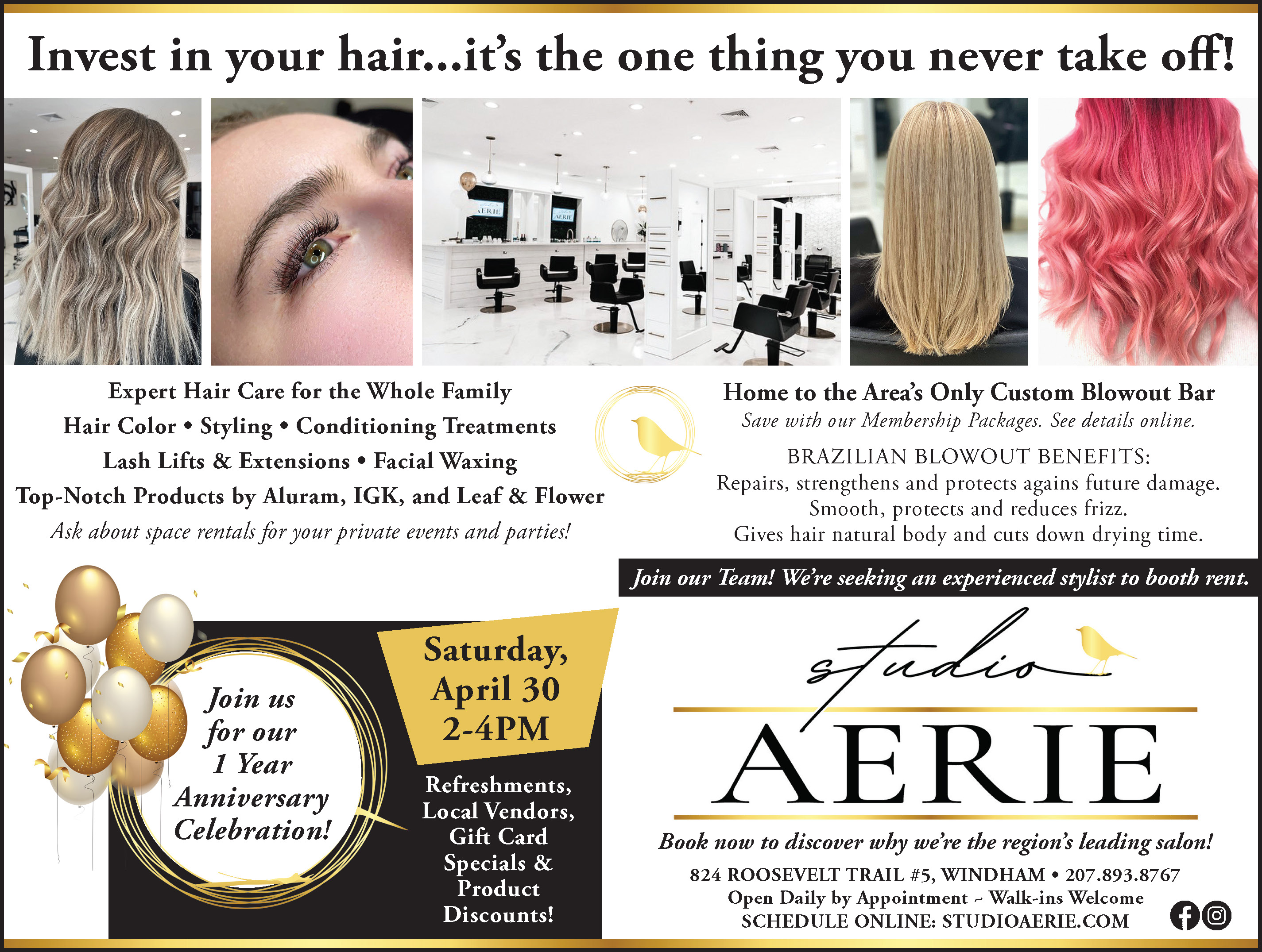 Ashley Sevigny founded the upscale Studio Aerie in Windham a year ago and her mission is to uplift her clients and inspire them on their journey to enhance their natural beauty.
A full-service salon offers hair styling, lashes and facial waxing. Studio Aerie is located at 824 Roosevelt Trail Unit 5 next door to the Crowsnest barbershop in the Erik's Church Plaza in Windham.
"I love what I do and the best thing about my job is I have the ability to help others to feel their best self," Sevigny said. "They can come in here having a bad day and when they leave, they are feeling better about themselves."
Sevigny said Studio Aerie intends to add services based upon customer wants and needs.
"We offer blowout packages for customers to have the salon look on the regular," she said. "We offer everything from color services to cuts and styling. We also have Windham's first custom blowout bar. Come in for a 45-minute blowout service, and then relax have a complimentary beverage."
Flexibility for customers is at the heart of Studio Aerie's success and the salon is open six days a week from Monday through Saturday.
"We offer our services in salon and we are able to provide on-location services for weddings," Sevigny said. "We also offer the ability to reserve the salon for bridal parties, birthdays, bachelorette parties and other occasions where services are offered at a discount with a base rate for the private event. Our customers come from all over."
Being in the personal services industry, the Studio Aerie staff is as skilled at listening to clients as much as providing hair styling.
"We have to change hats a lot with different clients," Sevigny said. "The next client to come in might have just lost her husband and you never know the things people are experiencing. We're constantly recreating new feelings and helping them not only look but feel their best."
Sevigny said though that the reason Studio Aerie is a success is because of its styling expertise.
"We have found most of customers are more concerned with the end result versus the cost of the service," she said. "We put all of our attention and focus into giving the customer their desired result."
According to Sevigny, the mission of Studio Aerie is to perform its services to the highest quality.
"We have in-salon classes that six staff members attend. We are all learning and working together to help ensure the client leaves with what is best for them given their desired outcome and keeping the integrity of their hair always as a priority. Beautiful hair is healthy hair."
Sevigny said although the design of Studio Aerie is stunning visually, rates are competitive, and the public is always welcome.
"We've had clients tell me they felt they needed to dress up to come in," she said. "That's not the case. We're open and accepting of everyone. Personally, we do not feel as though we are in competition with anyone locally or not in the beauty industry. We are all for supporting women and all people in this community of cosmetologist and beauty professionals. Something that might make us stand out from other salons is the attention to detail we put into our build out. We wanted to bring a true high-end feel to our beautiful town."
Whatever Studio Aerie is doing is working because as of April 30 the business has officially been open for one year and is celebrating with some special gifts. Everyone who purchases a $100 gift card from April 23 to April 30 will receive a $25 product discount.
"First and foremost, we want anyone who hasn't had the opportunity to come in and meet us or see our space to know that our door is open, and we welcome anyone to come by," Sevigny said. "We are happy to show you around, talk about your needs and at the very least give you a blowout to start your day, night or any event off with beautiful hair."
To learn more about Studio Aerie or to make an appointment, call 207- 893-8767. Or visit the Studio Aerie website at studioaeriewindham.com. Find them on Facebook and Instagram at studioaeriewindham <