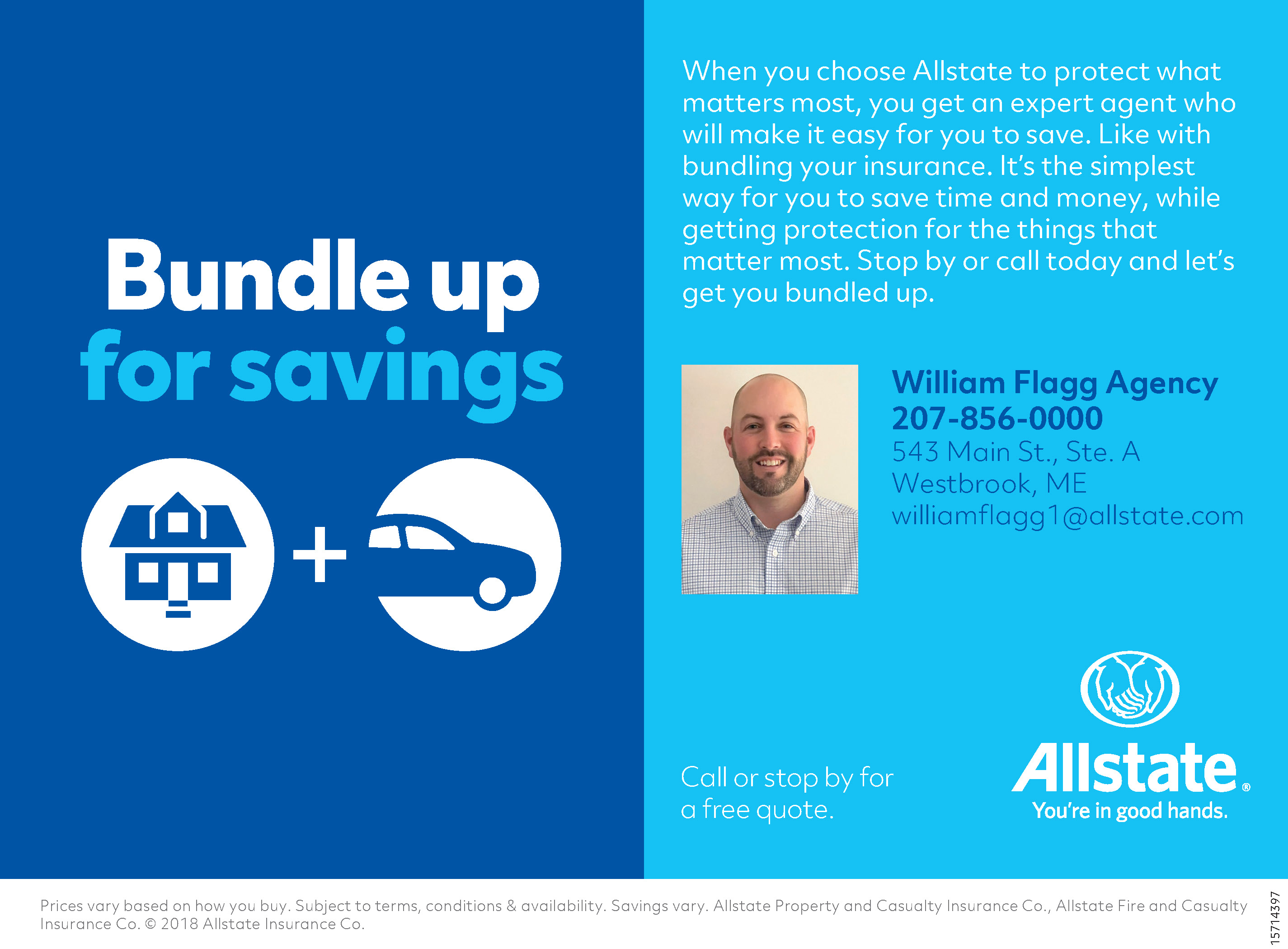 Commitment, experience, product knowledge and courteous customer service are the foundation of the William Flagg Agency and has led to the company being a popular option for many when searching locally for a reputable insurance company.
From its offices at 543 Main St., Suite A in Westbrook, the William Flagg Agency helps protect clients from life's uncertainties with Allstate's comprehensive line of insurance.
"We offer all personal lines products including Home, Auto, Renters, Condo, Motorcycle, Boat, Landlord, Off-Road Vehicle, Manufactured Homes, RV and Valuable Personal Property insurance," said agency owner William Flagg. "Also, we specialize in commercial lines products and offer General Liability, Commercial Auto, Commercial Property and Workers Compensation. We are licensed and staffed to offer life insurance, annuities, mutual funds and employee workplace benefits."
Flagg lives with his wife Jaimee and stepdaughter in Windham and started in the insurance and financial services industry after graduating from the University of Rhode Island. He joined the agency while working for the prior Allstate owner, Carlo Giraulo, in 2016 and now leads a staff of five highly skilled employees who handle all aspects of the insurance business including sales, service, claims and life/financials.
"The most significant aspect of our business is the ability to offer a solution or product for anything a client needs, be an expert in those products and help guide them through the education and purchase," Flagg said. "We spend real time with our clients to make sure they understand what their options are and what product or coverages are best for them. We're also a local small business with staff that live and work in the community and understand the needs of our clients."
According to Flagg, the pricing they offer for insurance is highly competitive, but their diverse products and expertise is what really sets them apart from other insurance providers.
"We offer solutions for investment properties, vacant properties that are being renovated, short-term rentals, flood prone areas, coastal exposures, log homes and many other hard-to-place risks," Flagg said. "Allstate specializes in the standard Homeowners and Auto but also partners with other companies to help place risks that are outside of Allstate's guidelines."
He said a misconception is that the main goal of every insurance agent is just to make a sale and his intention is to ensure that every sale is not the end of the relationship with customers of his agency.
"We are a local, trustworthy, licensed and knowledgeable office available to review their current policies, offer solutions and help try to save them money," Flagg said. "We understand that money is the important factor in most insurance decisions but there is a lot more that can come along with it. There is no need to settle for an 1-800 customer service when a local office is here."
Because Flagg lives and works in the community, he feels an obligation to help them understand their insurance options and strives to make their experiences with his agency as friendly and knowledgeable as possible.
"I want everyone to know there is someone in the community who can help them understand the options available when they're looking for insurance," he said. "By doing so they are supporting small business and we can offer them the utmost in personalized attention. Our agency is one of the only Elite agencies for Allstate in Maine. This means we have achieved extremely high levels of sales, customer retention, claims handling and bundling and for the client, this means they're working with the best."
Flagg and his staff constantly review current trends affecting the insurance business so they can best educate their customers regarding options.
"Allstate is the industry leader in telematics and offer steep discounts for those participating in our safe driving program. Everyone should be aware of the discounts available to them through their insurance carriers," Flagg said. "Every company is different, but many are offering safe driving discounts through telematic systems. It's the future of the insurance industry."
Through everything they do at the William Flagg Agency, relating to people and being able to share their knowledge of the insurance business is paramount to its staff.
"The best thing about what we do is being able to educate and help people with insurance," Flagg said. "We take a conversational hands-on approach and I educate more than I sell. We're here to help."
For more information and to reach the William Flagg Agency, call 207-856-0000 or visit them online at https://agents.allstate.com/william-flagg-westbrook-me.html. Find them on Facebook at William Flagg/Allstate. <