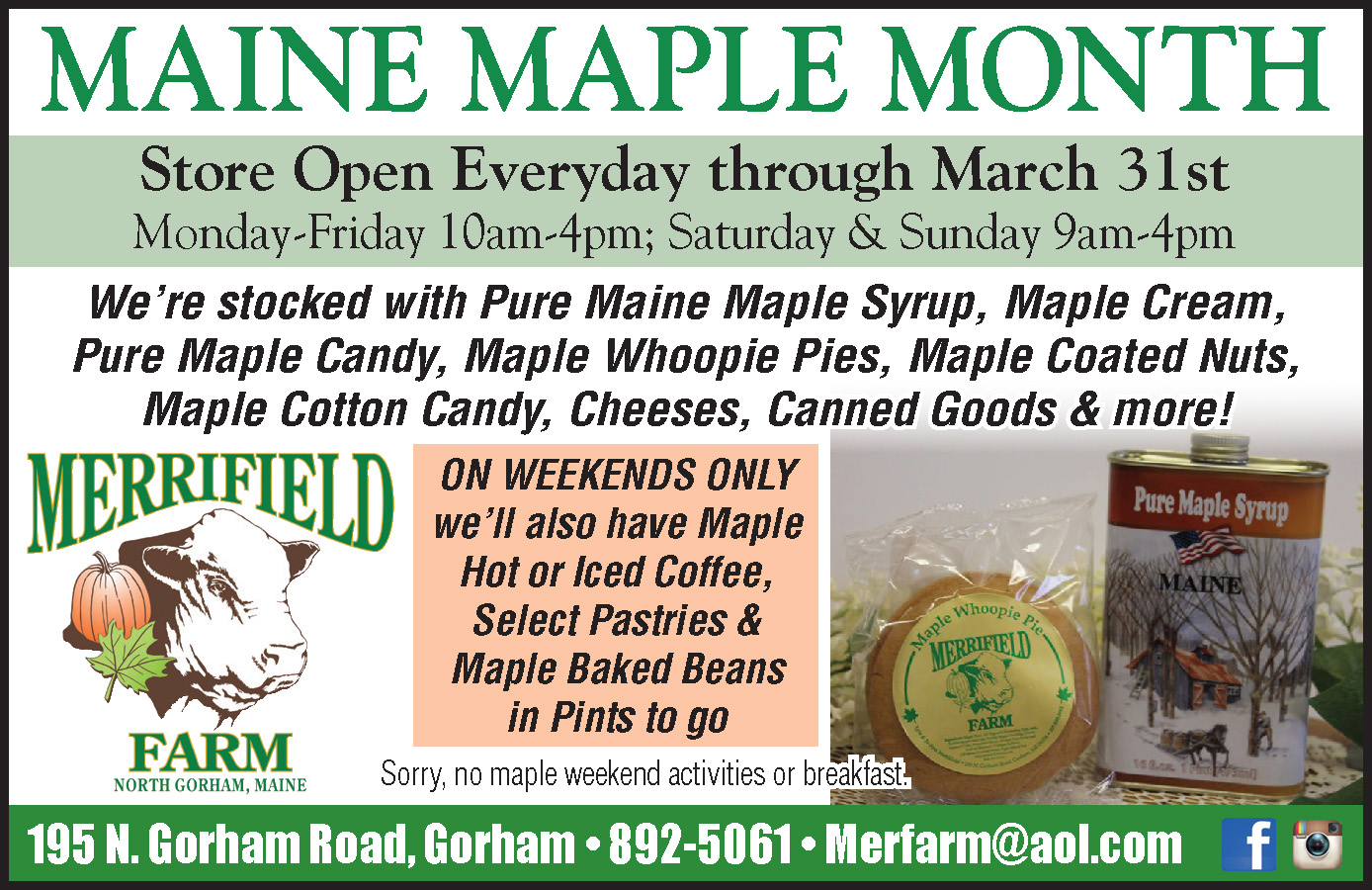 Whether you are new to the state or a lifelong resident, Maine Maple Weekend is an event not to be missed and there's no better place to experience the natural goodness of Maine maple products than at Merrifield Farm in North Gorham.

This year the celebration of Maine Maple is Saturday, March 26 and Sunday, March 27, but fans of Merrifield Farm should be aware that the popular destination is also open for sales from 10 a.m. to 3 p.m. every Thursday through Sunday during the month of March. And this coming weekend they will be serving hot and iced coffee and maple baked beans to go for visitors to the farm.
"As far as retail sales go, we've been making maple syrup since 1999, but I've really been involved with making maple products for most of my life," said Lyle Merrifield, who grew up in North Gorham and became fascinated with the maple making process as a young boy.
"I went to school about two miles away from here and my kindergarten teacher taught us how to make maple syrup," he said. "I was hooked right away and knew that this was something I wanted to do when I grew up."
Now Merrifield Farm draws thousands of visitors each Maine Maple Weekend and is a source of pride for the Merrifield's.
"We are a family run sugarhouse," Jo-Ann Merrifield said. "We are very proud that our daughters have taken such an active role in the farm's maple business."
According to Lyle and Jo-Ann Merrifield, the best part of their work is creating maple products that so many people seem to enjoy.
"The satisfaction we get comes from seeing our customers enjoy our product and come back again and again," Lyle Merrifield said. "The sugaring business is unique in the fact that you get so many repeat customers, especially during sugaring season."
Of course, the highlight of every maple sugaring season for the Merrifield Family is Maine Maple Weekend and Maine Maple Sunday, a long-standing tradition where the family meets customers and shows them what it takes to produce maple syrup through demonstrations and offers a wide array of maple products they sell on the farm.
The Merrifield Family, from left, are Jo-Ann, Molly,
Lyle and Lexi Merrifield. SUBMITTED PHOTO
As producers of Pure Maine Maple Products, the customer base for Merrifield Farm lies mostly within a 20-mile radius of Gorham, but they do ship nationwide, and the quality of their products is second to none.
"While most sugarhouses pack their syrup in plastic containers, Merrifield Farm has primarily always packed our syrup in glass and tin containers," Jo-Ann Merrifield said. "Glass and tin are the best containers for preserving color and taste, and certainly a more traditional look."
Like most other agricultural items, maple products are dependent upon Mother Nature and the elements.
Preparation is critical and months prior to the season, Lyle Merrifield is busy cutting and splitting wood for the sugarhouse, replacing tubing and testing equipment needed to produce quality syrup. Then trees must be identified for collection and tapped at precisely the right time before the sap is boiled, evaporated, filtered, graded and stored.
He says visitors to the sugarhouse during Maine Maple Weekend are often amazed at the process of how maple products are made.
"A lot of people come here and see the process and they see that we're boiling 40 gallons of water away to make one gallon of syrup and they couldn't be more surprised. It's just that simple," Lyle Merrifield said.
Merrifield Farm also stays updated on the latest trends affecting maple production.
"I would say we keep a very close eye on what's happening in the syrup industry in Maine, but we try not to be guided by trends and rely on Time, Taste and Tradition," he said. "All of which are reflected in our customers' experience at Merrifield Farm. We produce a quality product, spend time with our customers and explain our product to them and show them the sugarhouse."
During Maine Maple Weekend on March 26 and March 27, Merrifield Farm will be open from 9 a.m. to 4 p.m. It's free to stop in and fun for the entire family.
For more information about Merrifield Farm, call 207-415-3001 or 207-415-3002 or find them on Facebook at Merrifield Farm.
Merrifield Farm is located at 195 North Gorham Road, Gorham.
** Don't forget to have your picture taken with their "New" Sugar Bear.