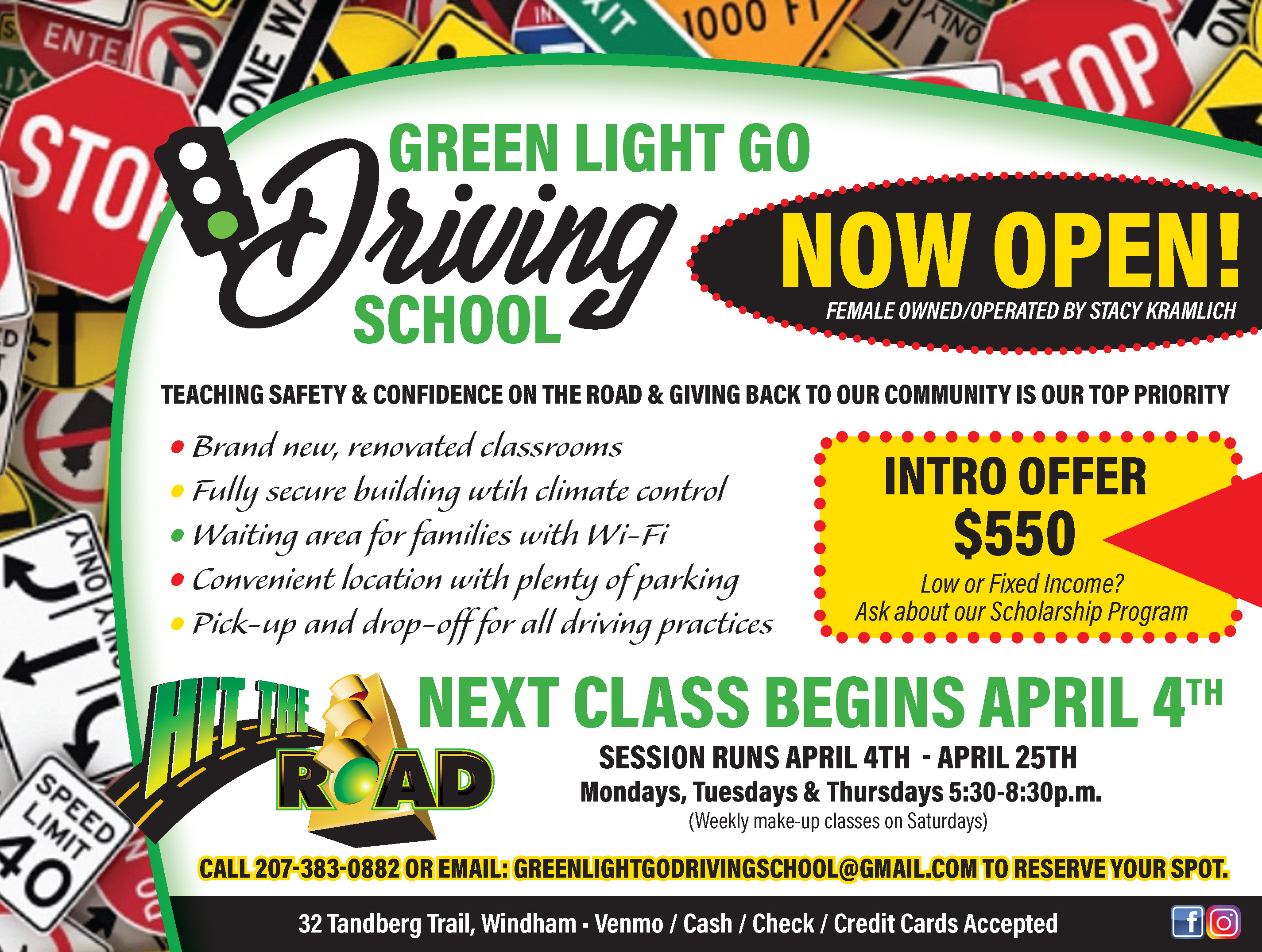 It's been said that everything someone needs to feel relaxed behind the wheel comes with lots of practice, lots of smiles and a great deal of patience. That's precisely what Green Light Go Driving School offers to would-be drivers in the Lakes Region.
From its convenient office and facility at 32 Tandberg Trail in Windham, Green Light Go provides driver's education classes, private lessons, senior driving evaluations, road test preparation and just about anything connected with driving.
Stacy Kramlich, Green Light Go's owner, has been teaching students to drive for years and says the one thing she's discovered about her work is that to keep students relaxed and willing to learn, instruction must be fun and positive.
"Driver's Ed should be an exciting time in a young person's life and therefore I want to make it a positive experience," Kramlich said. "A negative experience leads to a fear of driving and that's contrary to what we're trying to do here."
As a Class A driving instructor and a lifelong resident of Windham, Kramlich said that she emphasizes development of safe driving practices that stick with her students for a lifetime.
Stacy Kramlich
"We teach safe driving," she said. "Our in-class courses offer more hands-on learning, far more than any other driving school."
Green Light GO's prices are competitive, but Kramlich said that when it comes to selecting a driving school, it's what you get for your money that truly matters.
"We give back to students," she said. "We offer home pick-up or drop-off for driving time which helps get driving time done in a timely manner. The savings I offer in the long run is that the students will have a better learning experience before getting behind the wheel."
Being flexible to work around a family's schedule or available when a student needs lessons is what distinguishes Green Light Go Driving School from the competition.
"They have choices. I communicate with students and work around their schedules to make accommodations," Kramlich said. "I understand that today's teens have school, sports, family time and work which comes before Driver's Ed and I understand things come up, so I do not charge for canceling. As adults we sometimes forget and so do students. It's so important to have a positive attitude and a strong mind behind the wheel. People's lives are at stake. I want my students to feel comfortable and confident at all times."
In opening her own business after years of working for someone else, Kramlich said she appreciates the fact everyone is different and so she tries to relate and communicate effectively so that her driving lessons are understandable and meaningful for all.
"You have to be understanding and sympathetic," she said. "You just don't know where they are coming from and what kind of day they've had. I show them respect, no matter what age they are and try to make it a fun time for them."
Kramlich said she offers Zoom classes for online Driver's Education because of the pandemic but prefers in-class learning for students because of the improved quality of learning through hands-on lessons.
"During in-class we teach hands-on each lesson giving students first- hand experience from everything like where to put fluids in vehicles or how to gas up a car to how to put air in tires. The drunk buster googles are always a big hit too and you don't get any of this with Zoom and if you do, it's often weeks later, so the in-class learning experience is best when they coincide."
The most challenging aspect of teaching driving to students is getting across to them that driving is a privilege, not a right, and driving safely is paramount, Kramlich said.
She says that the best part of her work at Green Light Go Driving School is being able to meet so many people from throughout the community and especially all the teenagers just starting out learning to drive.
"It's a positive time in their life and this is their journey," Kramlich said. "It's a road trip and a journey and I'm grateful to be able to help them accomplish their goal of learning to drive and getting through to them that driving is a responsibility for everyone and always driving safely is a serious matter."
For more information about Green Light Go Driving School or to sign up for their next class, call 207-383-0882, email: greenlightgodrivingschool@gmail.com or visit their website at greenlightgodrivingschool.com or on Facebook at fb.me/InstructorStacy <