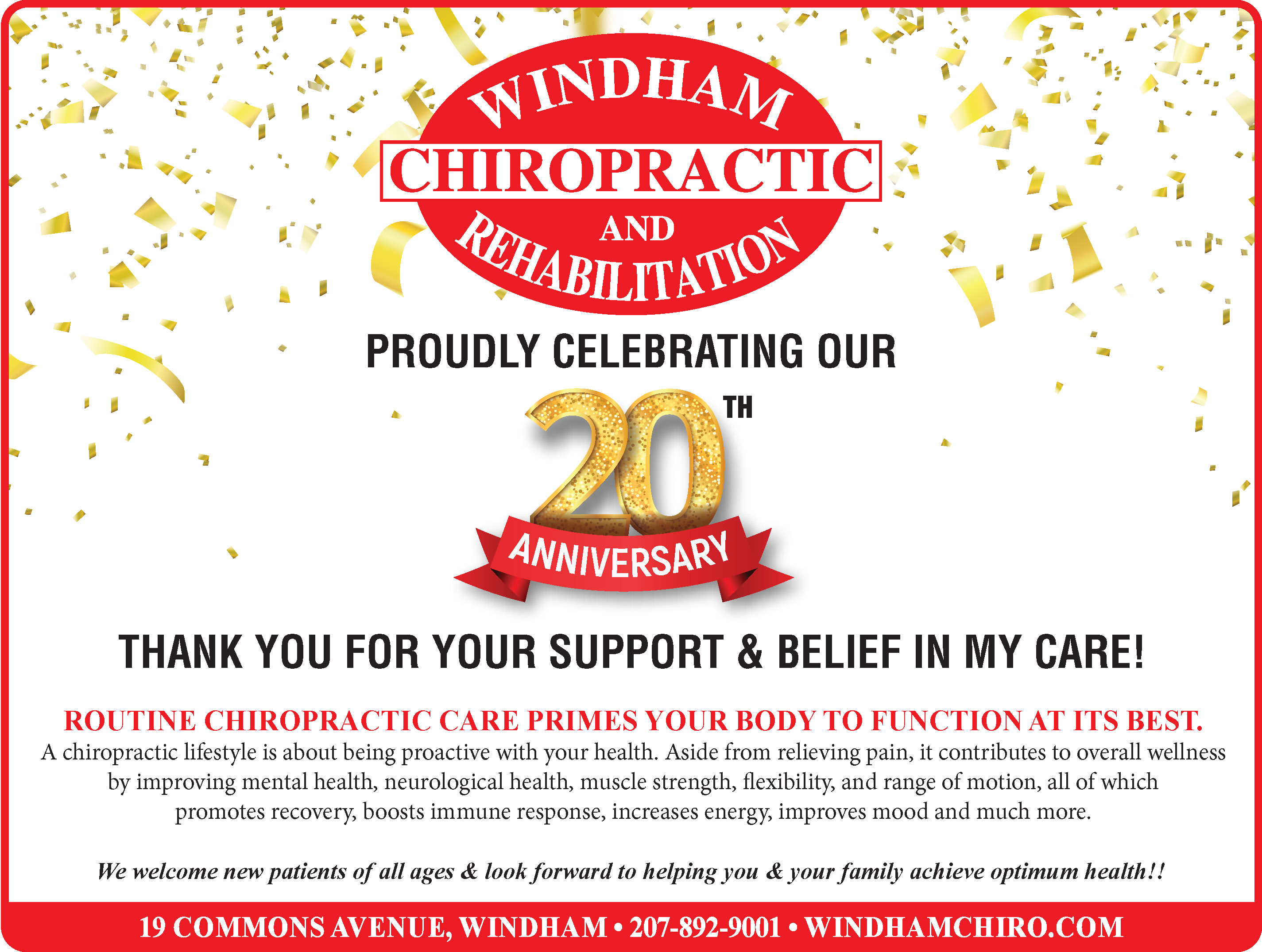 For more than two decades now, residents have been grateful for the knowledge and expertise of Dr. Mark J. Wasowski of Windham Chiropractic and Rehabilitation in helping them

improve their range of motion, boost flexibility, and alleviate pain and muscle spasms.
Windham Chiropractic and Rehabilitation is located at 19 Commons Ave. in Windham and generations of Lakes Region patients have come to rely on the personalized and courteous service that they receive from Dr. Wasowski.
"We put people first here," he said. "We take the time to get to know our patients who really are like family to us."
As a chiropractor, Dr. Wasowski says the best part of his work is seeing people amazed at how much better they feel afterward.
Upon your first visit, he obtains a thorough patient history including previous health problems such as fractures, surgeries, auto accidents, falls and a family medical history.
"We do a history and an examination to determine where there is interference between the body and the brain," Dr. Wasowski said. "I don't fix anything, I remove interference."
He then uses an array of techniques to make appropriate adjustments to a person's spine and musculoskeletal system.
"You the patient are the healer, not me," he said. "My part is to determine where there is interference between the body and the brain and then help restore range of motion in those restricted spinal regions."
He cares for patients experiencing back pain, neck pain, and headaches and helps alleviate pain among those suffering from a wide range of injuries and disorders of the musculoskeletal system involving muscles, ligaments, and joints. Some of these painful conditions can impact the nervous system leading to pain and disfunction in areas far away from the injury.
Dr. Mark Wasowski, owner of Windham Chiropractic and
Rehabiolitation has been helping people achieve optimum
health in Windham for 20 years. PHOTO BY ED PIERCE
The benefits which can be derived from chiropractic care often can extend to general health issues since our body structure affects our overall well-being, Dr. Wasowski said.
According to Dr. Wasowski, his success as a chiropractor lies in figuring what's causing the problem instead of what's producing the symptom.
"The most challenging aspect of being a chiropractor is getting our patients to follow through," he said. "We live in a society where if the pain is gone, I'm OK. Just because the pain is gone doesn't necessarily mean that the problem is gone."
Now 37 years into his career as a primary healthcare provider with the last 20 years spent in Windham, Dr. Wasowski says he first became interested in becoming a chiropractor after visiting Dr. John Reeder, a chiropractor in the Auburn area while attending college.
"When I played tennis in college, I would get pain in my foot," he said. "I took an interest in what he did and saw how he helped others. "I wanted to do the same thing."
He went on to earn a Doctorate in Chiropractic from Northwestern College of Chiropractic and has become a Diplomat of what is known as Bio Energetic Synchronization Techniques (B.E.S.T.) which assist patients in achieving mind and body balance and based upon quantum physics. He's also highly skilled in a variety of chiropractic techniques such as diversified, drop-table, lumbar flexion and Activator, a high-speed, low-force chiropractic adjusting instrument.
Because he used to live in Windham and his children attended Windham schools, through the years, for many of Dr. Wasowski's patients he's more than just a former neighbor or someone they see around town, he's a friend and it's led to long-term success for Windham Chiropractic and Rehabilitation.
Offering competitive and affordable pricing and convenient hours, Windham Chiropractic and Rehabilitation strives to help patients achieve optimum health.
Dr. Wasowski said that his goal at Windham Chiropractic and Rehabilitation is to improve a patient's quality of life so they can continue to enjoy an active lifestyle later in life.
"The greatest misconception people might have about a chiropractor is that they can visit, get adjusted and be OK," he said. "Proper health is a process though and we all need to be proactive about our health. An ounce of prevention is really worth a pound of cure."
For more information about Windham Chiropractic and Rehabilitation or to make an appointment, visit Windhamchiro.com or call 207-892-9001. <