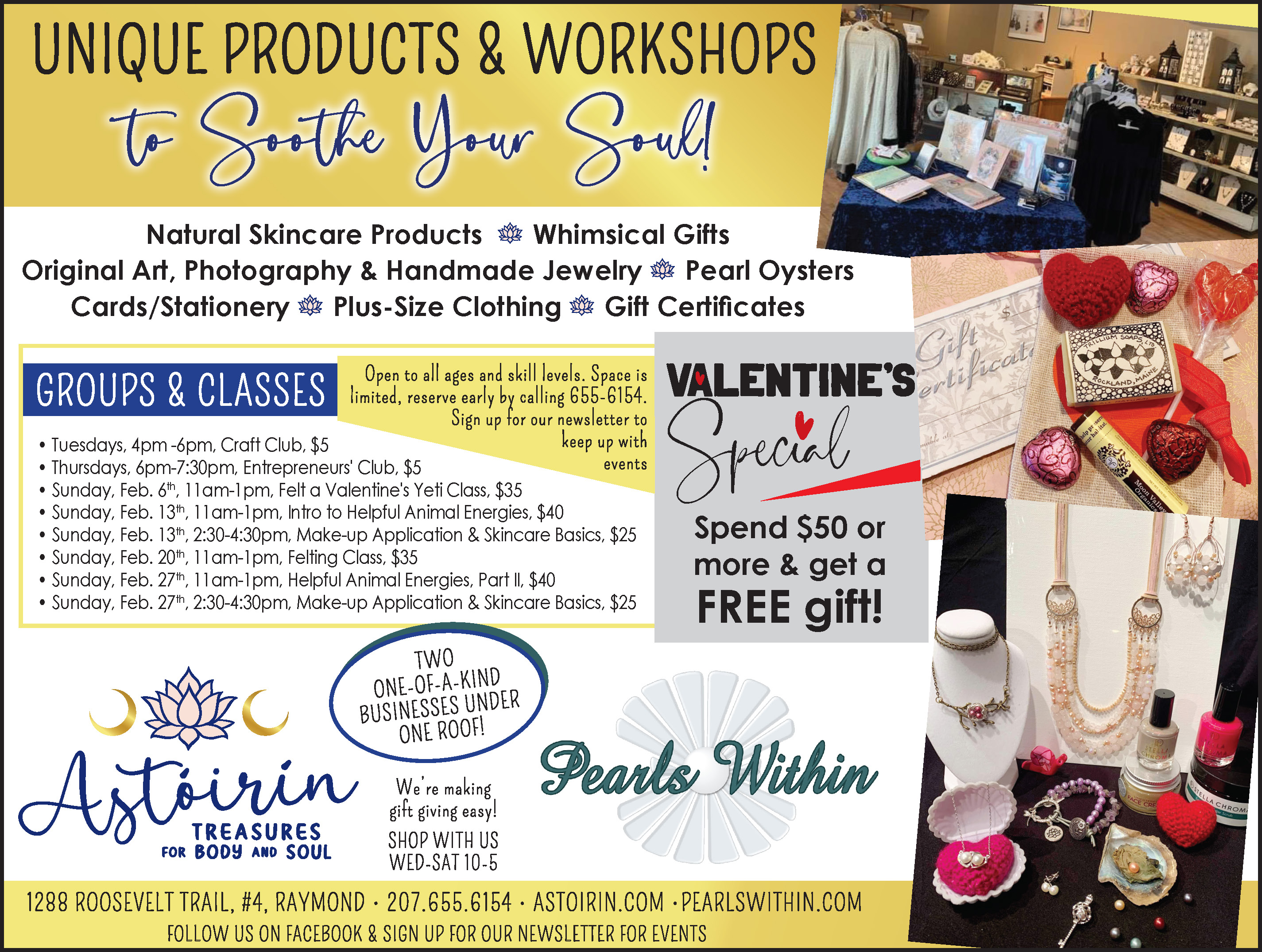 If you're someone who enjoys unique shopping experiences and not having to travel far for a variety of things from clever cards and tasty toothpaste to hand-crafted jewelry and gifts, then you may want to visit a new shop in Raymond.
A combination of two businesses, Astoirin owned by Betsy Kate Paradis, and Pearls Within owned by Wendy Martin, have opened at 1288 Roosevelt Trail Unit #4 in Raymond and offer something for just about everyone in search of the perfect gift.

"
We offer a unique shopping experience that blends artisan pearl jewelry with an eclectic mix of gifts, including organic skincare, clothing, stationery, and artwork," Martin said. "We are happy to feature many products made in the United States and specifically Maine."
Along with a selection of gifts to be cherished and treasured, the shop also is home to a variety of weekly clubs and Sunday classes open to all.
"Starting in February we will be hosting a crafting club and an entrepreneurs' club offered at $5 per person," Paradis said. "Sunday classes range from $35 to $50 and include things like needle-felting, skincare and beauty, self-care, and energy work. Pearls Within offers pearl oyster openings and custom jewelry, including designing just the right pieces for special occasions such as weddings. Wendy will be happy to book pearl parties where a host can invite friends to gather and experience the excitement of opening pearl oysters and setting the pearl into jewelry. Astoirin's photography division includes custom stationery products that feature places and things of special interest to the client."
Betsy Paradis of Astoirin and Wendy Martin of Pearls Within
invite you to their new shop in Raymond for unique products
and workshops. COURTESY PHOTO
Paradis said that the shop's location on Route 302 in Raymond makes it a convenient location for people traveling through the Lake Region corridor and they are happy to ship orders anywhere in the continental United States.
"Our boutique carries products and gifts typically found in larger cities, like Portland and Boston, but in a more personable and relaxed atmosphere," she said. "Many products, specifically skincare, cosmetics, and pearl oysters make us a little bit different from the other offerings in the community."
Because of the wide variety of items they offer, customers will always find something to consider at Astoirin and Pearls Within whether they are looking for a gift for others or something special just for themselves.
Both Paradis and Martin say they enjoy their work and the interactions they have with customers makes this shop special.
"There's a real connection here with people that you just can't get shopping online," Paradis said.
Martin said helping customers choose exactly the right gift is the best part of her work at Pearls Within.
"It's gratifying to help somebody find a special gift for their loved ones," she said. "We are proud of our personalized service and the level of connection we find with our customers."
Having only been open for a few weeks, Paradis said that response to their products and shop's environment have been extremely favorable.
"Customers are surprised to see all the items artfully displayed in our cozy shop," she said. "While our combined shop has only been open since the first of the year, Astoirin has been in business since 2019 and Pearls Within is well-known from fairs and local events since 2012."
In Gaelic, Astoirin means "Little Treasures" and Paradis said she wants everyone to know that the shop has plenty of little gifts to please anyone for any occasion, and especially for Valentine's Day.
With pricing on par with other independent shops in the Lakes Region, Paradis and Martin say they enjoy networking with local artisans and craftspeople and take pride in being an evolving boutique.
"New inventory continues to arrive, and our seasonal displays will feature Valentines, Easter, Bridal, and Christmas items as the time of year dictates, Paradis said. "Check in frequently to see what's new. For the month of February, we have a special offer where purchases $50 and over, including gift certificates, come with a special gift, while supplies last."
The shop is open from 10 a.m. to 5 p.m. Wednesday through Saturday.
Visit Astoirin online at Astoirin.com and on Facebook at Astoirin,LLC.
Pearls Within can be found online at Pearlswithin.com and on Facebook at Pearls Within.
For more information, call 207-655-6154. <