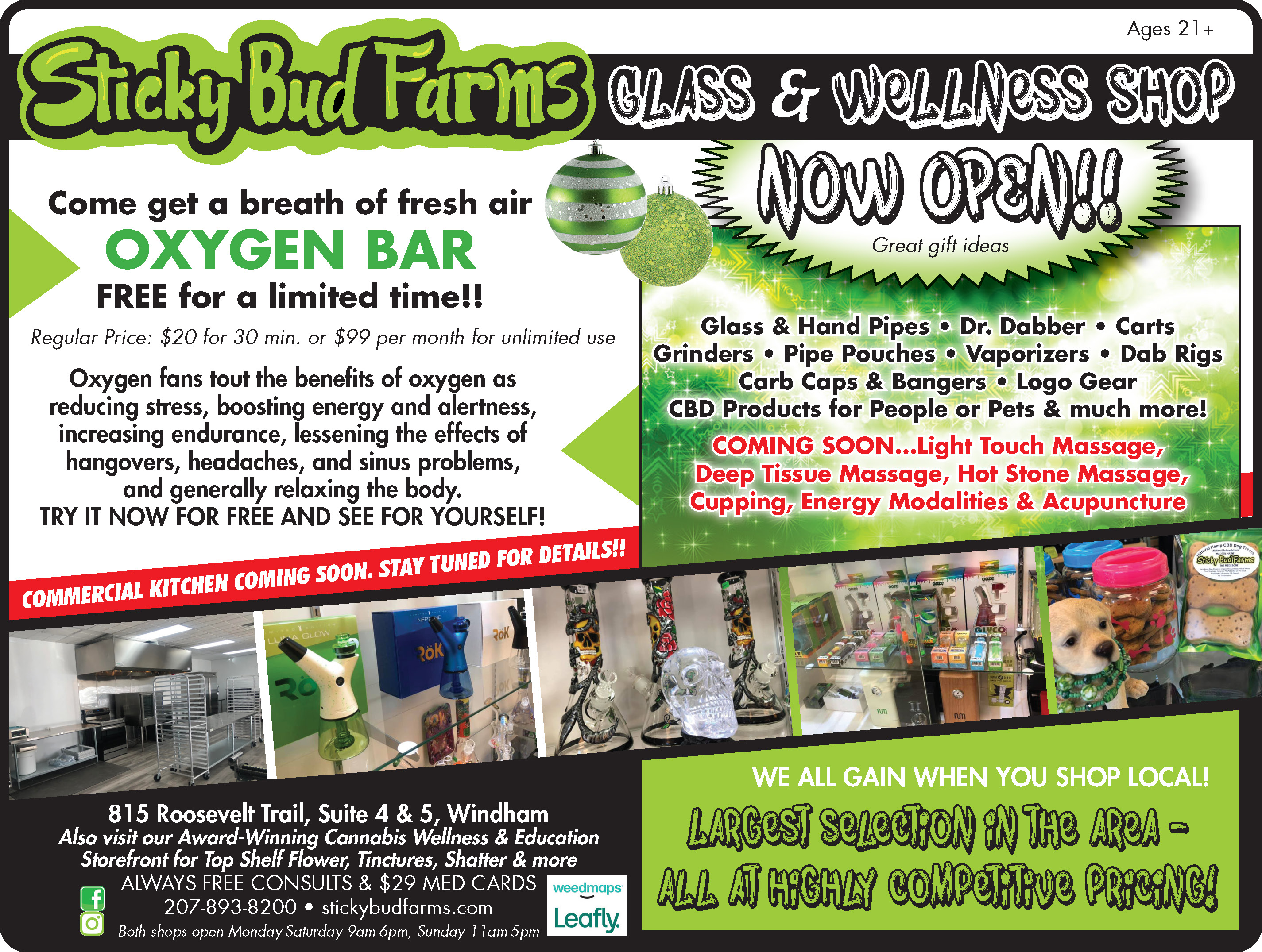 To better serve the community, Sticky Bud Farms in Windham has expanded and now offers both a medical marijuana dispensary and a new showroom next door that includes an oxygen bar, a vast array of gifts and products and soon will have massage and acupuncture services available.
"We're really trying to provide personalized healing by creating the new Glass and Wellness facility," said Dave Whitten, Sticky Bud Farms owner. "We treat each customer with integrity and compassion and share our expertise and knowledge of cannabis products with those who are in pain and suffering."
Located at 815 Roosevelt Trail Unit 4 in North Windham, both the Sticky Bud Farms Medical Dispensary and Sticky Bud Farms Glass and Wellness provide many valuable services to promote wellness and healing.

In August, the Sticky Bud Farms Medical Dispensary moved into a luxurious suite adjacent to its original location, which has since been remodeled and renovated into Sticky Bud Farms Glass and Wellness and features a state-of-the-art oxygen bar, a complete cannabis product showroom and a new massage room. Proponents of oxygen bars say that the use of purified oxygen can help increase energy levels; improve mood; improve concentration; improve sports performance; reduce stress; provide relief for headaches and migraines; and promotes better sleep.

"We're very excited to open this new facility," Whitten said. "The plan is to offer acupuncture, acupressure, reiki, cupping and deep tissue massage here very soon," Whitten said. "We also have a complete line of cannabis-related products and gifts available all the time here."

Whitten knows far too well how debilitating physical pain and suffering can be and says he himself was able to overcome his own pain through cannabis. It changed his life, and he said that he firmly believes that cannabis can alleviate the pain of others too and that's why he established Sticky Bud Farms in 2013.


"I gave my life to being a medical cannabis caregiver and it gave me a life back," Whitten said. "I was in pain for years but once I started using cannabis my life turned around."

Sticky Bud Farms became the first cannabis shop to open in North Windham in 2017 and currently has eight employees, including Whitten's wife, Judy, whom he credits for her steadfast support of his desire to help others overcome their pain.

"We truly value our patients over profits and that is why we take the time to sit down with every patient to learn about their specific needs and make sure that they find the right product to suit their unique needs," Whitten said. "We believe that our compassion and medical cannabis can help heal many ailments in our world today."

According to Whitten, the Sticky Bud Farms business continues to explore innovative ways to provide healing and relief to its customers and doesn't plan to stop with the creation of the new 2,000-square-foot Sticky Bud Farms Glass and Wellness Center.

"We just finished construction of a kitchen where we hope to be able to offer a full line of fresh-baked edibles and medical-use edibles for customers soon," Whitten said. "Our goal is to offer a whole holistic approach to feeling better."

He said that eventually he hopes to be able to offer educational presentations to the community at the new Sticky Bud Farms Glass and Wellness Center about cannabis.

The Sticky Bud Farms Glass and Wellness Center is for everyone age 21 and older and no medical card is needed.

"As always, we're here to listen and guide you in the use of cannabis products," Whitten said. "Our dispensary has the widest selection in Maine of cannabis and cannabis products for those with a valid medical card and identification. Our biggest reward is someone coming in for a few months on a walker in severe pain and you get to see a transformation and the relief they've experienced. That's what it's truly all about for me."

By virtue of its outstanding customer service, Sticky Bud Farms was voted as the Best Medical Dispensary in New England for 2021.
For more information about Sticky Bud Farms, call 207-893-8200 or visit them online at www.stickybudfarms.com. They are also on Facebook, Instagram and Leafly. <