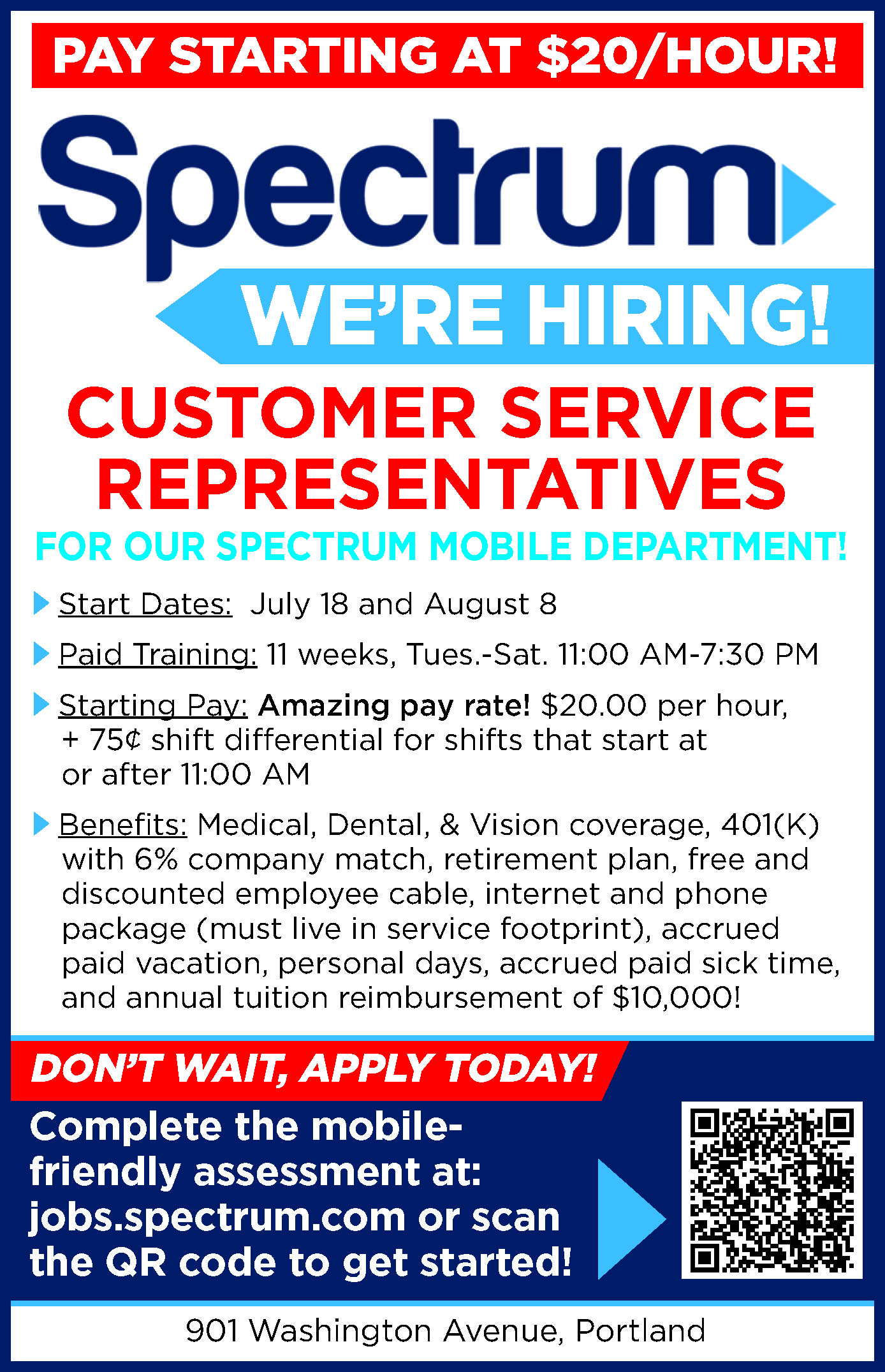 Spectrum plans to double in size, hiring an additional 175 Customer Service Representative positions currently supporting Spectrum Mobile™ customers at its Spectrum Mobile Call Center in Portland, now through the end of 2022. The positions are part of the call center's transition from working with TV customers to specialized support of Spectrum Mobile™.

Spectrum Mobile Customer Service Representatives provide comprehensive service, including billing, account management, activation services and technical support. These roles offer career progression opportunities and robust benefits, including competitive hourly wages starting at $18 an hour, with a shift differential for evening work hours, as part of Charter's commitment to a $20 minimum starting wage in 2022.

"Spectrum Mobile customer service roles offer career opportunities to hard-working local talent," said Joe Ploof, Vice President of Mobile Customer Service for Spectrum. "Over the last two years, we have added hundreds of career defining positions to our community. We are continuing to hire to support the fastest-growing mobile provider in the country."

An open job fair for the positions will be held on Thursday, Dec. 16, from 9 a.m. to 7 p.m. at Spectrum's Mobile Call Center, located at 901 Washington Ave., Suite 300 in Portland.

Interested applicants will have the opportunity to speak with members of the Spectrum team about the Customer Service Representative position and answer any additional questions about the company. Applicants are welcome to bring an updated resume with them for submission, and from there, the applicant interview and hiring process will begin.
Spectrum provides comprehensive health benefits, and for the past nine years, has absorbed the full annual cost increase of medical, dental and vision coverage. The company also offers a market-leading retirement plan, with a 401(k) that matches the first 6 percent\% of employee contributions, plus a Retirement Accumulation Plan with an additional 3% company contribution, for which most employees are eligible. Spectrum employees can receive up to $5,250 per year in education assistance, as well as complimentary and discounted Spectrum services. To find out more or to apply, please visit https://jobs.spectrum.com/ and search keyword: 'mobile' for customer service job.

Charter is committed to diversity and inclusion in every aspect of the business. To exceed customers' expectations, we strive to deliver high-quality products and services by embracing the unique perspectives and experiences of our employees and partners.

We are proud of our workforce reflecting the full range of diversity and abilities in the markets we serve, and are actively working to promote diversity at every level of our organization. We foster an inclusive environment where employees feel respected, engaged and able to reach their full potential.

Charter Communications, Inc. was founded in 1993, and while the company has grown dramatically over the past two decades, our roots take us back to the pioneering days of cable. What began as mom-and-pop businesses in the late 1940s with cable strung from hilltop to homes has morphed into the advanced, high-tech cable industry that Charter is at the forefront of today.

With a network spanning more than 750,000 miles, Charter serves more than 31 million customers in 41 states through the Spectrum brand. Our vast infrastructure helps fuel innovation and delivers a robust offering of advanced services including faster broadband speeds, better video products, voice service, and a mobile offering to support customers' on-the-go. Charter is a leading broadband connectivity company positioned to provide innovative services at a great value to meet customers connectivity needs today and into the future.

More information about Charter can be found at corporate.charter.com. <