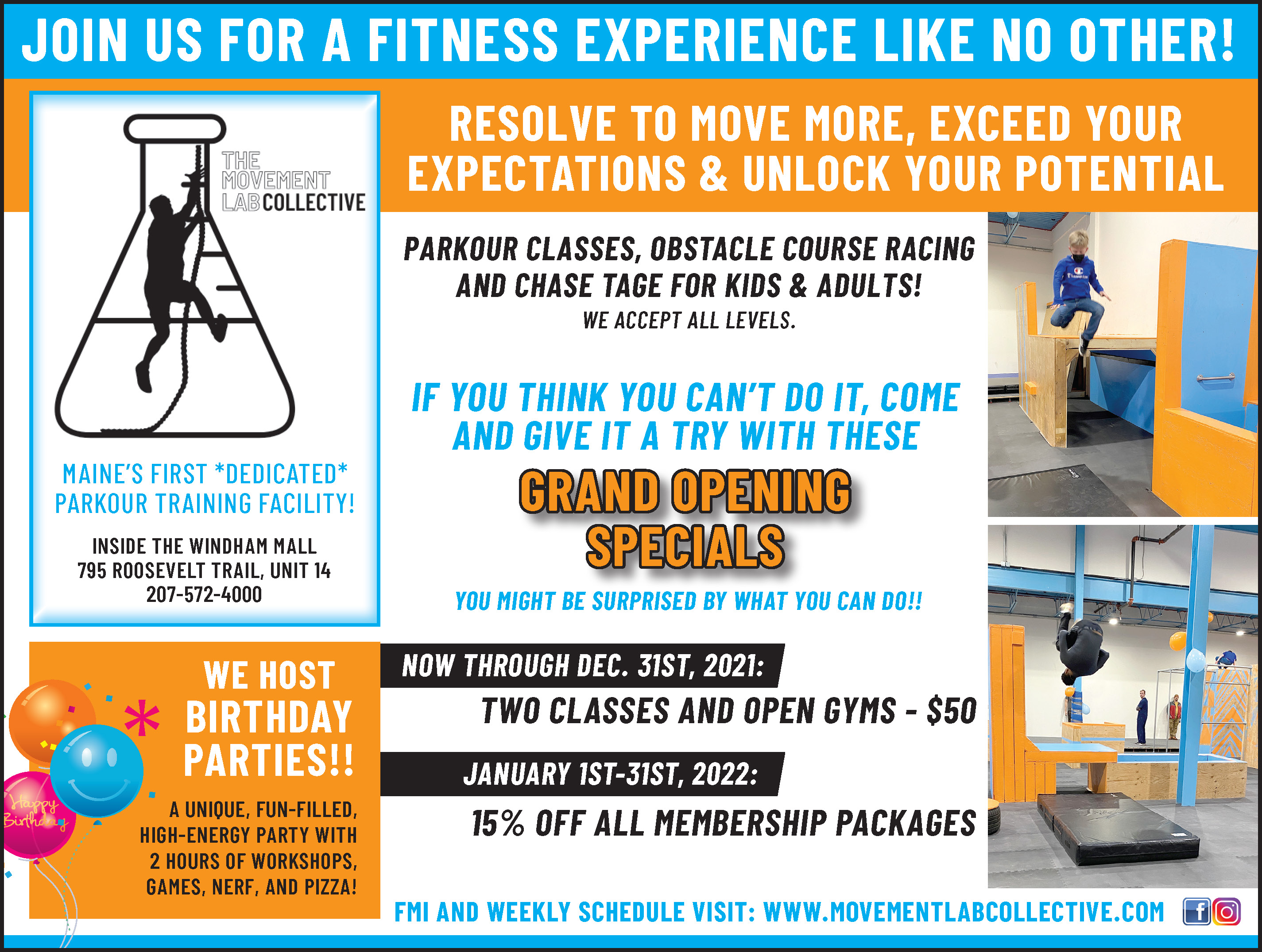 Parkour is taking the world by storm and now everyone has an opportunity to try this training movement which focuses on body and mind. The Movement Lab Collective has opened in Windham and specializes in Parkour training.
According to Edward Whitehead, The Movement Lab Collective owner, Parkour uses natural, free and effective movements to overcome obstacles. It includes running, climbing, jumping, balancing, swinging, rolling and many other movements that participants find most convenient for any situation.
"As a kid I was fascinated with martial arts movies and video games," Whitehead said. "I had an innate desire to explore. I stumbled across some YouTube Parkour videos and thought this is for real, it wasn't movie magic. A switch in my head clicked and I figured I could learn how to do it."
At the age of 18, Whitehead traveled to the French Alps to a town called Morzine with a group called Parkour Generations for his first formal training in the movement. Since then, he decided to make Parkour his career and opened The Movement Lab Creative in the Windham Mall on Dec. 10.
The most challenging aspect of opening a business to train participants in Parkour in Maine was finding just the right facility, Whitehead said.
"We spent a lot of time scouting locations as the specifications for Parkour are quite specific and we needed adequate ceiling height," he said. "We needed someplace easily accessible and with good foot traffic. To find a space with all those boxes checked was a huge challenge."
Whitehead said he was pleased to find a 6,000-foot facility with 20-foot ceilings in the Windham Mall to open The Movement Lab Collective as one of the first Parkour training sites to be established in Maine.
"It is close enough to draw participants from Portland, Gray, Raymond, Oxford, and New Gloucester," Whitehead said. "Being able to reach a wider area helps out in that respect."
He said the most important thing he wants the community to know about Parkour is that anybody can do it.
"It's all about step-by-step incremental progression of developing skill sets," Whitehead said. "You can take it as far as you want, and the sport is evolving."
The best thing about Parkour is that it's fun, he said.
"You're able to move your body creatively and practically," Whitehead said. "You develop a skill set to whip you body into shape quickly."
Whitehead said that in Parkour, the world around you is perceived as a huge playground in which you have to find new ways to move through your environment quickly and efficiently. It is a full-body workout that improves your body awareness and coordination at the same time.
The movement now known as Parkour originated from a French military training method and evolved into a sport that emphasizes smoothly overcoming obstacles within a participant's path by adjusting the participant's movements to the surroundings they encounter.
Setting up The Movement Lab Collective after finding the right facility to locate it in took some time.
"It actually took about six weeks to build," Whitehead said. "What we set out to do is to create a space that is authentic to the Parkour experience."
With a staff of four, The Movement Lab Collective is now taking booking for Parkour classes and options for membership. It is offering an introductory promotion for the rest of December for just $50 for two classes and open gym and Whitehead said anyone who signs up in January will receive a 15 percent discount. An array of other special pricing is also available.
The Movement Lab Collective can be found at 795 Roosevelt Trail, Unit 14 inside the Windham Mall. It is open from 3 to 8 p.m. Monday, Tuesday, and Thursday; noon to 8 p.m. Wednesday; noon to 6 p.m. Friday; and 1 to 6 p.m. Saturday and Sunday. On weekends from 11 a.m. to 1 p.m. birthday celebrations and parties are available for bookings at the facility.
Call The Movement Lab Collective at 207-572-4000 to see for yourself what Parkour is all about. Visit them online at www.movementlabcollective.com or find them on Facebook at The Movement Lab Collective. <