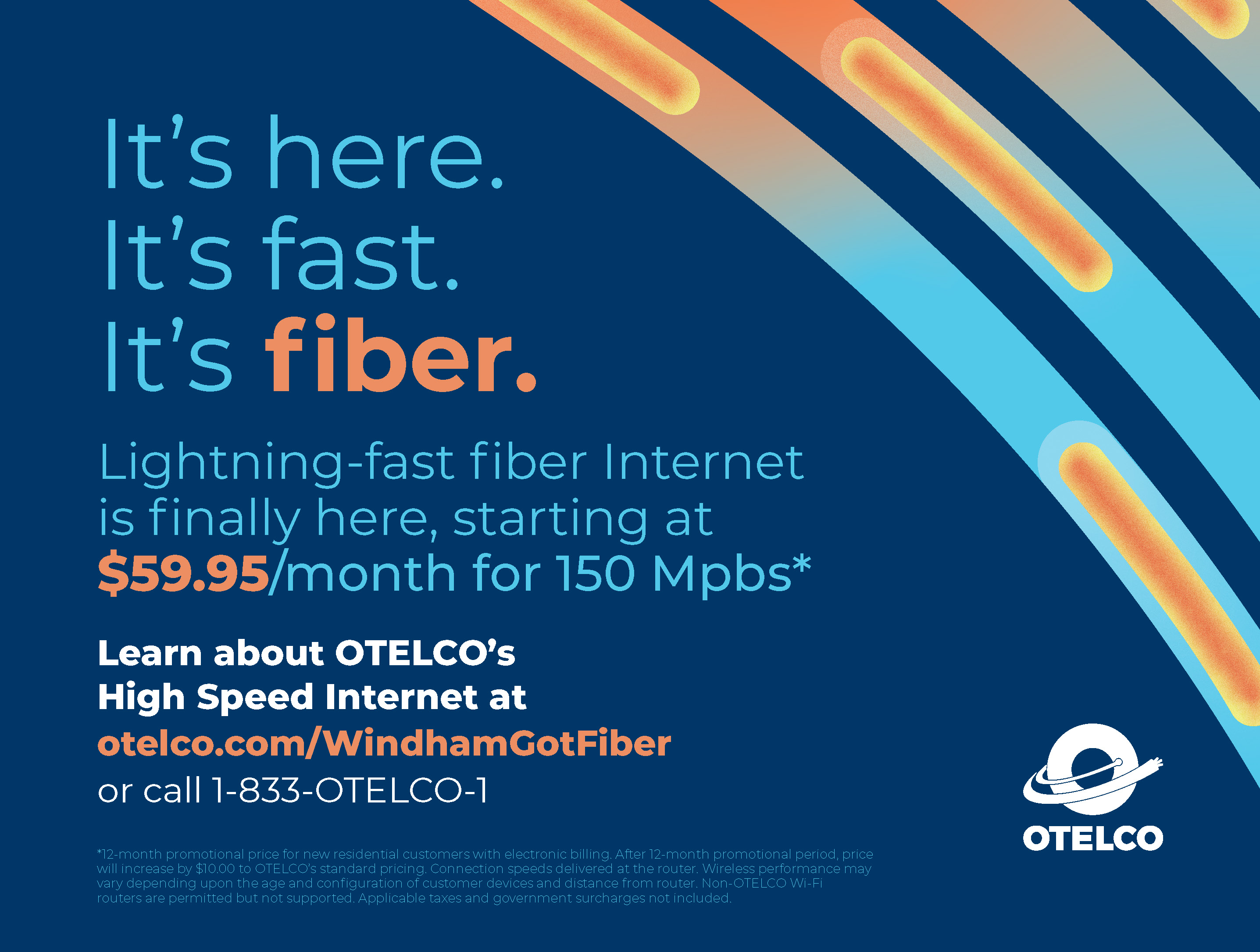 OTELCO has completed its Fiber to the Premise (FTTP) network in Windham. The project is part of a larger expansion the company currently has under way in 18 Maine towns and cities.
About 2,200 locations in Windham are eligible for fiber Internet service offering residential speeds up to 1 Gigabit per second and customizable speeds for businesses. The OTELCO customer service team began processing the first orders on Oct. 28, and the first installations were completed on Monday, Nov. 1.
"We're so pleased to begin serving customers in Windham," said OTELCO VP of Marketing Trevor Jones. "I know that those who subscribe will be thrilled with the performance of our high-speed fiber Internet. We're already hearing from them on social media."
One new subscriber who wasn't even connected yet was so excited about having a new choice in providers, he posted the following to the Windham Community Facebook page:
"Following up on an older post about Otelco fiber optic coming to North Windham. I was notified this morning that the service went active yesterday. I have Spectrum (about to be had Spectrum) at $74.99 a month for 100 down / 20 up. Otelco is offering 150 down and up for $59.99 for the first year and then $69.99 on. Their 500 down and 500 up is $69.99 starting and then $79.99. 1000 down and 1000 up is $$79.99 a month starting then $89.99. Some crazy speed for decent prices. Line drop to the house is tomorrow and install is Monday. Just thought I would let people know."
In addition to the product offerings that were shared in this Facebook post, OTELCO also offers service to businesses with a 100 Mbps basic package at $99.95, that allows for up to two added phone lines with unlimited long distance for $20 each. For larger businesses or those with more complex needs, the OTELCO B-to-B sales team is happy to consult to develop customized solutions to meet the individual needs of any company.
So, what is Fiber Optic Internet?
Fiber Optic Cable is made up of many hair-thin strands of glass that use light pulses to transmit data. It's important to understand that fiber was designed specifically to send and receive data while DSL and Cable (both made of copper wire) were initially designed to carry telephone and TV signals respectively. Over the years, providers, OTELCO included, have modified phone and Cable TV networks to deliver data, but today, neither have the capabilities to meet our ever-growing demand for connectivity.
Unlike copper wire, fiber transmission doesn't deteriorate over long distances. Fiber also offers symmetrical bandwidth which means that upload and download speeds are the same; neither DSL nor Cable have that capability so download speed is faster than upload. Anyone who has been telecommuting for work or using videoconferencing for remote schooling knows that upload speeds have become extremely important.
OTELCO has an interactive map to help Windham residents see if their location is part of the build and view updates about the project. Visit www.otelco.com/WindhamGotFiber and register to be contacted by Customer Care to arrange for installation. Businesses submitting the form will be forwarded to our B-to-B sales team.
OTELCO is also employing a crowdsourcing model to help determine areas suitable for future network expansion. All Windham residents are encouraged to register even if their address is not part of the current project area. If there is overwhelming interest in specific areas, the company may decide to expand its network at a future date.
ABOUT OTELCO
Otelco Inc. provides wireline telecommunications services in Alabama, Maine, Massachusetts, Missouri, New Hampshire, Vermont, and West Virginia passing more than 67,000 locations. The Company's services include local and long-distance telephone, digital high-speed data lines, transport services, network access, cable television and other related services. It also provides competitive retail and wholesale communications services and technology consulting, and managed services. For more information, visit the Company's website at www.otelco.com. <