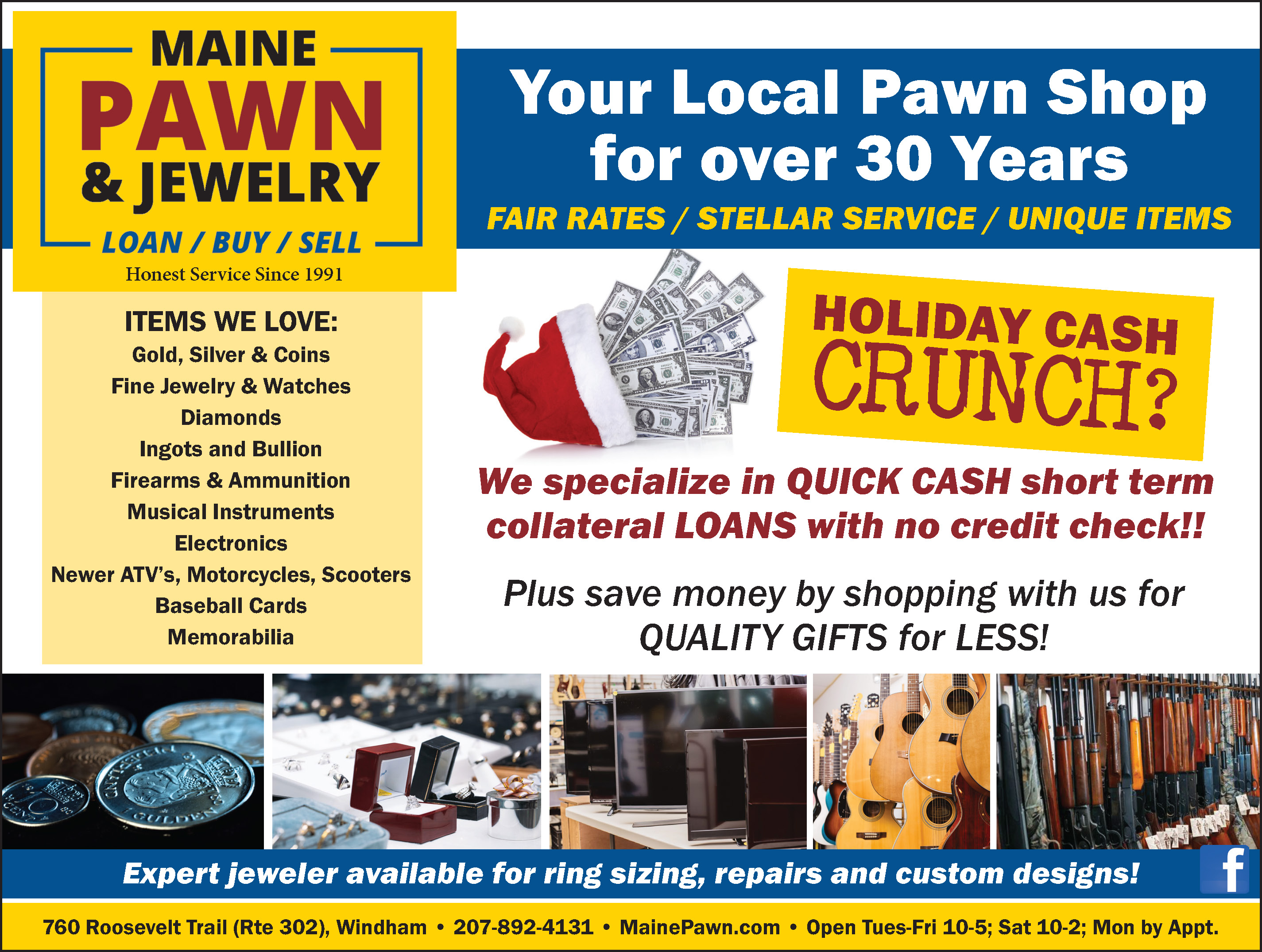 Ask Jonathan Burnham the secret to the success of Maine Pawn & Jewelry for the past three decades and he'll give you a simple answer.
"Without a doubt, it's our customers," Burnham said. "We have very loyal customers that we've been able to build a trust with for more than 30 years."
Located at 760 Roosevelt Trail in Windham, Maine Pawn & Jewelry offers a vast inventory worth exploring with everything from diamonds to firearms to guitars and rare coins with prices second to none.
"We love being in Windham. It's not the typical location for a pawnshop like being in a larger city area, but we like the people and the community here, and we do get quite a few customers from outside the area because of our positive ratings online and social media," Burnham said.
Maine Pawn & Jewelry is a family-owned business that specializes in providing quick cash to customers in the form of short-term collateral loans or the immediate purchase of a variety of quality merchandise such as gold, diamonds, fine jewelry, watches, guitars, musical instruments, firearms, televisions, electronics, and many other items of value.
"We can help out those who need quick money if they need it for an emergency or if they need heating oil," Burnham said. "We offer cash on the spot."
Burnham's son James has been helping at the pawn shop since he was 12 and decided to come on board full-time about a year ago after exploring other interests.
"He's really great with customers and likes to help people out as much as possible." Burnham said. "He also adds an element of knowing the interests in merchandise of the younger generation."
Featuring a showroom filled with clean quality merchandise for sale at very reasonable prices, Maine Pawn & Jewelry takes cash, credit cards, and trades as well. With outstanding value and unbeatable prices, shopping at Maine Pawn & Jewelry provides a genuine alternative to traditional retail stores, and best of all, can save customers money.
For those interested in jewelry, Maine Pawn & Jewelry has an expert jeweler available.
"We have an excellent reputation in the business and lots of experience with several well-known jewelry stores," Burnham said. "We do ring sizing, repairs and custom designs as well. Fair prices, quality work and quick turn-around times are what it's all about."
According to Burnham, customers have made the business popular because of the personalized attention they receive at Maine Pawn & Jewelry.
"We always try and make sure our customer service is exceptional," he said. "Through the years we've been able to build a trust with customers and have been able to adapt to different economies and changing times."
That trust has grown through 30 years in town and cemented a loyal and devoted following within the community as an honest partner with whom to do business.
"Our reputation is extremely important to us and that's why you'll see lots of familiar faces returning to the store over and over again both buying and selling," Burnham said. "We try to be fair and honest so people will feel comfortable doing business with us."
The hours for Maine Pawn & Jewelry are from 10 a.m. to 5 p.m. Tuesdays through Fridays and from 10 a.m. to 2 p.m. Saturdays. The shop is closed on Sundays and is open Mondays by appointment only.
Whether you're young or old, out doing some holiday shopping or searching for a way to generate some quick cash, Maine Pawn & Jewelry has something for everyone.
For more information about Maine Pawn & Jewelry, call them at 207-892-4131, visit them online at www.Mainepawn.com or find them on Facebook at https://www.facebook.com/mainepawnandjewelry/ <