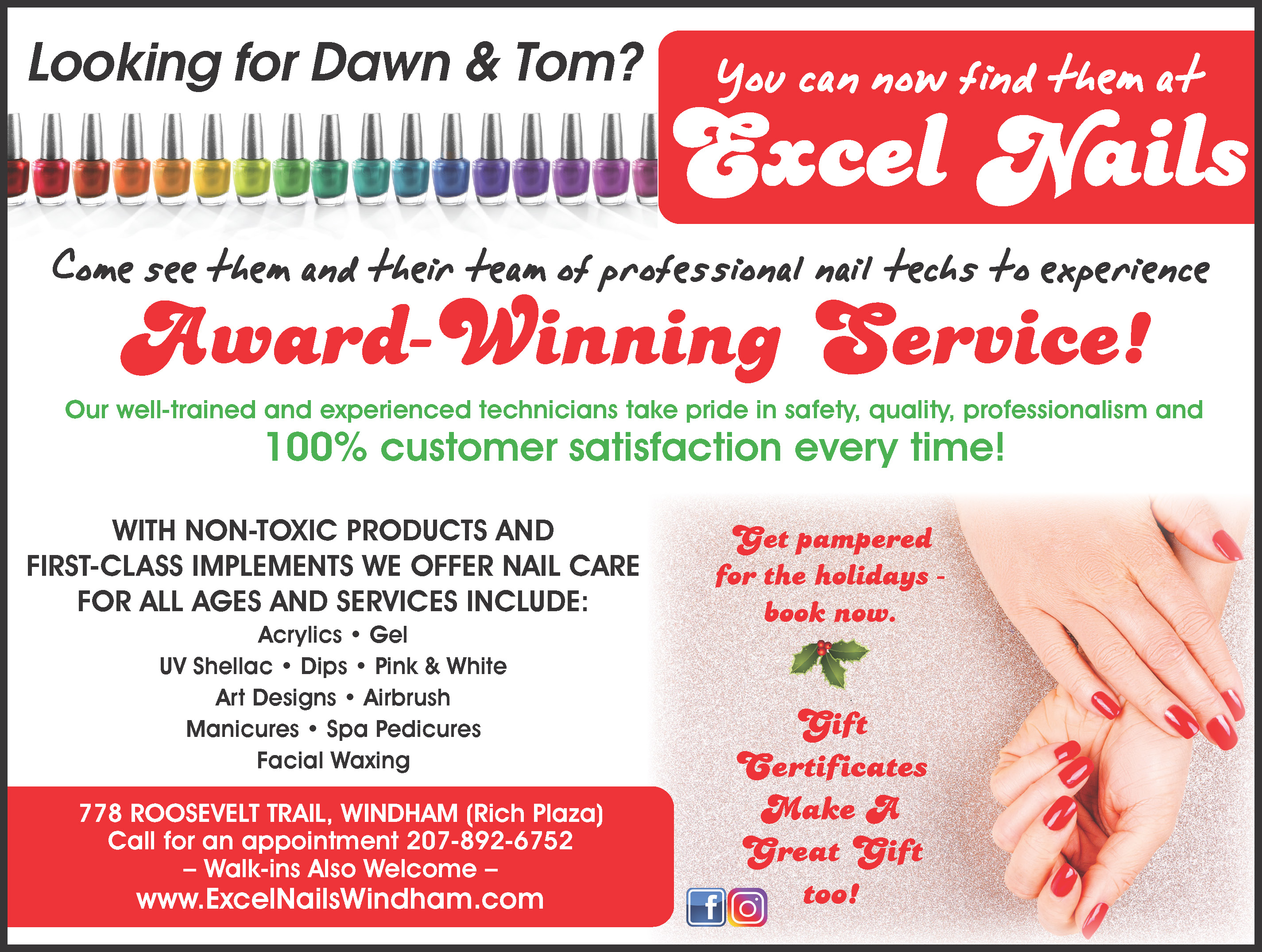 Excel Nails, a professional nail care salon for women, men and children, has been in business locally for more than 20 years, but since June has been owned and operated by longtime Windham favorite nail professional Dawn Ta.
Featuring the finest manicure and pedicure services in the Sebago Lakes Region, Excel Nails also offers acrylics, dips, gel nail treatments, complete waxing services and more. Excel's devoted staff of six professionals stand ready to show clients of all ages an exceptional level of customer service at the salon, located at 778 Roosevelt Trail in the Rich Plaza.
Ta is renowned in nail care in Windham and throughout the Sebago Lakes Region because of her level of experience, attention to hygiene and providing her customers with service second to none. She formerly owned another nail salon in Windham and sold that successful business but was eager to rejoin the industry earlier this year when she purchased Excel Nails.
"The key to operating a successful business to me is loving what we do and making the customers feel and look their best," Ta said. "A customer is the most important person to come into our business, customers are not dependent on us, we are dependent on them and they are the purpose of it. We are not doing a favor for servicing the customer, it is the customer doing us a favor by letting us serve them. We are thankful for each one of our guests who walk through our door."
According to Ta, Excel Nails takes great pride in providing each of their valued customers with top service and high-quality products and materials.
"We only use the most trusted brands in the beauty industry," she said. "Our world-class products, services and technologies truly do distinguish Excel Nails from other similar businesses in this area."
All services offered at Excel Nails are decently priced and customer safety and sanitation are a priority for the staff there.
"All of our implements are always thoroughly cleaned and subjected to an approved sanitizing and disinfecting process before being reused," Ta said. "Buffers and files are used only once then are discarded. All of our pedicure procedures are performed with liner protection. Our staff is trained to follow a proper sanitation protocol that puts our customer's cleanliness as our most important and number one priority."
Loyal customers rave about Ta's dedication to quality and since she purchased Excel Nails, the business has racked up many outstanding customer reviews, many citing Excel's vast assortment of top brands and products and the salon's superior level of personalized customer care.
One customer gave a review recently which said, "Dawn and Tom are very professional. I recommend Tom for pink and white sets. Everyone there does amazing nails though! Only place I will go to in the lake region area."
Another customer raved saying, "New girl did a wonderful job. I have not ever experienced a bad job with them. Very polite and a very clean establishment. All vivid protocols are followed, and I feel safe."
"I love what I'm doing to transform short problem nails to long beautiful nails, giving our customers good results and delivering exactly what they are looking for," she said.
A complete facial waxing experience is available at Excel Nails including brow cleanup, eyebrow shaping, and lip and chin waxing, along with full-face waxing.
Dips include a full set with tips, full set with tips, full set ombre with tips, full set on your own nails, and fill set on your own nails. Excel Nails offers Pink and white powder and ombre treatments, and a full line of acrylic nail products featuring either nail polish, gel polish or shellac polish.
"At Excel Nails, a wide choice is provided to customers so you can be confident about using any services that you may prefer," Ta said. "Excel Nails is a first-class relaxation and beauty nails spa that promotes comfort, beauty, well-being and health."
The salon is open from 9 a.m. to 6 p.m. Tuesdays through Saturdays and from 10 a.m. to 5 p.m. on Sundays. Walk-ins are always welcome and gift cards are available for purchase.
"We care for every customer that walks through the door," Ta said. "We want everybody to be happy before they leave."
For more information about Excel Nails or to make an appointment, call 207-892-6752, visit them online at https://excelnailswindham.com or find them on Facebook at Excel Nails. Walk-ins are welcome and gift certificates are available which will make a great holiday gift. <