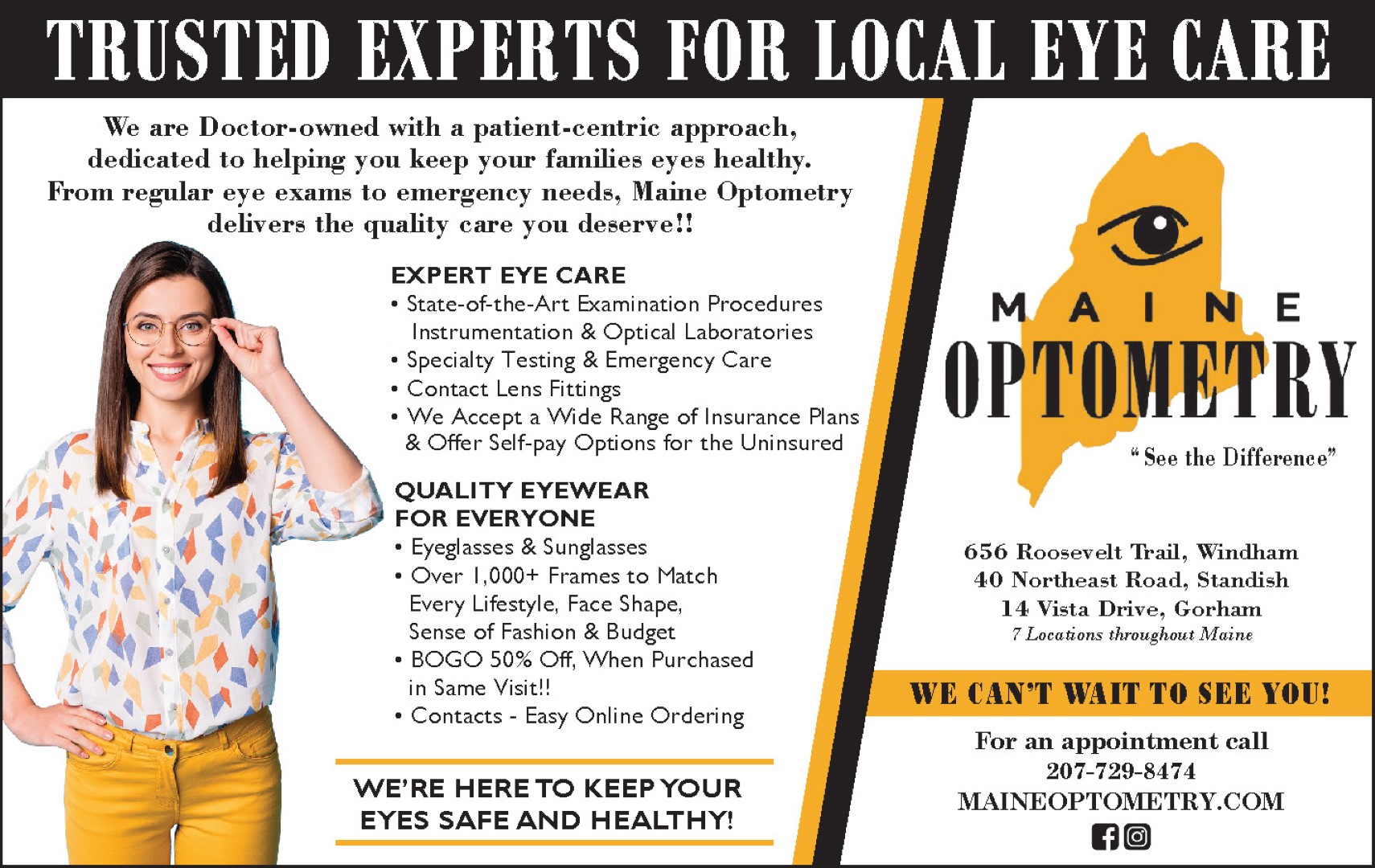 Maine Optometry opened its Windham location in 2016. Just five years later, the practice has grown so much that they needed to add a new doctor. In October 2021, they moved into a larger location on Roosevelt Trail, which now includes three doctors.
"We're so pleased the community trusts us to take care of their eye health," says Dr. Achenbach. "My family and I live here in Windham. We love this community and enjoy giving back both through our work and in other ways. As Windham grows, we're excited to grow along with it."
Dr. Rachel Achenbach, Dr. Abigail Delahanty, and Dr. Jacquelyn Wills all welcome new patients at the Windham location of Maine Optometry. Dr. Wills, a recent graduate of NOVA Southeastern University College of Optometry, had previously completed her primary eye care rotation at Maine Optometry.
Though the practice is located in Windham, the doctors serve patients from a much wider geographical area. Some people even come from New Hampshire to see Dr. Achenbach, Dr. Delahanty, and Dr. Wills.
In addition to the new Windham location, Maine Optometry has six other doctor-owned locations throughout southern and central Maine.
With the move into the larger office in Windham, Maine Optometry is also adding the most up-to-date technology and new equipment. The retail area for selecting glasses will be updated, giving clients even more opportunity to find just the right frame for their style. They carry all the latest lens options—including blue light blocking lenses, no-line bifocals, sunglasses with options including polarized, mirror, and transition lenses, scratch coating and non-glare lens treatments, specialty lenses for digital screen and occupational use, and sports and safety eyewear.
While the move means a new space and updates to the equipment, one major thing won't be changing—existing and new patients will still be able to count on the unparalleled service and care they have always received from the doctors and staff.
"I hear all the time from patients how happy they are with our staff's positive attitude and willingness to go above and beyond," said Dr. Achenbach. "It's always wonderful to get that feedback, and we love being able to provide such a positive environment where people feel comfortable as they are taking care of an important aspect of their health."
As a doctor-owned practice, Maine Optometry is able to offer a broad spectrum of eye health services while also providing customized, attentive care to the patients they see.
In addition to annual eye exams and vision correction, the doctors at the practice can diagnose and treat glaucoma, cataracts, eye health conditions related to diabetes and high blood pressure, dry eye, and other visual problems in children and adults.
Handling emergencies is also a specialty of Maine Optometry. They have a doctor on-call every night until 10 P.M. who is available to handle situations such as flashes, floaters, and irritated or swollen eyes.
Maine Optometry is committed to making eye health as easy and as accessible as possible for their patients. Insurance is a major piece of accessibility - Maine Optometry accepts most major insurances to help make their practice a viable option for more people in the community.
"Convenient access to high quality care—that's what we want to provide our community," said Dr. Achenbach. "Eye health is so important to overall health and quality of life, and we want to help make sure people are able to get the care they need. We're a private practice and doctor-owned, so we have the knowledge and flexibility to provide our patients with personalized, expert care."
Maine Optometry is also increasing accessibility and convenience by offering online options. Recently, they've made it possible to order contacts online through their website with a feature that also allows people to see their order's progress.
Maine Optometry's website - www.maineoptometry.com - lists out the insurances they accept, and also allows patients to download forms and pay their bill right on the site. Current and prospective patients can also keep up with the practice on Facebook. For more information or to make an appointment, please call 207-729-8474. <