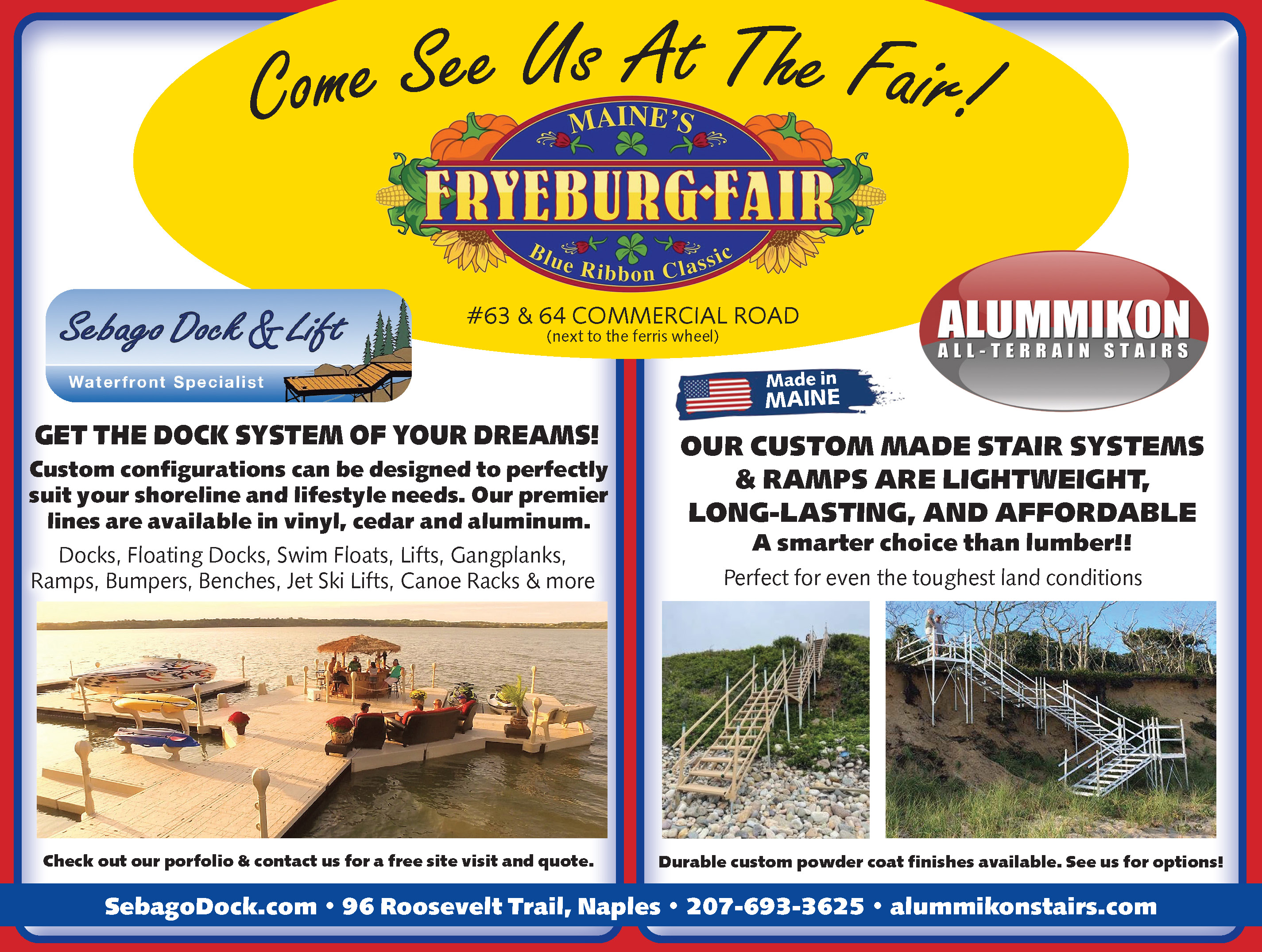 Living in the Sebago Lakes Region is a lifestyle second to none and for many that means boating and access to lake recreation is forefront to them. Fitting comfortably into that equation is Sebago Dock & Lift, Inc, a company with a sterling reputation for quality, craftsmanship, value, and customer service.
Headquartered at 96 Roosevelt Trail in Naples, Sebago Dock & Lift, Inc. has been a trusted partner of lake residents for years and offers expertise in the installation and management of docks and other waterfront requirements.
"We're a one-stop for all your waterfront needs," said Sebago Dock & Lift owner and founder Jim Wynn.
As waterfront experts, Sebago Dock & Lift provides exceptional customer service along with the ability to resolve any dock issues that may arise.
"People may not realize that we are also the manufacturer for many of the products that we offer," Wynn said. "We work year-round and when not out on the water in the winter, we're manufacturing items and doing custom work."
Wynn has been working in the dock service field since 1986 and founded Sebago Dock & Lift, Inc. in 1994.
The company offers Alummikon dock systems, which are known for durability and versatility during even the harshest of Maine winter seasons. Their cedar, aluminum, and vinyl decking panels are removable and Wynn said the Alummikon design features corner pockets built into the frame, so that the dock's leg pipe isn't held off to the side with external dock brackets. This allows for easy assembly, and the flexibility to reconfigure the dock as desired and to help make adjustments as needed.
Sebago Dock & Lift also features Alummilite products, a lightweight low-cost option for those living on small to mid-sized lakes and ponds which are a highly affordable addition to existing dock systems.
Wynn said that these dock sections are not only the most affordable in all of New England, but they are one of the lightest dock systems around.
"Their price, weight and simplicity make them a perfect alternative for the do-it-yourselfer with both the economy and functionality in mind," he said. "The Alummilite Dock System dock was built to be not only tough, but to beat out our competition while maintaining the lowest price points on the market as well as making it one of the lightest docks on the market weighing in at only 65 pounds for the frame. They're way easier than the heavy wooden docks we're all used too."
Wynn said Sebago Dock & Lift products can also be used for oceanfront gangways, stairs, ramps, and all types of decks and platforms.
"We provide products for everyone from lakefront owners to land-locked customers as well as oceanfront property owners," he said. "The ease of accessibility and durability help us to offer a great alternative to permanent wooden structures."
Above all else, Wynn said Sebago Dock & Lift is known for its attention to detail and the outstanding way the company treats its customers.
"We strive to ensure our customers satisfaction is met every time. We've been working hard for over 20 years to have a well-rounded, hardworking, and dependable service team available to help you with all your waterfront needs," Wynn said. "There is no other dock company fit to take care of your dock installation or removal needs like Sebago Dock & Lift. With our years of experience and expertise in taking care of our customers, Sebago Dock & Lift takes great pride in being the best that we can be."
He said the company's core philosophy is that it takes a strong team, a commitment to detail and a focus on customer service to run a successful dock sales and service business.
"We offer free consultations, free estimates and free dock designs," Wynn said. "It's never too late to start thinking about your dock configuration and asking yourself if you are happy with the current design and the company that installs and removes your docks."
For more information about Sebago Dock & Lift, Inc. and products and services they offer, visit sebagodock.com or call 207-693-1307. <