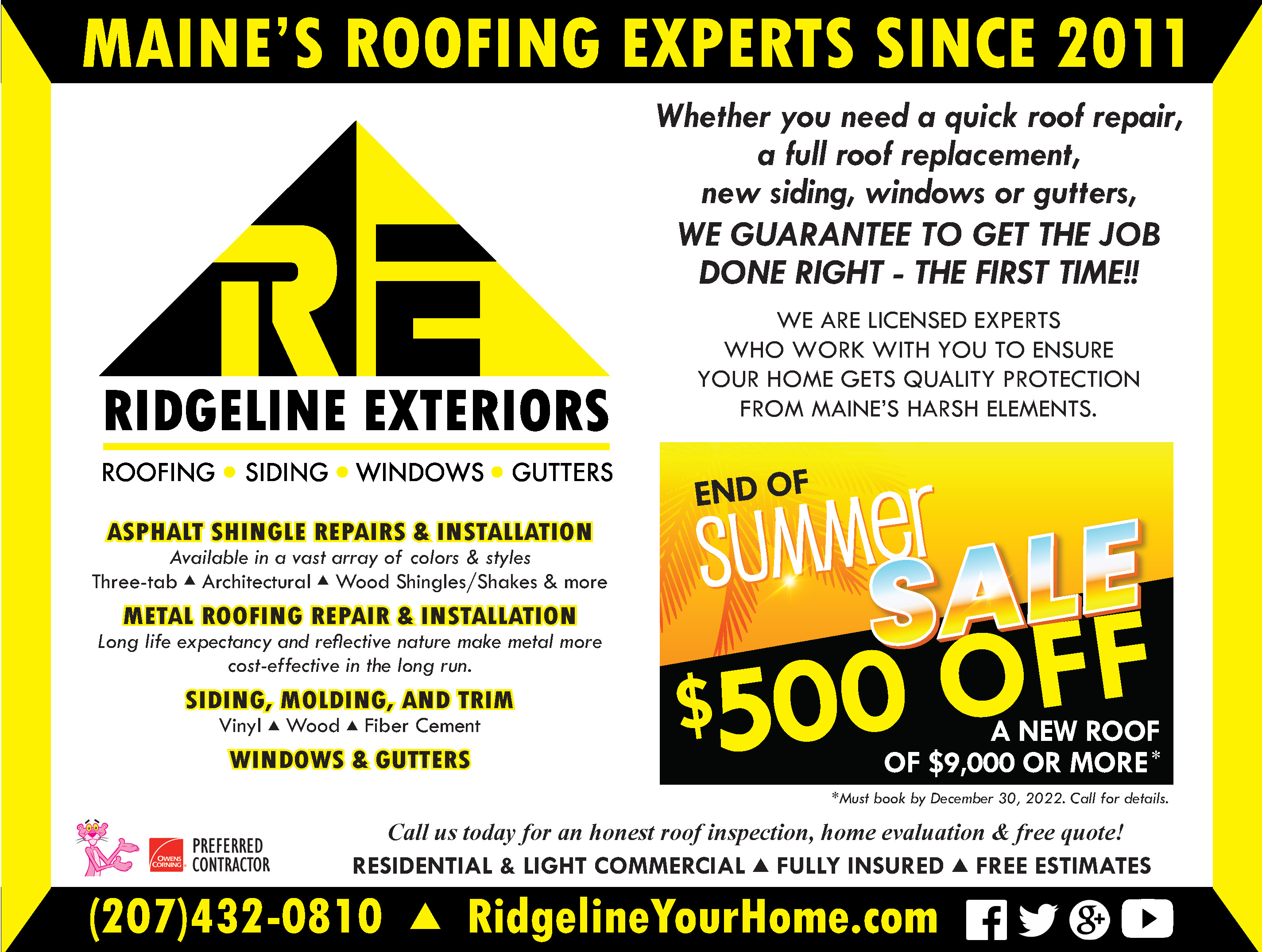 Finding a roofing company that offers quality and value, treats customers with respect and offers fair and consistent prices can be a challenge, but anyone searching for these attributes can feel confident in calling on Ridgeline Exteriors to get the job done.
Owned by Wayne and Ashley Perry, Ridgeline Exteriors is based in Sanford and works throughout Maine and New Hampshire on a year-round basis. They've been operating Ridgeline Exteriors for more than 10 years now and Ashley is the only woman to co-lead a roofing business in Maine.
Wayne Perry has more than two decades of roofing experience and he says that the success of Ridgeline Exteriors is because of outstanding customer service, excellent communication with customers and workers who take great pride in their work.
"Ridgeline Exteriors provides a lifetime warranty backed by Owens Corning for their shingles known for their beauty, performance and variety," he said. "We offer products that provide exceptional value and are backed by extended warranties."
According to Perry, Ridgeline specializes in roofs, but company workers also are experts in siding, windows and gutter work too.
As their business has expanded through the years, the Perrys have been able to offer a variety of roofing types including asphalt shingles, metal, bitumen, flat, rubber or wooden systems.
With 20-plus employees skilled in the latest in roofing technology, Perry said what distinguishes Ridgeline Exteriors from the competition is that they are fully insured including roofing general liability and roofers' compensation, their ability to offer a lifetime warranty from Owens Corning and the strong value of the products they offer.
"We've been able to hold the line on prices for the past three years and that says a lot right there," Perry said. "We strive to offer pricing that is fair and consistent."
With an A+ rating from the Better Business Bureau, Ridgeline accepts many types of payment options, including credit cards and an array of financing plans. They have a fleet of roofing vehicles and bring any tools they may need for a project, with most roofing jobs completed in a day or a day and a half and estimates are free.
"I take pride in my work and it's great to meet new people through the work," Perry said. "Every day is a new challenge and a change of scenery. One day you're in a city, the next day by the lake and the day after that by the ocean. I like all of the places we work at."
He said the hardest aspect of the roofing businesses right now is obtaining quality materials and holding the line on prices.
"The one thing about our company is that we believe in honesty and don't try sell people something they don't need," Perry said. "I believe in listening to our customers and treating each and every one of them as we would want to be treated ourselves."
To that end, Perry said that Ridgeline Exteriors always answers the telephone and believe in fully communicating with homeowners and businesses who call upon them for help.
"We walk them through the entire process and keep them informed every step of the way," he said. "We pay attention to the details. It's what makes our business work and the people we work for appreciate it tremendously."
Ridgeline can perform home roof installation, local roof replacement, affordable siding installation, home window installation, seamless gutter installation, and affordable gutter replacement services.
"Your roof is your home's first line of defense against the elements," Perry said. "And rarely can you predict when your home will be hit by damaging weather. Check us out to see what our dedicated roofing team can do to help you."
To learn more about Ridgeline Exteriors, call 207-432-0810 or visit them online at https://ridgelineyourhome.com or on Facebook at RidgelineExteriorsME. <