Since 2014, WildWood Properties, Inc. has been setting new standards for reliability, quality and customer service for landscaping and property management in Windham.
Owned by Rick and Anne Drapeau of Windham, WildWood Properties is a fully licensed, and insured landscape company that provides year-round residential and commercial landscape maintenance in residential and business markets in Southern Maine. It focuses on the delivery of quality landscape and hardscape services and an array of customized property management programs.

Currently WildWood employs a staff of 12 and offers expert mowing, overseeding, aeration, fertilizing, hedge pruning, mulch delivery and installation, planting, trimming, edging, creating outdoor living spaces, dethatching, and building firepits, ponds, waterfalls, patios, walkways, retaining and decorative walls. In the fall and winter, the WildWood team provides leaf cleanup and hauling, property checks, sand and salt spreading, roof raking, camp winterization, property checks, snow plowing and shoveling.

"We do it all," said WildWood co-owner Rick Drapeau. "Our guys are some of the very best in the industry and they don't sacrifice quality or cut corners to get the job done. There are a lot of landscape companies who for one reason or another get complacent. We take great pride in our work and provide the level of customer service and quality that is expected from the community."

Drapeau said he thinks his employees have built a reputation for excellence and that shows in the work that they perform every day on the job.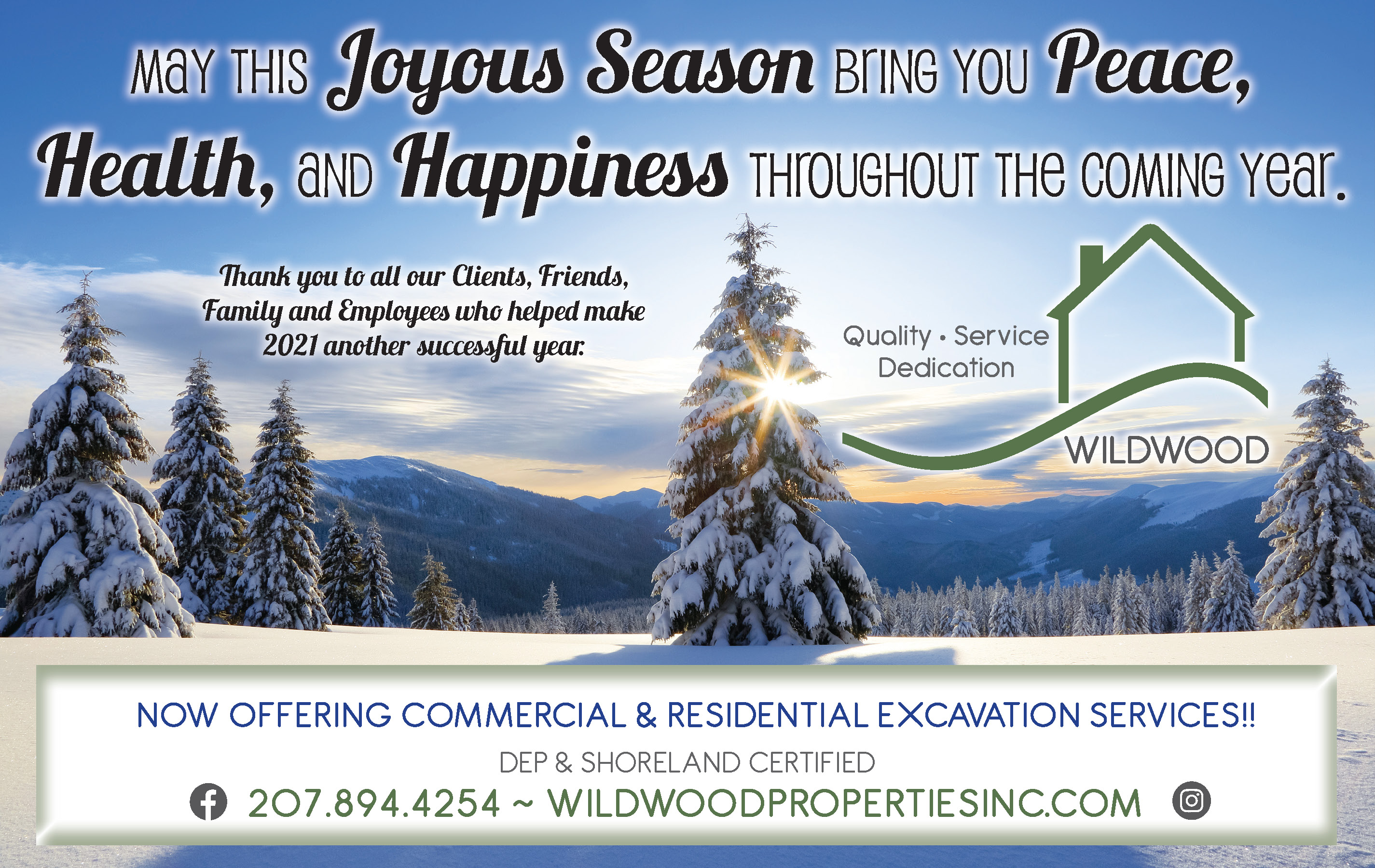 "I believe that when you surround yourself with good people that good things will happen," he said. We try to treat everyone with a level of respect that they deserve and really listen and empower them. That's what truly makes this company successful. We love our staff and are fortunate to have therm."

Offering competitive pricing, attention to detail and exceeding customer satisfaction has led to WildWood Properties being the first choice for those in the Sebago Lakes Region searching for a reputable landscape company.

"We live in this community and our customers are our friends and neighbors," Drapeau said. "Our kids go to Windham schools. We are a very community supportive company. We volunteer for the Windham Youth Soccer Association,

Windham Youth Basketball and support Windham Little League and Project Graduation."

WildWood also is environmentally conscious and earlier this year purchased its first all-electric commercial mower from Mean Green Mowers.

The new mower is battery powered and fuel efficient and has been pressed into service alongside WildWood's electric pruner and electric blowers.

"We have been researching and watching the evolution of battery powered commercial lawn equipment," Drapeau said. "This gives us the opportunity to offer clients the option of a complete zero emission, and a low-noise lawn care experience. For other clients, it will be mixed in with our regular fleet of equipment and ultimately reduce our fuel and maintenance costs."

He said that WildWood is making a commitment to supporting sustainability efforts through this new electric equipment and by donating a portion of annual revenue in

2021 to support the Arbor Day Foundation.

"When it comes to the work we do and our desire to help the industry grow while providing a healthy environment for our children's future, making sure our air is clean and forests are healthy perfectly aligns with our economic and environmental goals, Anne Drapeau said.

The Drapeaus also are excited to announce that they will be relocating their retail storefront from a 900-square-foot site in Windham to a larger 3,000-square-foot location in Windham later this year.

According to Rick Drapeau the move will give the company more room to sell products to the public including mulch, compost, super soil, stones, and John Deere Landscaping products such as professional grade grass seed and fertilizers.

"We are passionate about what we do. We love the smell of freshly cut grass and mulch," he said. "We find every yard to be a blank canvas, allowing us to create visually stunning landscape designs for you to enjoy. At Wildwood Properties, Inc., we take pride in every yard we work on, going above and beyond with the extra details to make sure your property stands out."

For more information about WildWood Properties, Inc., call 207-894-4254 or visit them online at

https://www.wildwoodpropertiesinc.com/

or on Facebook at

https://www.facebook.com/wildwoodpropertiesinc

<