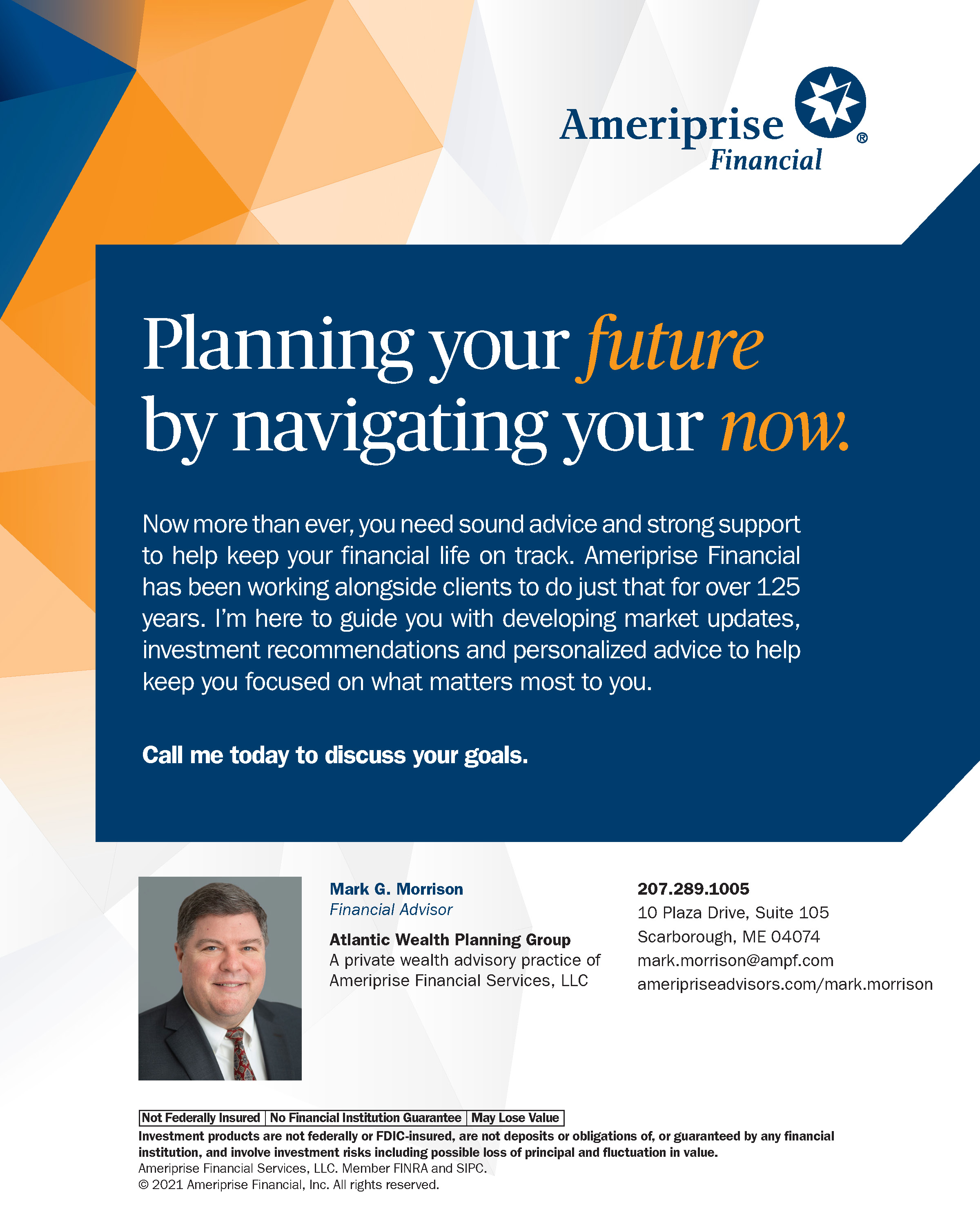 Mark Morrison is interested in helping those who understand the value of investing, even if they find it sometimes confusing.
As a Financial Advisor since 2015, Morrison is affiliated with Atlantic Wealth Planning Group, a private wealth advisory practice of Ameriprise Financial Services, LLC located at 10 Plaza Drive, Suite 105 in Scarborough, and focused on clients throughout New England. Morrison employs a personal and consultative approach for individuals, families and businesses using sound, sensible solutions tailored to the needs of his clients.
He grew up in small town Orrington and graduated from Bangor High School, where he met his wife, Candace. They have now been married for more than 30 years. Morrison earned a Bachelor of Science degree in Economics from the University of Southern Maine and moved to Windham from South Portland in 1990 soon after his daughter Kristen was born.
The Morrisons have two children, with both son Greg and daughter Kristen attending schools in Windham and going on to earn business degrees from the University of Maine. Mark's mother, Alola moved to Windham three years ago to be closer to family.
Morrison's involvement in Windham began by supporting his children's interests but has steadily grown through the years to where he is now a respected leader in the town.
"I coached my daughter Kristen in soccer only briefly and coaching her quickly turned to chauffer when she started studying ballet in Falmouth. I was out of my element fast, when it came to dance, having two left feet," he said. "I coached soccer for about six years until Greg reached 6th grade. That was about the time I became part of a grass-roots effort of parents who helped bring varsity ice hockey to Windham where my role was fundraising.
He joined the Sebago Lake Rotary Club six years ago and is the new club president. His focus is on youth leadership, food security, education, senior issues and veterans.
"Rotary is also engaged with the Windham Veterans Center where my mom is a member and a retired Army officer," Morrison said.
Along with that, Morrison has been a board member of the Windham Economic Development Corporation for three years with a focus on town improvement projects and new business opportunities.
That led to him running for a seat on the Windham Town Council last November, which he won and is now six months into a three-year term, emphasizing the town's budget, sustainable growth, and protecting Windham's natural resources.
His business background and experience in finance for 30-plus years are essential components to his work as a financial advisor. He's worked in business in sales and as a consultant to small and large businesses along the East Coast, finding solutions through problem solving, and building efficiencies in the energy, transportation and logistics industries with Ryder, Penske, and WEX.
Morrison is also a volunteer instructor with many local adult education programs, teaching on topics related to personal finance. Social Security, Medicare, business retirement plans, estate and retirement planning are my most popular (see his website for schedule).
As a consultant with businesses and individuals for over 30 years, Morrison has developed a straightforward process to work with his clients.
"I use a collaborative process which works very well for really understanding the present, and then identifying areas of opportunity to improve the client's position. We do a thorough 'drill down' in the analysis stage and solutions are then presented based on our discovery," he said. "I explain the pros and cons and we then work together to find the best course of action with which the client is most comfortable. We set goals, monitor to make sure we stay on track and adjust when needed. The process I use is sound and sensible, but it has taken many years to develop and refine. Clients appreciate this approach and new clients are often gained through referrals. I am taking on new clients, and certainly welcome an opportunity to see where I may help. <
To reach Mark Morrison, call him at 207-289-1005 or send him an email at mark.morrison@ampf.com. <