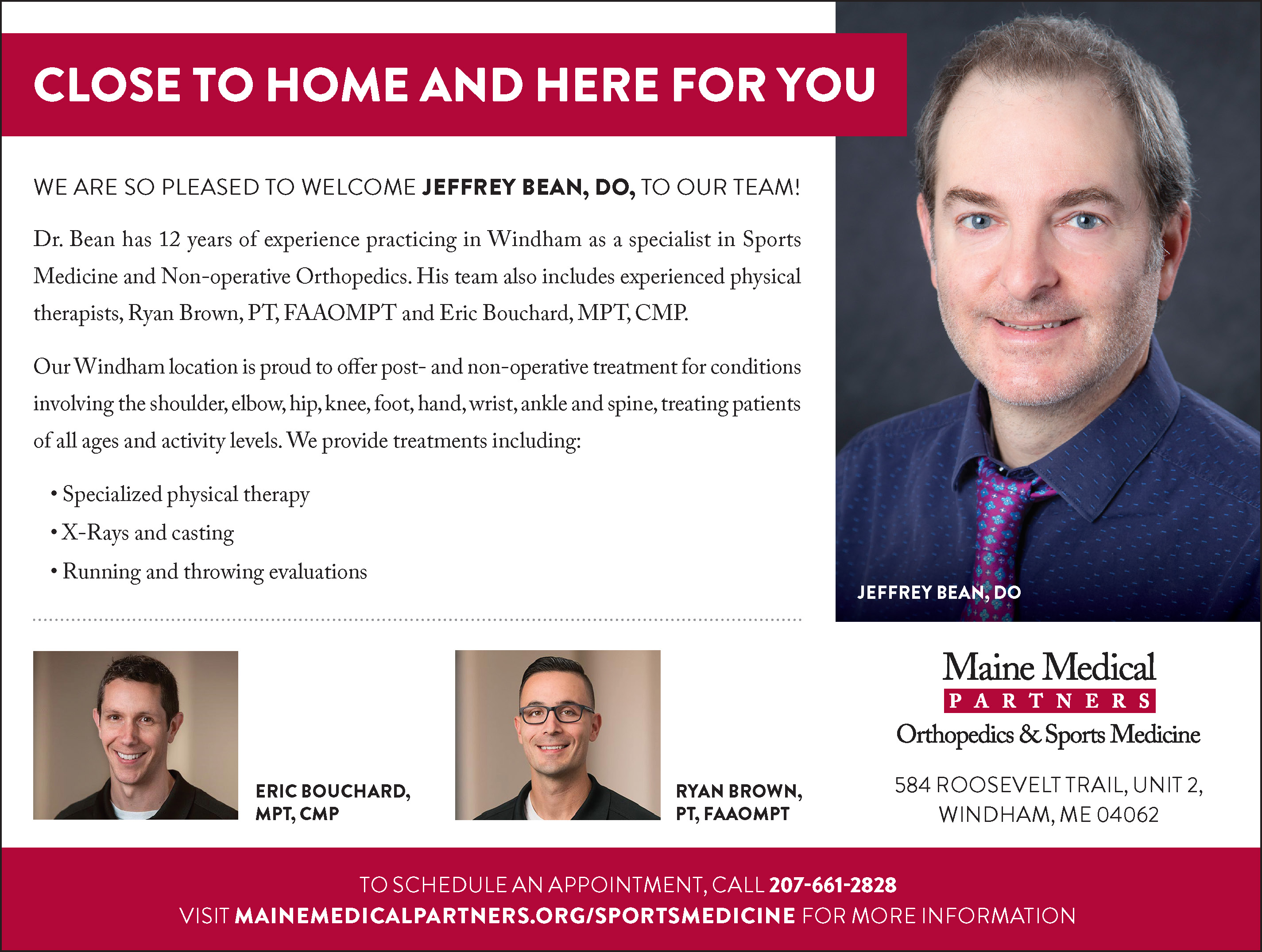 Windham native Dr. Jeffrey Bean is a familiar face for many in the community growing up in town and having practiced medicine here for the past 12 years. His passion for sports medicine and healing has led Maine Medical Partners—Orthopedics & Sports Medicine to open a Windham practice with Dr. Bean as the provider. Recently opened on March 15, the practice includes physical therapists, Ryan Brown,

PT, FAAOMPT

,

Director of Sports Therapy and Performance

,

and Eric Bouchard,

MPT, CMP.
Located at 584 Roosevelt Trail in Windham, the MMP Orthopedics & Sports Medicine practice provides advanced, personalized care for conditions affecting bones, joints, muscles and soft tissues. Patients also benefit from the latest technology, enhanced care coordination across the MaineHealth system and a commitment to quality that is a hallmark of MMP, which is the largest network of primary care and specialty practices in Maine with more than 50 practice and outreach locations across Maine and New Hampshire.
Dr. Bean is a Doctor of Osteopathic Medicine and attended medical school at the University of New England College of Osteopathic Medicine in Maine. He completed residency studies in internal medicine at Loyola University Medical Center in Maywood, Illinois, and a fellowship in Primary Care Sports Medicine at Pennsylvania Hospital in Philadelphia, Pennsylvania.
"I like to diagnose people's medical problems and formulate a treatment plan to get them better," Dr. Bean said. "That gets them back to the lives that they enjoy leading."
The new MMP Orthopedics & Sports Medicine practice in Windham serves the Sebago Lakes Region and beyond. Its level of expertise in orthopedics and sports medicine features a high-quality, specialty-trained staff that is dedicated to treating patients with issues ranging from torn ACLs to arthritic care to overuse injuries. Patients receive quality post-operative and non-operative treatment for conditions involving the shoulder, elbow, hip, knee, foot, hand, wrist, ankle and spine and a customized care plan tailored for each different individual's unique needs and goals.
"My goal is to provide an environment where patients feel comfortable, are listened to, and are treated with personalized care," Bean said. "I enjoy treating patients of all ages and all activity levels, and developing individual treatment plans that best suit each patient's needs and desires."
"When people hear that I practice sports medicine, they assume all I deal with are athletes, which just isn't true," Bean said. "I take care of every orthopedic issue affecting people of all ages and all orthopedic conditions."
Sports medicine is a growing field, and includes the promotion of exercise and health, the scientific assessment and understanding of human physical performance. It focuses on injury prevention and associated treatments, exercise for health and nutritional recommendations.
Common problems that Bean may see include aching muscles, bones and joints; lower back pain; gout; arthritis; tendinitis; carpal tunnel syndrome; bursitis; and injuries to bones, ligaments, tendons or cartilage. He also helps patients overcome a variety of orthopedic disorders such as pain; fatigue; stiff joints; swelling; redness; dull aches; weakness; tenderness; limited range of motion; and treating those patients experiencing difficulty performing daily tasks. For a full list of treatments and services, visit www.mainemedicalpartners.org/ortho.
"I like the challenge of putting together the pieces of the puzzle of someone's physical condition and helping them to get better," Bean said. "To me, it is always important to listen to the patient. The patient always comes first. It's important to be available when the patient needs you. I believe respecting and listening to patients are what leads to success in medicine."
"Our goal at MMP Orthopedics & Sports Medicine is to provide comprehensive services to assist people of all ages and skill levels so they can learn how to prevent injuries, while focusing on treatment and conditioning to help them get back to doing what they love most— as soon as possible," Bean said.
The MMP Orthopedics & Sports Medicine office in Windham is open from 8 a.m. to 5 p.m. Monday to Friday and same day appointments are available.
For more information about MMP Orthopedics & Sports Medicine in Windham, visit www.mainemedicalpartners.org/ortho or call 207-661-2828. <