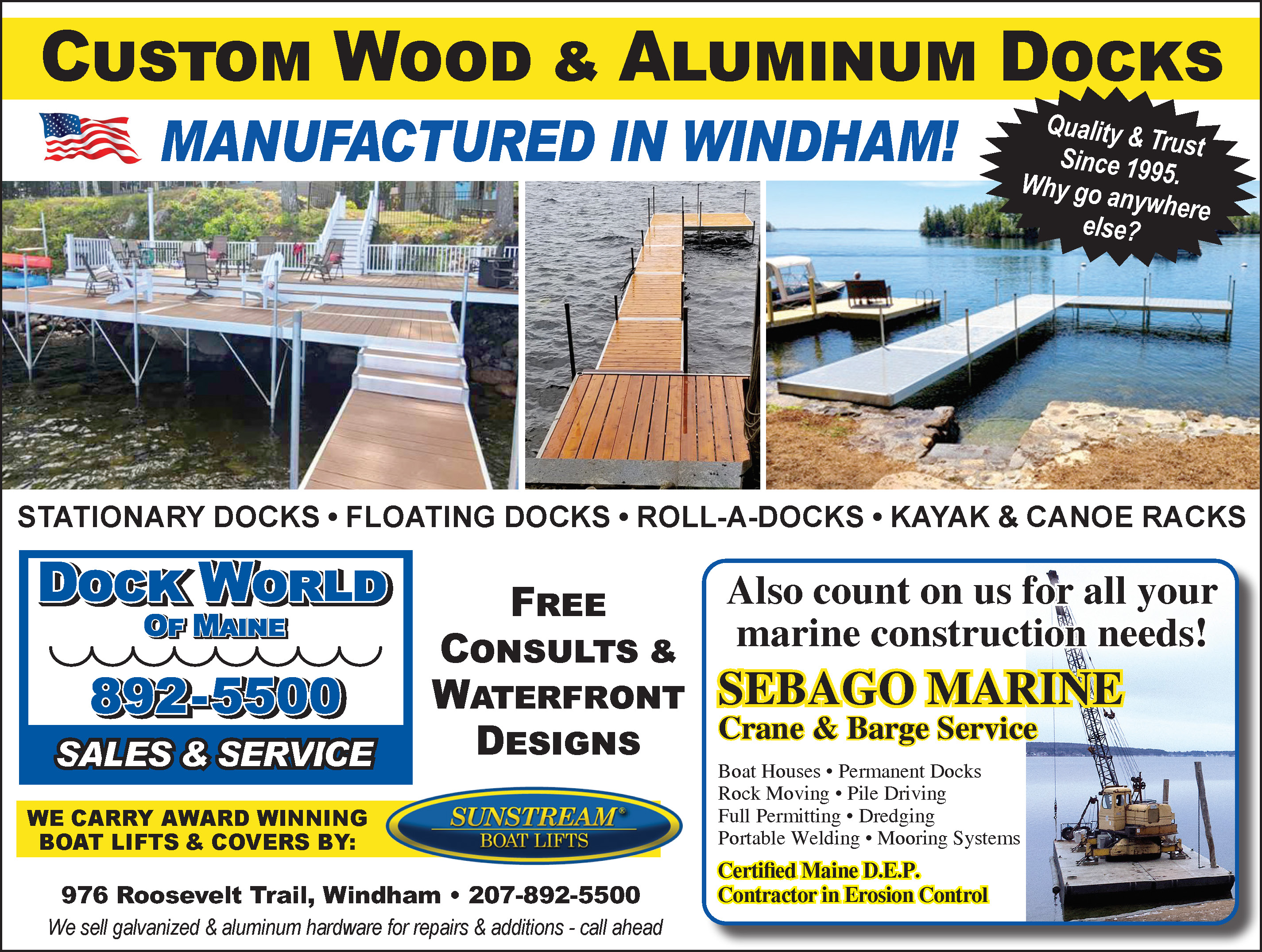 Much has changed since DockWorld of Maine was launched more than 25 years ago, but its emphasis on quality work and being of service to customers has never wavered.
Located at 976 Roosevelt Trail in Windham, DockWorld is owned by Del Wescott and its focus remains on the sales and service of docks in the Lakes Region of Maine.
"If it's on the lake, we're there," Wescott said. "We service anything on the waterfront. We build and remove boat lifts, mooring systems and perform remodels, along with the manufacturing and sales of docks."
Wescott's business philosophy differs from the competition and it's what keeps DockWorld successful after all these years.
"The difference for us is our people," Wescott said. "In our industry everybody that does what they do is subcontracted. Our employees are full time, year-round employees and they take pride in their work. They work in manufacturing in the winter and are out in the field in the summer. We have great relationships with our customers and our employees demonstrate their care for our customers always."
Because DockWorld manufactures the products that they sell, the company stands behind each item and guarantees its quality.
"We offer fair pricing for quality workmanship," Wescott said.
DockWorld has six fulltime employees, and that number can swell to as many as 12 in the summer as the workload increases, Wescott said.
"They have the skills and the expertise for what we do," he said.
In today's market, older wooden docks are being replaced by more aluminum and maintenance-free products.
"Aluminum is the trend, but right now only 15 percent of docks in this area are made of aluminum," Wescott said. "We do a lot of upgrades, but our service for other types of docks will never go away."
The company does its own metal fabrication and welding when a dock needs repairs such as when a boat runs into the dock or for other structural issues that may arise. DockWorld also manufactures wooden docks tailored to meet customer specifications.
A large portion of DockWorld's business are the sales and installation of boat lifts, with the company installing up to 80 lifts each year.
"We sell Sunstream Boat Lifts and they're the best in the business," Wescott said. "They minimize the hassle and frustration of getting your boat in and out of the water."
Sunstream is the industry leader for boat lifts offering exceptional engineering along with style, accessibility and convenience.
Wescott first launched DockWorld more than two decades ago in South Windham and then moved the business to North Windham to take advantage of manufacturing opportunities there. He also operates DockWorld's sister company, Sebago Marine.
"The best thing about what we do happens when we walk away from each job with the satisfaction of knowing that we've paid attention to detail and done the very best we can for our customers," Wescott said. "Finishing a job is very gratifying and who wouldn't want to be outside on the lake every day for your work?"
He said that the toughest aspect of the job is trying match DockWorld's scheduling into such a condensed time frame.
"Working from Ice Out in the lake to Memorial Day is difficult and always a juggling act, but we do our utmost to accommodate every customer's needs," Wescott said. ""Our customers have no time for service issues and summertime here is so short. They don't want to be without their dock for weeks," he said. "Using the best products that are available to us guarantees that local boat owners won't have to miss prime water time when they hire us for a job no matter how large or small it may be."
But to DockWorld employees, it's more than just offering superior products and having the knowledge and experience of working on docks, it's really about forming outstanding relationships with customers in the community.
"We understand as a team that it's truly all about service and doing good work that's what separates us from the competition," Wescott said. "Quality work propels our business and is at the heart of everything we do. We're a family company and we are driven by our work ethic."
For more information or to schedule an appointment with DockWorld of Maine, call 207-892-5500. <