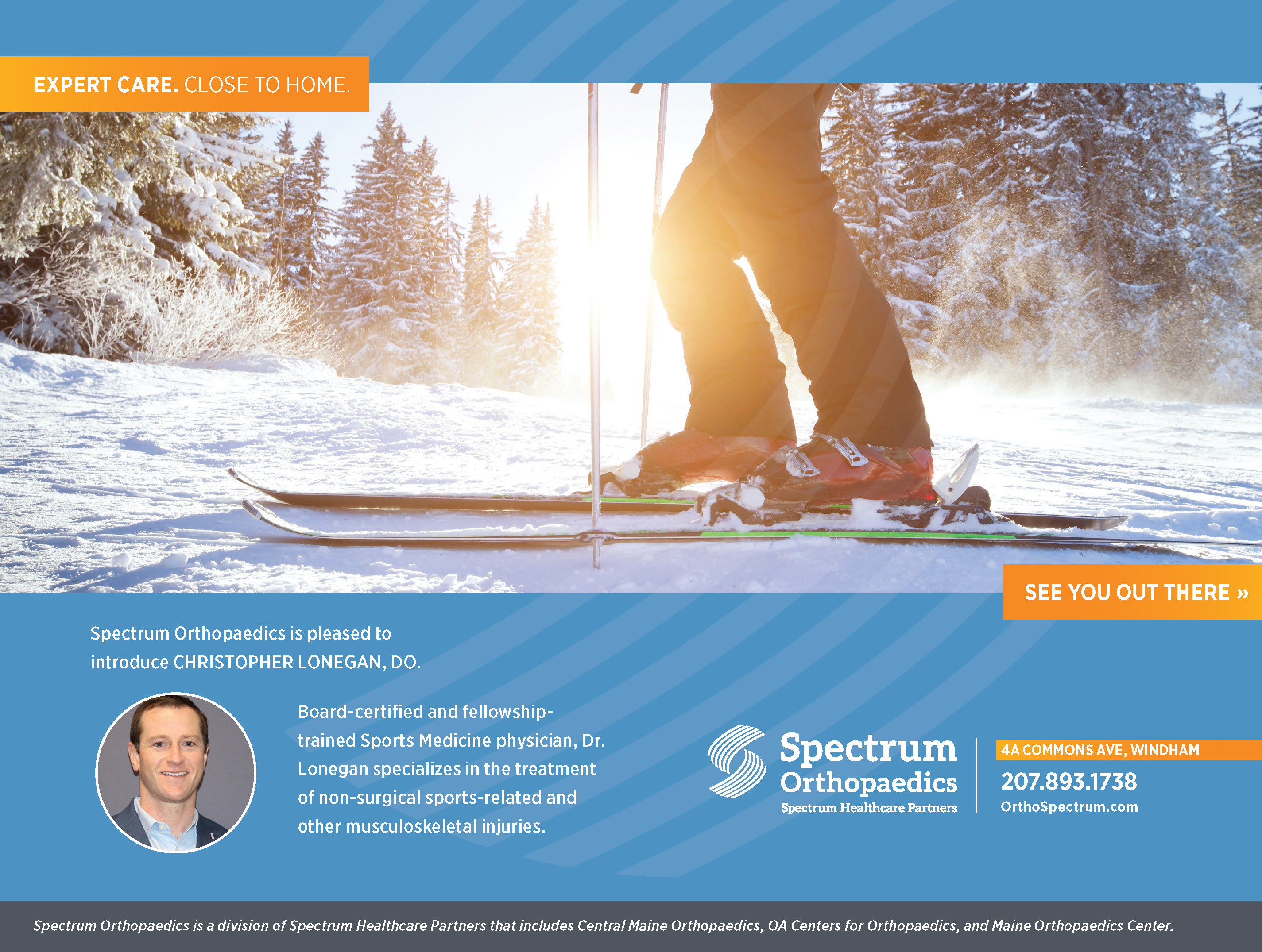 Sports Medicine physician Christopher Lonegan, DO has joined Spectrum Orthopaedics – Windham as a primary care sports medicine physician. Spectrum Orthopaedics, a division of Spectrum Healthcare Partners, which includes Maine Orthopaedics Center and OA Centers for Orthopaedics, is the leading orthopaedic practice in the state of Maine.
Lonegan, DO, is a board-certified and fellowship-trained sports medicine physician who specializes in the treatment of non-surgical sports-related and other musculoskeletal injuries. He grew up in North Yarmouth, graduated Greely High School, and received his Doctorate of Osteopathic Medicine at the University of New England College of Osteopathic Medicine in Biddeford, Maine.
He's formerly provided professional team coverage for the Connecticut Suns, New England Black Wolves, and Bellator Mixed Martial Arts. He has been affiliated with the Lake Placid Ironman and provided care for Bryant University, Johnson & Wales, Providence College, and the University of Connecticut.
As a Maine native, Lonegan is looking forward to rekindling old relationships and cultivating new ones.
"I joined Spectrum for the opportunity to return to my home state and be involved in the communities and athletics that provided the foundation for my interest in musculoskeletal injuries and medicine itself. I look forward both to working with local sports teams and patients - young and old, athletes and non-athletes," Lonegan said. "It's a moving experience to be able to practice as an orthopaedic physician and treat patients in the communities where I grew up actively training and participating in sports. I love Maine and I love Mainers. I simply can't think of a place I'd rather practice."
Christopher Lonegan, DO, has joined Spectrum
Orthopaedics -- Windham as a primary care
sports medicine physician. SUBMITTED PHOTO

The core team at Windham now includes six board-certified, fellowship-trained orthopaedic physicians who bring a broad range of subspecialty care to the community. Collectively, Spectrum Orthopaedics' comprehensive service offerings provide improved access and convenience to patients.

Their services include:

• Assessment and treatment of all musculoskeletal conditions in children and adults.

• A full range of surgical and nonsurgical treatment options.

• Injury and fracture care to help get patients back to functioning as soon as possible.

• Newly expanded Physical Therapy and Hand Therapy clinics on site.

• OrthoAccess: a walk-in clinic for acute orthopaedic care (no appointment needed).

• Musculoskeletal diagnostics including X-ray, ultrasound, injections, and U/S-based procedures.

Lonegan's arrival is among many other changes at the Windham practice site. Spectrum Orthopaedics-Windham recently unveiled an expanded physical therapy space and opened OrthoAccess, an orthopaedic walk-in clinic. These new additions will provide greater access to cost-effective orthopaedic care to the Lakes Region area.

T

he recently enhanced space at 4A Commons Ave. in Windham will better serve patients. The new physical therapy center has state-of-the-art equipment and offers patients more room for exercise and functional movement. For patients that need same-day care, OrthoAccess, an orthopaedic walk-in clinic is onsite and offers immediate assessment and treatment of sprains, strains, minor fractures, dislocations, and other sports and activity-related injuries. No appointment is needed.

All providers in the Windham office are accepting new patients. The office is conveniently located off of Route 302 and can be reached at 207-893-1738 or fax 207-892-2113. The practice site is open Monday through Friday from 8 a.m. to 5 p.m. OrthoAccess is open Monday to Friday from 8:30 a.m. to 4 p.m. The Physical Therapy Center is open Monday through Thursday from 6 a.m. to 6 p.m. and Friday from 6 a.m. to 4:30 p.m. For more information, please visit OrthoSpectrum.com.

Spectrum is the largest multispecialty, physician-owned group practice serving the state of Maine. The organization consists of 200 physicians practicing in the areas of anesthesiology, orthopaedics, vascular and interventional radiology, pathology, radiology and radiation oncology.

Spectrum Orthopaedics, a division of Spectrum Healthcare Partners, includes Maine Orthopaedics Center and OA Centers for Orthopaedics. Together, the practice offers enhanced accessibility to services, provide more convenience to their patients, and offer subspecialty expert care to all communities. To learn more, visit spectrumhcp.com/ortho. <