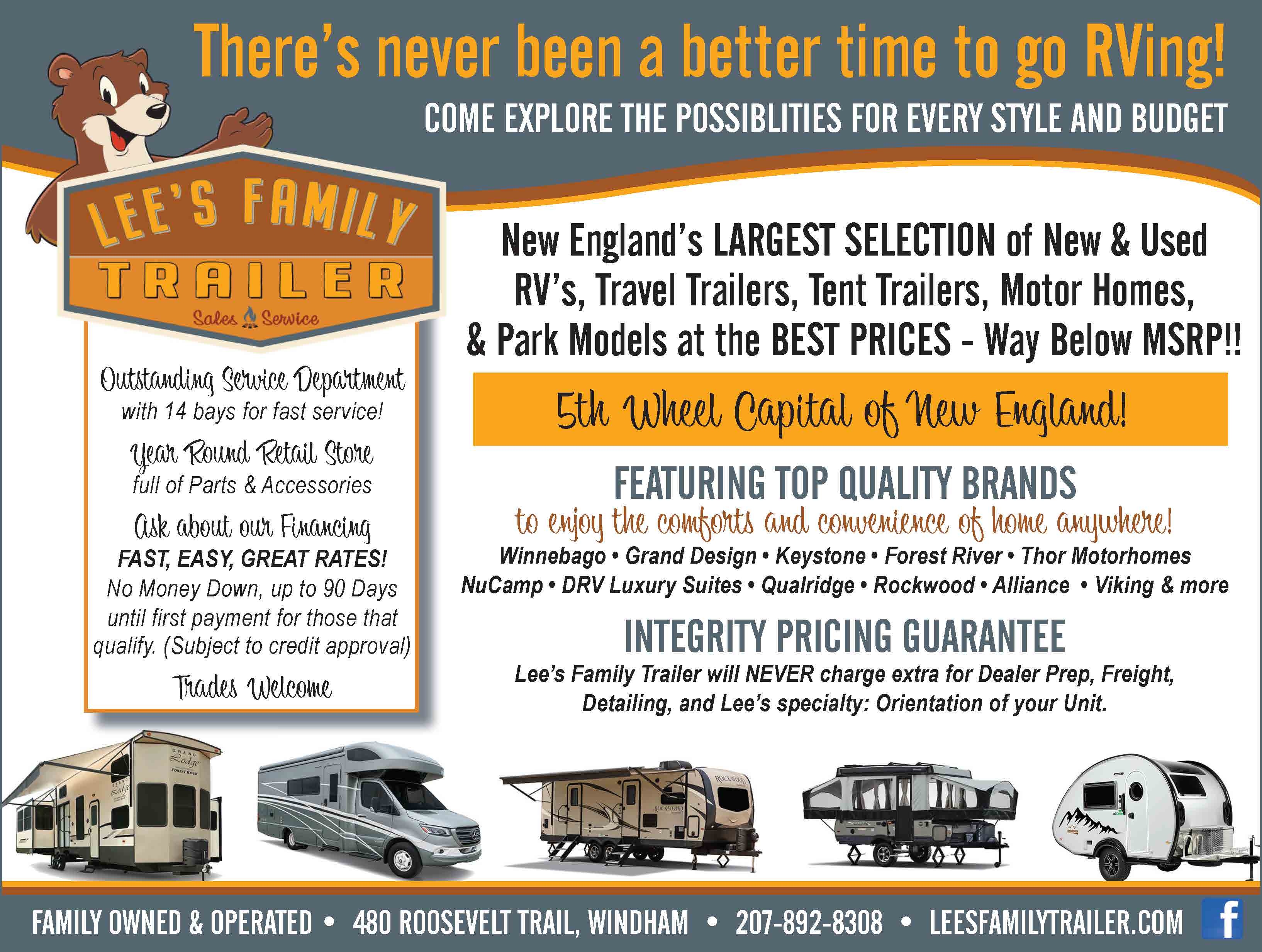 Pandemic or not, business has been booming for the past few years at Lee's Family Trailer Sales and Service in Windham.
With dozens of experienced staff members and skilled technicians and more than 500 Recreational Vehicles to choose from on site, those seeking to explore the great outdoors in comfort and style from across the United States have made Lee's Family Trailer Sales and Service a go-to destination for RV sales and service in New England.Owner Dan Craffey says the growth of his business has been nothing short of astounding and in 2020 alone, Lee's Family Trailer Sales and service sold a record 1,000 RVs, more than triple the 300 RVs sold at the facility in 2017.
"We have the best brands and have assembled a team of the most knowledgeable employees," Craffey said. "We have a full line of parts and service what we sell."
According to Craffey, Lee's Family Trailer Sales and Service has been in business since 1984 and is a Sebago Lakes Region fixture at its expansive 480 Roosevelt Trail location in Windham.
"I love coming to work here every day," Craffey said. "I love our customers, they come from all walks of life and of all ages. We offer high quality RVs from the best manufacturers in the business and we aim to make it a fun place to buy an RV from and an enjoyable experience."
Demand for RVs continues to grow as many have discovered that they can be a home away from home and can provide all the comforts of home while exploring Maine and places in America that others only dream of traveling to.
"We match RVs to our customers and teach them how to use them and harness all of the new features and new technology these new vehicles offer," Craffey said.
As an exclusive dealer for Winnebago Motor Homes sales and service, Lee's Family Trailer Sales and Service has an extensive inventory of vehicles ready for the open road at highly competitive pricing.
"Our service center has been expanded and we're open year-round from 8 a.m. to 5 p.m. seven days a week," Craffey said. "We specialize in RV repair service and have 14 service bays. That enables us to provide our customers with quick, expert and efficient service to get you back on the road in no time."
Lee's Family Trailer Sales and Service also takes pride in having a complete line of parts and accessories for those wishing to work on their own vehicles.
And the business also includes an excellent rental program that includes motorhomes and travel trailers to fit almost any budget.
According to Craffey, the typical Lee's Family Trailer Sales and Service customer loves camping, craves adventure and enjoys traveling to scenic places. Whether using an RV on the weekends or holidays or if it's a fulltime residence, these individuals experience a sense of freedom and take in rugged landscapes and scenic views without spending huge amounts on costly hotels or airfare. They can be used in all seasons and the family pets can go along with you on your journeys.
"We can train anyone how to drive an RV and no special license is required," Craffey said. It's simply a great way to explore the sights of Maine or anywhere in the United States."
RVs are exploding in popularity because they are affordable and perhaps the safest form of travel offered in America today. They can be customized and driven to remote campsite locations or on interstate highways to vacation spots or even visiting out-of-state relatives.
For more information about Lee's Family Trailer Sales and Service, call 207-892-8308. Visit their website at https://www.leesfamilytrailer.com/ or look for them on Facebook under Lee's Family Trailer Sales & Service.

Since purchasing Lee's Family Trailer Sales and Service in Windham in 2017, owner Dan Craffey
has expanded both the service department to 14 bays, along with the inventory. These changes have
proven to be successful with a record number of sales in 2020 of over 1,000 vehicles sold.
SUBMITTED PHOTO