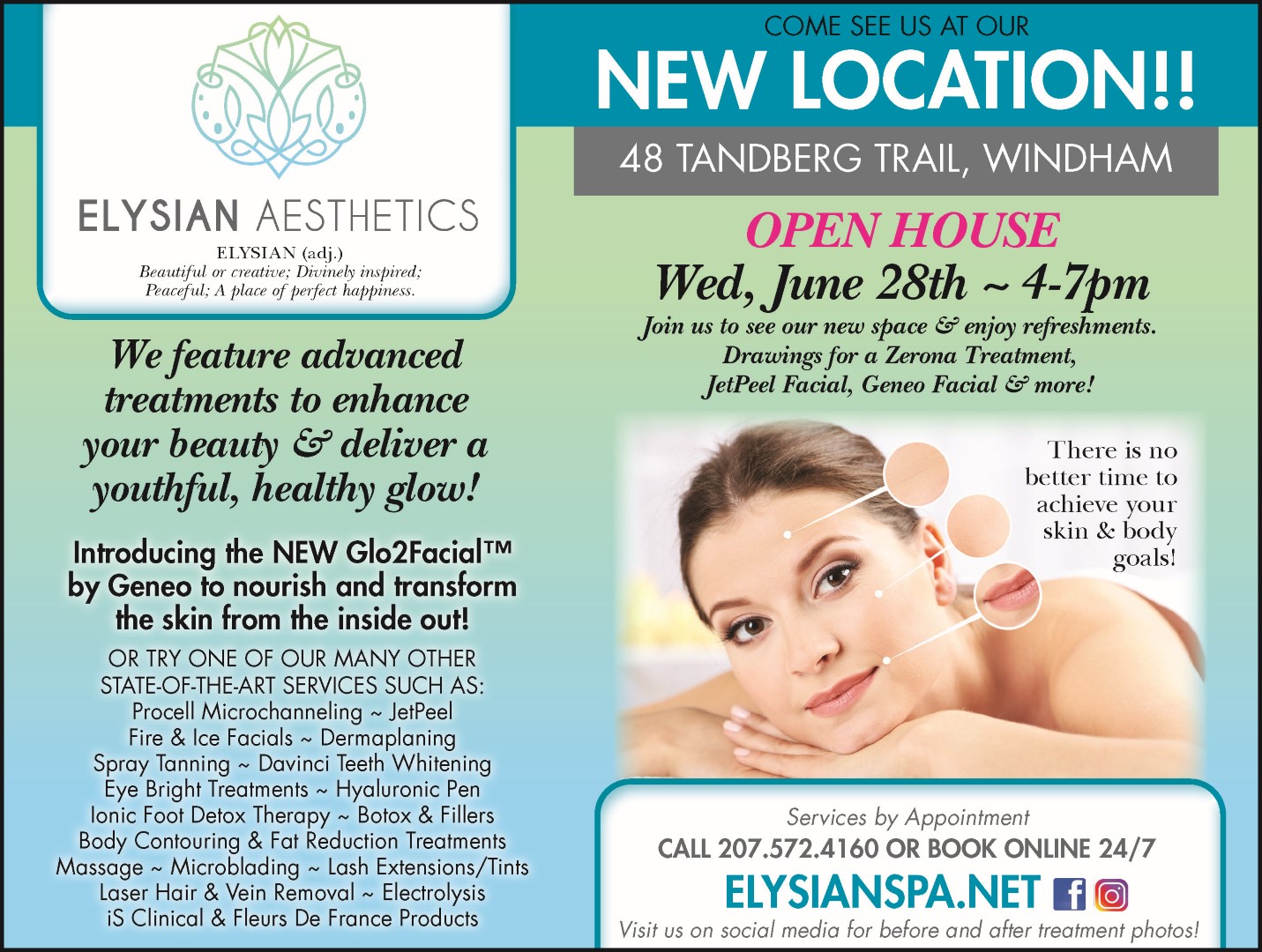 It's no secret that as we age, our bodies undergo change and not all of those alterations are preferred.
The science of aesthetics was created to help everyone achieve the improvements they personally seek and now those options are affordable and available to everyone in the Windham area at the Elysian Aesthetics Spa.
Located at 104 Tandberg Trail in Windham, Elysian Aesthetics Spa provides expertise in identifying appropriate treatment options to achieve your goals and to guide you through the treatment process. The team at Elysian Aesthetics Spa is skilled at performing safe aesthetic procedures and offers a wide range of services at competitive rates.
They perform DaVinci Laser Teeth Whitening; Ionic Foot Detox Therapy; Microblading; Lash Extensions; Facials; Body Contouring and Fat reduction; Needle-free lip fillers; and full body waxing. Also available is JetPeel, which takes care of fine lines and wrinkles, skin rejuvenation, active acne and acne scars, thinning hair and hair loss, excessive sweating, scar tissue and stretch marks.
"I love being a part of helping people feel better about themselves and watching some pretty amazing transformations," said Deborah Lewia, owner of Elysian Aesthetics Spa. "It's something that I was always interested in and it's a dream come true for me."
A graduate of Aveda Institute in Augusta, Lewia says that her passion is to help people of all ages achieve their skincare goals and to feel great about the way they look. She has several years of working in the aesthetics field along with working under a plastic surgeon in a medical spa. Plus, she has had extensive training in numerous medical grade devices and in providing many different aesthetics treatments.
Deborah Lewia is making
her dreams (and yours) come
true by owning and
operating Elysian Aesthetics
Spa in Windham.
SUBMITTED PHOTO
She's highly adept at using JetPeel and ReShape technologies which render treatments that are invisible to the naked eye, but with exceptionally visible results. These treatments are used for skin rejuvenation, skin brightening, hair restoration, Rosacea, cellulite and much more.
Elysian Aesthetics Spa is among the premier facilities statewide for eyelash extensions, microblading, Ionic foot detox treatments, DaVinci teeth whitening and lash and eyebrow tinting.
Looking to rid your body of toxins and heavy metals? The Ionic foot detox is for you. Your feet have over 4,000 pores which makes them an ideal modality for detoxifying the body to help balance the body's pH, reduce stress, boost mood, help prevent illness and more.
DaVinci teeth whitening offers a fast, safe and natural way to brighten teeth instantly. The LED blue light technology is trusted by dental professionals and is recognized and used world-wide to remove years of staining from teeth. Results are amazing and are super affordable at only $160 or $190 for those with sensitive teeth.
"We have everything to help you feel and look your best from your head to your toes," Lewia said. "We're anxious to show you how to achieve your optimum skin health."
They also carry the iS Clinical skincare line and specialize in the "Fire and Ice Facial," otherwise known as the "Hollywood Red Facial" treatment. This facial results in a complexion that is dramatically refined, with no downtime, peeling, or other negative side effects and is good for all skin types. Elysian also offers individually tailored at-home skincare routines and products for all ages.
Having just opened in September in Windham, Elysian Aesthetics Spa is building a loyal following of devoted clients and Lewia welcomes anyone interested to contact her to learn more about how life-changing treatments are made there each day.
"We're different in that all of our services are non-invasive, needle-free, with zero down time," she said. "I'm the only place in Maine that offers a needle-free face lift."
Lewia, a licensed and insured aesthetician, also employs a technician at the facility who specializes in lash extensions and full body waxing.
"I chose Windham for Elysian Aesthetics Spa because I like the town a lot," she said. "I lived here for a year 20 years ago and I always wanted to come back. I have loved every minute so far and have enjoyed meeting so many nice people. It's wonderful to see these transformations unfold before our very eyes and witness so many find exactly the look they have been trying to achieve."
The facility is open Monday through Friday and on Saturday by appointment only.
For more information, call Elysian Aesthetics Spa at
207-572-4160 and visit them online at
www.elysianspa.net
to learn more about their services.
They are also available on Facebook at:
https://www.facebook.com/search/top?q=elysian%20aesthetics%20spa%20llc
and Instagram at:
https://www.instagram.com/elysianaestheticskin/.