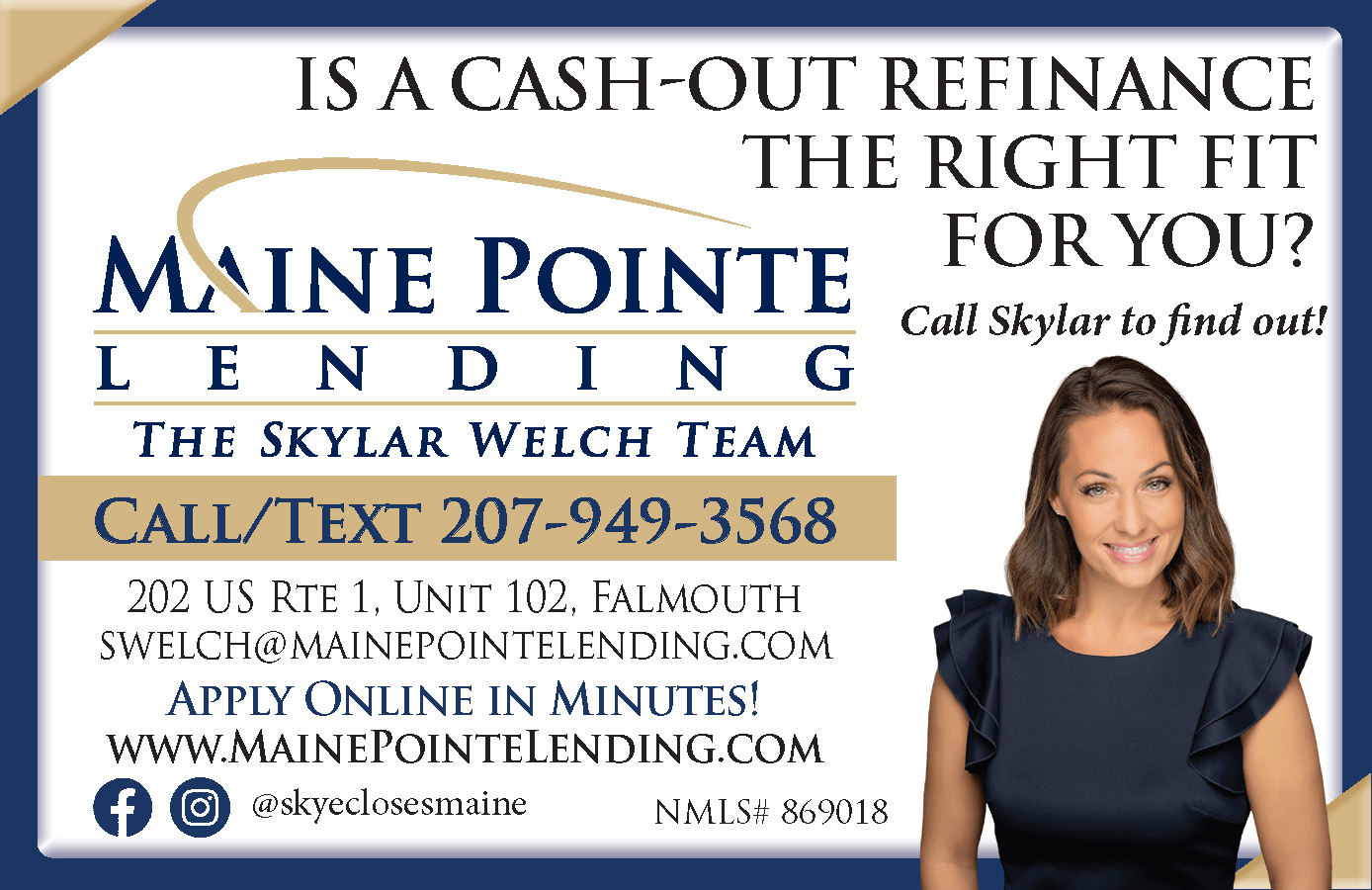 The foundation of any successful business is always outstanding customer service and that is precisely
what Skylar Welch of Maine Point Lending is striving to achieve.
Welch, a residential mortgage broker, provides Conventional, FHA, USDA, VA and construction loan options for purchasing and refinancing homes and is the only VettedVA Lender in the state of Maine. She has the knowledge and experience required to navigate the complexities of home loans and has been recognized as one of the top loan originators in America.
But for Welch and her business, Maine Pointe Lending, defining success is truly all about being someone that clients can trust to have their best interest at heart at all times and delivering exceptional and personable service to everyone that seeks her help and expertise.
"I truly care about my clients, and create a memorable and personal experience," Welch said. "I also am able to close loans extremely quickly and am always available for my clients, who are the main point of the transaction. We make it a personal, stress-free, easy process with a local, reliable, friendly mortgage broker by providing lots of loan options, great rates and fast service."
According to Welch, what motivates her the most is genuinely liking what she does each and every single day.
"For me, I work a lot of hours because I love helping people to get into a home and to change their life," she said. "I'm local and I'm very responsive. I don't work banker's hours and many times we can obtain same-day approval where some loan applications at banks can take 60 to 90 days. My goal is to give those I work for a personal experience and no additional fees and lots of options."
She says everyone looking to buy a home should call Maine Pointe Lending first to be qualified for a loan prior to entering the real estate process.
"Every single real estate agent will ask them if they have been prequalified. I can help them find the perfect loan program for them, what they are qualified up to, and most importantly help them find a purchase price that gives them a comfortable monthly payment," Welch said. "They can then take this info back to their real estate agent and be completely prepared and ready to start the homebuying process to find their dream home. I also have been in the market for a long time and know all of the best agents in the area and can help connect them with the perfect fit to help them with the buying process."
Maine Pointe Lending is a family
run, family built business. Owner
Skylar Welch and her family are
residents of Windham. PHOTO
BY CHARITY CLARK
PHOTOGRAPHY
Welch launched Maine Pointe Lending in October and employs a staff of six after years of working in the business of loan origination. She says the employees of her new company constantly monitor the local real estate market and work with a variety of lenders to maximize buying power for all of their customers.
"We are always keeping up to date on all of the loan options out there, as well as market updates. Rates are currently at record lows, so it's a great time to refinance and offering a super, easy streamlined refinance for veterans," Welch said. "Because I am a broker, I am able to shop around to find the best available rate and program for the client."
A licensed mortgage loan originator, Welch said Maine Pointe Lending has clear advantages that anyone looking to purchase or refinance a home should explore. "You'll work with a mortgage loan broker and provide lots of options," she said. "Our overhead is low and because of that we can offer lower rates. We have streamlined the paperwork and application process making it super easy and available digitally. We offer a quality, extremely responsive and personable experience. We are never trying to sell anything to anyone and want to simply help everyone find the best option. I want every client to feel like they are my only client."
Maine Pointe Lending is at 202 US Route 1, Suite 102 in Falmouth. Call 207-949-3568 or find them online at www.mainepointelending.com They're also on Facebook at https://www.facebook.com/skyeclosesmaine/posts/1612565075590101?notif_id=1605205062864493&notif_t=page_post_reaction&ref=notif <