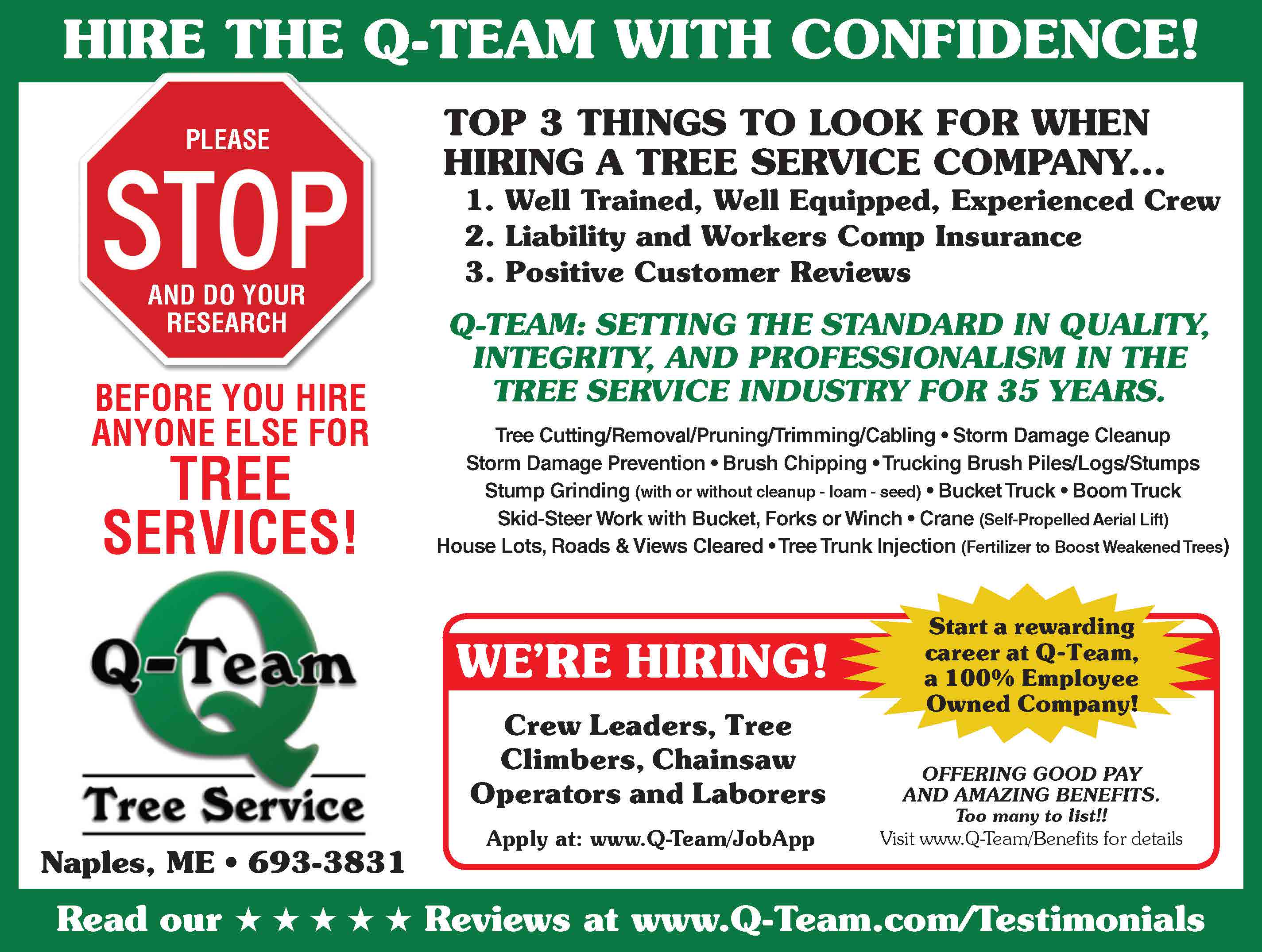 Chances are that when a tree needs to be removed or is causing a problem on your property, it can be a dizzying decision to make about who to call for help.
But with years of experience and expertise, Q-Team Tree Service is a sound choice to get the job done safely and securely.

With a staff of 26 employees that are available within the Sebago Lake Region, Q-Team has been a trusted choice for generations when tree management issues arise.
Located at
86 Casco Road/Route 11 in Naples, Q-Team is open 8 a.m. to 5 p.m. Monday through Friday year-round and can handle the most difficult tree tasks including removing and pruning dangerous trees and branches, stump grinding and tree trunk injection.
"We inject fertilizer into weak trees, and we're gearing up to inject pesticides into ash trees to fend off the Emerald Ash Borer, which is headed our way," said Robert Fogg of Q-Team.
Fogg said that Q-Team has a very experienced crew and some has very specialized equipment.
"For instance, we have two self-propelled aerial lifts that enable us to get into tight spaces with little or no damage to the yard and remove trees faster and safer than climbing or dropping the tree whole," he said. "These lifts are 87 and 92 feet tall."
According to Fogg, Q-Team prices are competitive with other fully insured high standard providers and they offer knowledgeable and experienced workers and have the right insurance coverage and equipment to tackle the hardest jobs.
He said Q-Team gives free estimates and if a customer is concerned about cost, payment plans are available.
Shoreland tree cutting rules have become much stricter and more complicated over the years and Fogg said that Q-Team knows what is needed to get the job done legally.
"We spend a lot of time identifying what work can be done legally near water bodies and getting the work permitted before cutting," he said. "One thing people should know is that if they hire someone who is not familiar with the shoreland tree cutting rules, or doesn't care, and they cut too much, the property owner is typically held responsible, not the contractor, and it can run into a lot of heartache and expense."
He said that Q-Team has a rock-solid reputation for being professional and doing what's right for both their employees and their customers.
"We don't cut corners on safety or quality just to cut the price and work cheap," Fogg said. "If someone gets a lower quote for tree work from another provider, you can bet there's a good reason for the difference. Remember, the bitterness of low quality lingers long after the sweetness of low price has been forgotten."
His advice to those looking to have tree work done is to hire a contractor with Workman's Compensation Insurance.
"Tree work is dangerous work and if a worker gets hurt on your property without adequate insurance to cover the medical bills and lost income, they may seek compensation from you," Fogg said. "Be sure to get a 'Certificate of Insurance' directly from the tree service provider's insurance company that includes liability insurance and more importantly worker's compensation. This way you have proof and if the insurance is canceled, you will be notified."
Fogg started Q-Team in 1985 and it merged with Cook's Tree Service of Bridgton in 2007. Cook's was started by the father of Q-Team's Adam and Aaron Gosselin, and along with Keith Andrews, they do the majority of estimating and lining up work for Q-Team.
The most difficult jobs for the company are when a tree top extends over the roof of a home because the goal is to remove the tree without causing damage to the roof, Fogg said.
Fogg said there is one job he's particularly proud of.
"A couple of years ago we took down and removed a very large white pine tree at the new location of the Rufus Porter Museum in Bridgton and we were able to donate the work," he said. "We have figured out how to do large quantities of high-quality work and you can see the proof in the thousands of testimonials on our website, Q-Team.com.
Fogg said that Q-Team is employee-owned and as such, it gives workers a better sense of pride in the work they perform.
"The thing I like best about working at Q-Team is I get to work with some experienced and dedicated people and we are able, on a daily basis, to help people solve their tree issues and keep their properties safe," Fogg said. "We have hundreds of repeat customers, some that have been with us for 30 years."
Q-Team is constantly hiring and offers great benefits which can be viewed at Q-Team,com/Benefits. Visit Q-Team.com/JobApp to apply.
For more information about Q-Team services, call 207-693-3831 or visit Q-Team.com. <