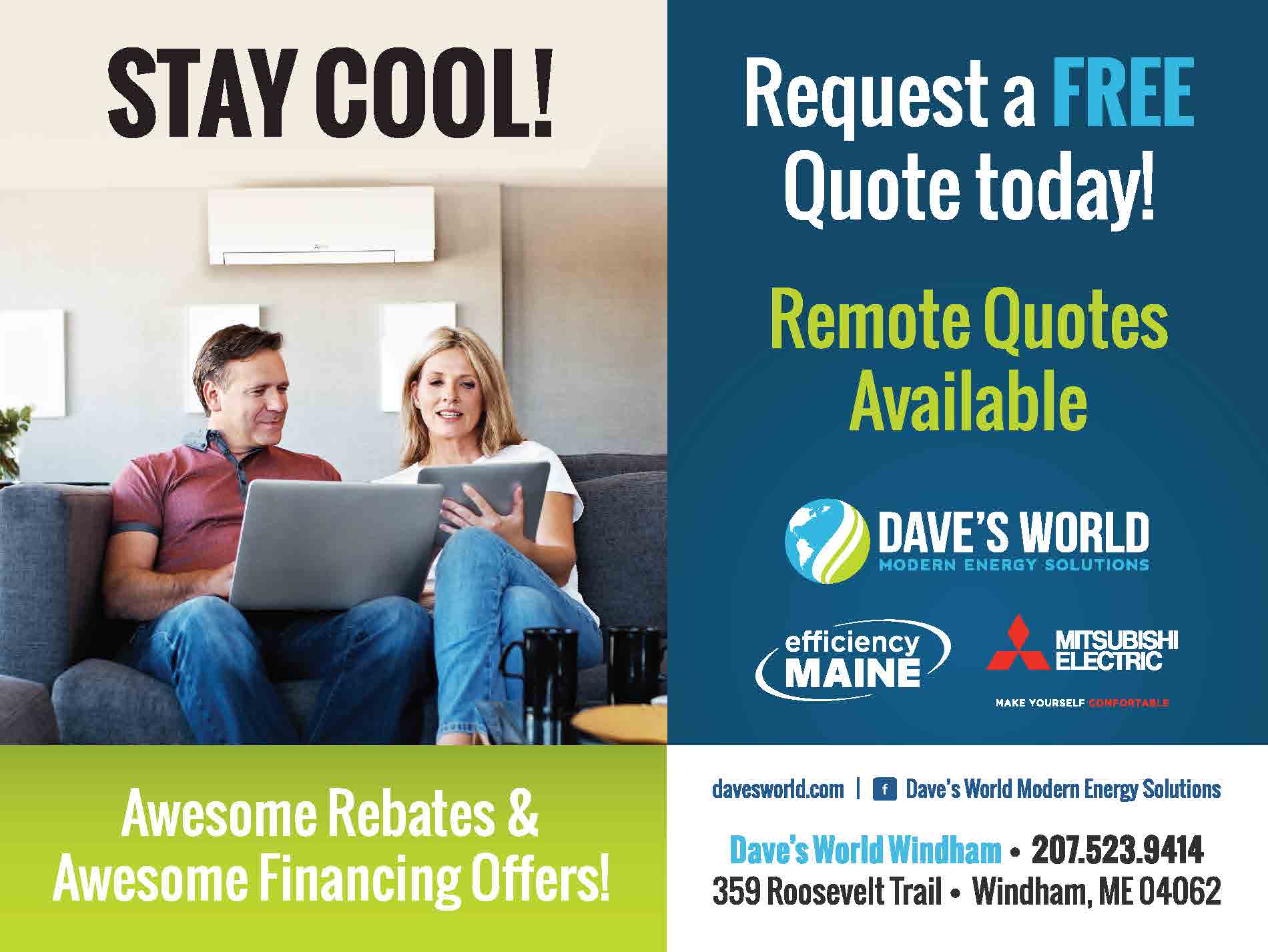 Summer may not usually be associated with thinking about winter heating costs, but there's never been a better time for home and business owners to consider investing in a highly efficient dual-purpose heating and cooling pump from the experts at Dave's World with great rebate opportunities available.
With Maine locations in Windham, Scarborough, Dover-Foxcroft, and Ellsworth, Dave's World is committed to providing only the finest high-quality products and legendary customer service after the sale. Offering more than 40 years of experience and knowledge of the products they sell and maintain, Dave's World has become the largest residential heat pump installer in the United States and remains a trusted leader in the field of heating technology.
"We've been in business since the 80's and have 60 employees and growing," said Matt Scott, Dave's World vice-president. "The best thing we offer is peace of mind. We're really good at electronics and can fix any issue that arises with a heat pump. Our reach is tremendous and extends from Jackman to Calais to Ellsworth to Kittery and we have a dedicated sales team at each store that truly cares about customer service."
Scott said that Dave's World specializes in ductless heat pump systems that are energy and environmentally efficient and supply long range heating and cooling solutions tailored to fit customer needs. The company sells state-of-the-art hyper-pump brands such as Mitsubishi, Fujitsu, Daikin, LG and Haier and their own brand, Osem.
According to Scott, a heat pump is an electrical device that extracts heat from one place and transfers it to another, similar to the technology used in refrigerators and air conditioners. The heat pump cycle is fully reversible and can used to warm homes in the winter and cool them in summer.
Heat pump systems deliver quiet and reliable comfort throughout the year at substantial savings over wood, pellet, oil, and propane systems. They are a smart, energy-efficient alternative that take the place of both furnace and air conditioning units and offer unbeatable efficiency and an environmentally friendly upgrade to traditional heating and cooling systems.
The process begins with a simple and convenient consultation in your home with a Dave's World sales team member. A written estimate is developed on the spot based upon the size of structure to be heated and your desired budget. All heat pump systems come with a full 12-year warranty and a one-year workmanship guarantee and financing for systems is also available.
"We offer the total package and the best value in the business," Scott said. "We use top-notch installers and stay up to date on cutting-edge technology to better serve our customers."
He said during the installation process, Dave's World handles all mechanical and electrical permits needed to add a heat pump, so all customers have to do is sit back and enjoy the savings they will experience.
"They are most gentle on the environment because they are electrical," Scott said. "From no other heating source can you get above 100 percent efficiency, yet heat pumps offer 300 percent efficiency. Every single BTU is used."
By regulating the climate inside homes and businesses, heat pumps also promote health and improved quality of life by eliminating buildups of condensation, mites, mildew, and airborne spores through the circulation of clean and dry air to breathe.
Because the company has been in business for four decades, customers can rely on Dave's World for practical and honest guidance about heating solutions or repair costs.
"Our customers are not guinea pigs," Scott said. "We're very seasoned and we know the best products to use with every structure. And one of the most important things we've found through the years we've been doing this is that service after the sale really matters."
Costs to operate a properly sized heat pump are about one third of those of a conventional heating and cooling system and lead to huge savings for home and business owners in the long run, Scott said.
Because Dave's World is a family business, Scott said that each and every employee can relate to concerns and questions customers may have.
"We're small town people and treat everyone like family," he said. "We keep the same pricing no matter who you are and care about everyone we work with.

We believe in sharing our expertise and industry knowledge with all of our customers to help them make informed decisions that meet their unique needs."
In Windham, Dave's World is at 359 Roosevelt Trail and is open from 9 a.m. to 5 p.m. Monday through Friday and by appointment only on Saturdays.
For more information, call 207-523-9414 or visit davesworld.com.
<