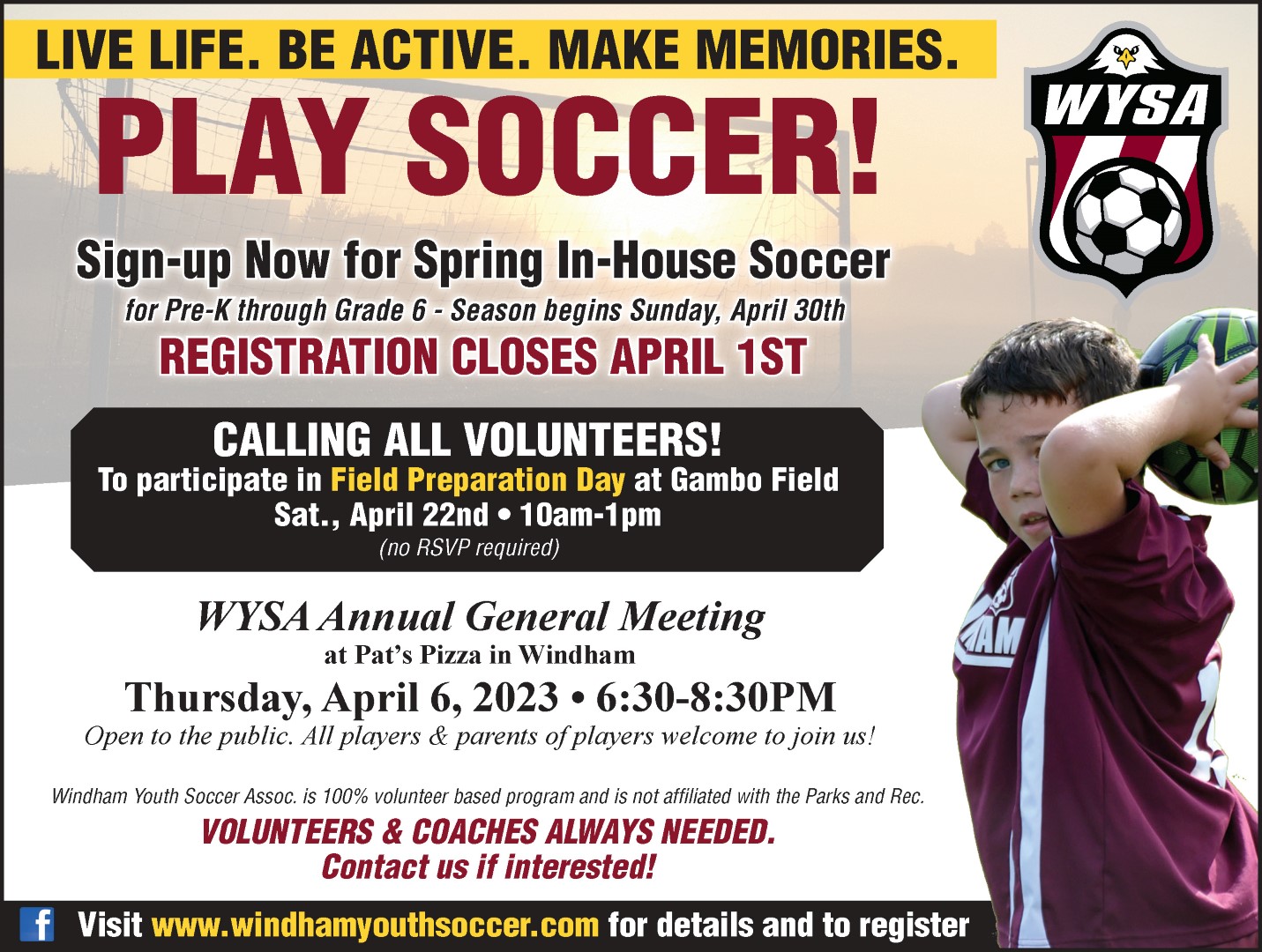 Entering its 39
th
year with a mission to develop, promote and administer the game of soccer to youth between the ages of two and fourteen, Windham Youth Soccer Association is one of the
only soccer clubs in the state of Maine
that runs both an In-House soccer program and a travel soccer program. The Association, which owns, manages and maintains their own soccer complex at Gambo Field, is run exclusively
through a team of dedicated
volunteers
of coaches and board members
with no direct town resources or affiliation.
"Our long history of success is due to the devoted enthusiasm of our volunteers," explained volunteer Board Member, Amy

Bilodeau

. "There is no way we could do this without the collaboration between parents, coaches, board of directors and other community members."
Volunteers of the Windham Youth Soccer Association provide
instructional, recreational and competitive soccer programs and leagues for all genders and playing ability levels for approximately 1,100 youth per year.
There are three specific soccer team options available for any child or teenager living in Windham as well as the surrounding communities who do not have their own recreational or travel soccer programs. The three programs include: Little Eagles, In-House (also referred to as recreation soccer) and Travel.
The
Little Eagles soccer program is for children ages two to three years old. Lead by junior coaches, the 45-minute Saturday morning lessons during the spring and fall seasons include games and skill building activities. "It is a fun introduction to the game of soccer," stated

Bilodeau

.

"Often, most children discover after participating in the Little Eagles program that soccer is a game they want to continue to play and go on to participate in one of our other two programs."
The Windham Youth Soccer Association also offers the travel soccer program. It is for players who are interested in participating in a more competitive environment and the team participates in the Soccer Maine's Fall Classic League playing teams from all over Southern Maine.
The Association website explains that travel teams are selected based on evaluations held in mid to late May with the goal to have a playing opportunity for all interested players and they frequently have more than one team in an age group. May 1st is the registration deadline for those who are interested in the travel soccer program.
No matter which soccer program a child or teenager joins,

Bilodeau points out that a participant learns more than the sport itself. "Players learn about team building and playing respectfully with one another and other clubs. They learn to follow instructions and learn life lessons that they can be applied in adulthood."
And there's more. Bilodeau added that being a part of the Windham Youth Soccer Association also benefits adults as well. "Parents gain long lasting friendships. It's as if we become a networking group of parents. I have had the best time as a volunteer, collaborating with other adults in the community in the five years I've been on the board."
Bilodeau also pointed out that parents and youth alike work well together by helping to maintain Gambo Field. "Students and adults help clean and prepare the soccer fields as the season begins." She especially noted that parents,
Rick and Anne Drapeau who own and operate Wildwood Properties in Windham, have been instrumental in the maintenance of Gambo Field. "We've been really lucky to have them on board and volunteer with us," she said.
The volunteer coaches, board members and referees are offered opportunities to help everyone succeed in the program. Windham Youth Soccer provides education and licensing while maintaining strong and consistent enrollment. "We also adhere to the Soccer Maine guidelines and do background checks and Safe Sport Training for all our volunteers," Bilodeau said
To learn more about how to participate in the Windham Youth Soccer Association, whether it is as a parent, a coach, a referee or a player
,

contact
Jason Weatherby, President at
Jasonweatherby@hotmail.com
. Or for travel soccer questions contact Travel Director Amy Bilodeau at
Amy.bilodeau@yahoo.com
. Be sure to f
ollow Windham Youth Soccer on Facebook and peruse their website at
www.windhamyouthsoccer.com
.