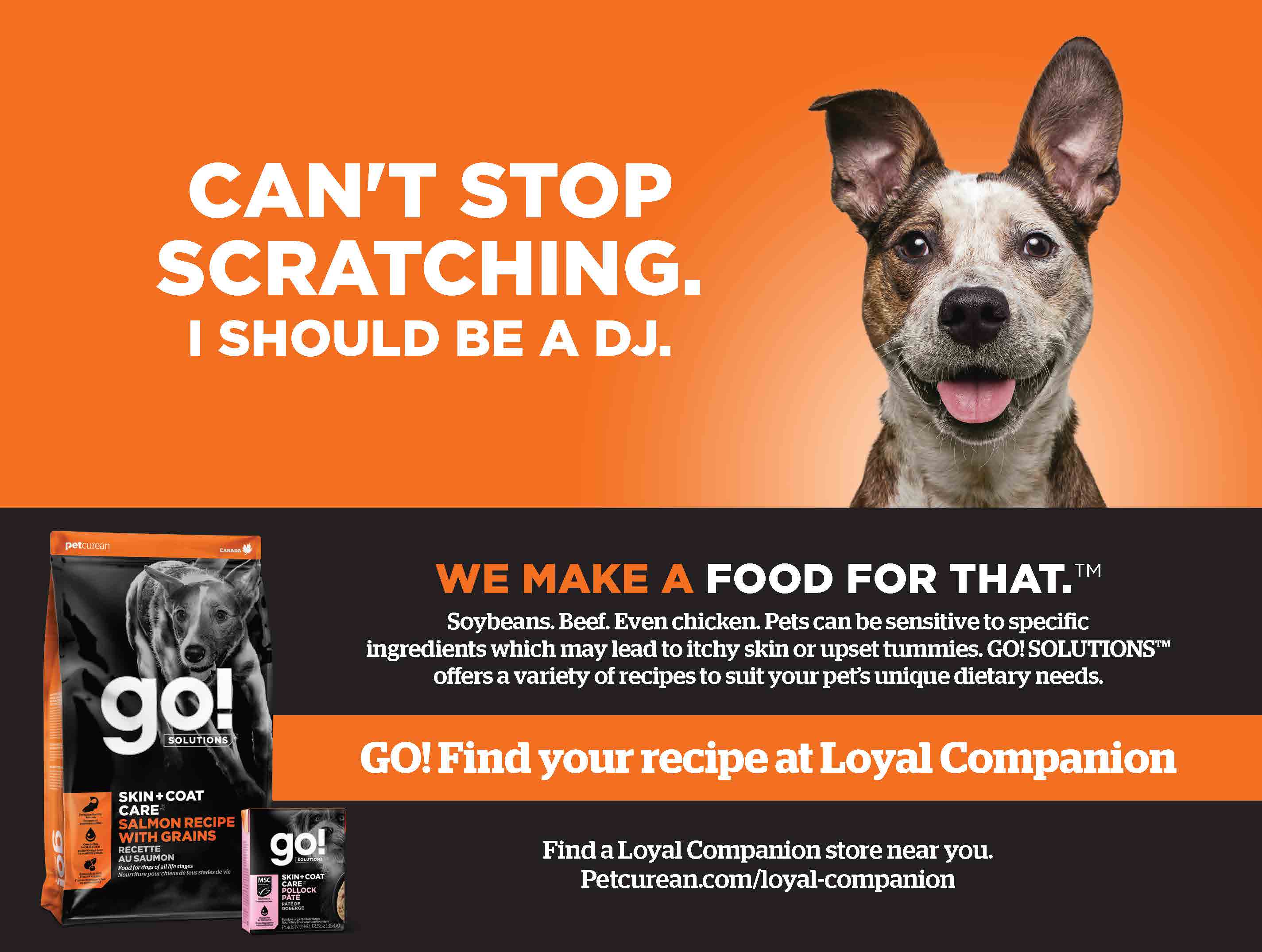 Petcurean, a premium quality pet food manufacturer that specializes in creating nutritionist-formulated, premium-quality recipes for cats and dogs, is excited to partner with Loyal Companion stores to introduce the company's GO! SOLUTIONS™ collection, including the Loyal Companion pet store right here in Windham.
Loyal Companion, located at 770 Roosevelt Trail in the Shaw's Shopping Plaza has on its shelves the specially formulated pet food by Petcurean's Nutrition Team, led by Dr. Jennifer Adolphe PhD, who is recognized across North America for her expertise and influence in the pet food industry.
The GO! SOLUTIONS collection features wet and dry recipes for dogs and cats. Each recipe provides complete and balanced nutrition, while also offering functional benefits to support pets' unique dietary needs, including picky eating, itchy skin or dull coat, and food sensitivities. With zero growth hormones, by-product meals, and artificial colors, flavors or preservatives, the complementary wet and dry recipes are formulated for easy combination feeding to add flavor variety and increased moisture to pets' daily mealtimes.
Petcurean's GO! SOLUTIONS recipes for dogs are complemented by a line of meal mixers, which feature freeze-dried functional ingredients to help address issues like skin and coat care, hip and joint support, digestive health and weight management.
"Launching GO! SOLUTIONS is an exciting opportunity to introduce Petcurean to pet parents who are committed to providing the best possible care and nutrition to help their pets live happy and healthy lives," says Anabel Immega, trade marketing manager at Petcurean. "At Petcurean, we focus on being leaders in science-based pet nutrition, and we know that Loyal Companion shares that commitment in their mission to be a singular, knowledgeable destination for consumers to find the best possible mix of products to suit the needs of each and every pet. By extension, we also look forward to further deepening our connection to pet parents and their four-legged family members across New England."
All GO! SOLUTIONS wet food recipes are packaged in sustainable Tetra Pak® cartons, and Petcurean is currently the only brand to offer Tetra Pak recipes in shredded, minced and pâté formats, in addition to stews. This provides highly palatable texture options for cats and dogs that may have varying preferences due to age, breed size and other factors. They can be served as a treat, topper, or as a complete and balanced meal on their own.
There are many happy customers (and their pets) who share their GO! SOLUTIONS stories:
"My 2-year-old cat has been eating Petcurean cat food for a year," Natalie said. "I was buying trout+salmon for her until I decided to try this new recipe: . She loves it. I've read passages about feline mineral deficiency, and Petcurean's dry cat food satisfies the daily requirements of mineral intake. What I like most is the low level of carbohydrates and high level of proteins. And of course, the first four ingredients are specified species of fish, which is great because the protein in this dry food mainly comes from animals. This brand is a hidden gem in my city. I love this brand, Petcurean, so much."
Then there is Lee Ann and her dog, Rex who battled hair loss, itching, digging and chronic ear problems. "I saw an ad for GO! SOLUTIONS online and decided to give it a try. After two weeks his eyes were crystal clear. His coat started growing back very silky and shiny. The scratching and digging stopped completely and there were no more ear problems! Never give up on finding something that will completely change the health and well-being of your pet for the better. Hard to believe that something so simple could make such a drastic transformation in the health of my dog. We can never thank you enough for such a great quality food. My dog will be seven this June and does not even look or act like a senior."
Petcurean pet foods are sold exclusively through pet specialty retailers in Canada, the United States, and more than 30 countries internationally. At Petcurean, with every decision they make and every recipe they create, they put pets first. Please visit
www.petcurean.com
for more information.
To promote the health and happiness for your dog or cat, be sure to purchase your next GO! SOLUTIONS collection of pet food (and a belly scratch for the four-legged customer) at Loyal Companion. Hours are 9 a.m. to 8 p.m., Monday through Saturday and 10 a.m. to 6 p.m. on Sundays. The Loyal Companion experts are available to answer your questions at
(207) 892-8825