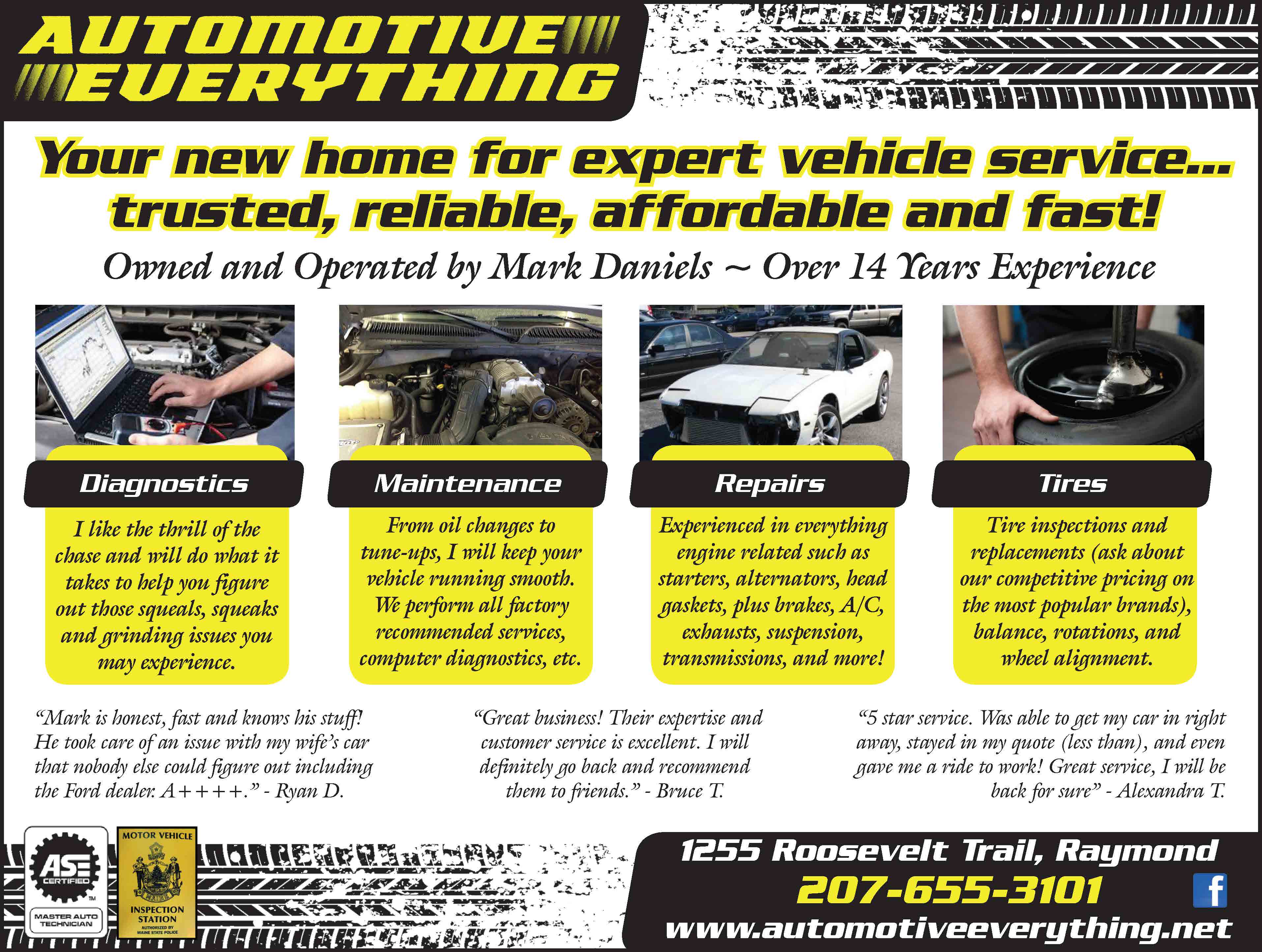 If your vehicle's check engine light glows on your dashboard, more often than not it is trying to alert you of something gone wrong. Mark Daniels, the owner of Automotive Everything can find out what the problem is, sending you and your newly repaired vehicle on its way home safely.
Located at

1255 Roosevelt Trail

, Daniels provides the latest in diagnostic equipment. Automotive Everything is one of the very few automotive repair centers in the Windham and Raymond areas that offers module, can-bus communication and electrical interference diagnosis.
"Vehicles are run by hundreds of sensors and computers and they control almost everything," explained Daniels. "If one thing goes wrong, it can affect another part of your car's electrical system and finding the problem is almost impossible. It takes high-quality diagnostic equipment to analyze and find where the original problem is and here at Automotive Everything, I have the equipment that can detect it."
Automotive Everything officially opened its doors in July of 2019, providing all vehicle service needs including inspections, alignments, oil changes and more on both domestic and foreign vehicles to include Audi, Mercedes Benz and BMW.
Formerly known as Auto Werke, this turn-key automotive repair business had an intentional transition plan with only one thing in mind – making sure customers remain happy and providing the same great, superior service.
"I had been wanting to retire for a while but did not want to quickly sell my business to just anyone," stated Tom Blackburn, owner of the former Auto Werke business. "I knew Mark because he worked for other auto service businesses in the Lakes Region and knew from experience that he was the best mechanic in the area. In fact, if there is something other mechanics can't figure out, they often reach out to Mark to help them. When I discovered he was in the process of purchasing his own automotive business, I called him and offered him a deal he couldn't refuse. I knew that I could trust Mark to continue giving the high-quality service I demanded of myself. Afterall, it is due to my customers and their trust in me that gave me my successful business and thus the ability to retire - I owed my customers a continuation of the same service they have been receiving for over 20 years with me. I found that with Mark and I was able to retire without concern."
Daniels has been working in the field of auto mechanics for approximately 15 years. However, he admitted that his first love was construction and woodworking. While in high school, Daniels worked with his father during school breaks and on weekends. Once he graduated in 2005 from Bonny Eagle High School, he worked for a few construction companies believing that he had found his niche in life. But while working part-time at an auto-parts store and then at a transmission repair shop, he discovered he enjoyed working on vehicles more.
"It helped that one of the technicians took me under his wings, so to speak, and taught me much of what I know today," explained Daniels. "From there, I knew I wanted to work with vehicles instead of homes."
Mark Daniels with his sons Zachary (left) and Chase
As the name suggests, Daniels at Automotive Everything can do just about everything including fluid film rust preventative maintenance program.
People come from just about everywhere in the greater New England area as he continues to build the trust that Blackburn began.
"I still have customers who come from South Portland, Buxton and other Southern Maine towns to get the cars serviced here. And during the summer, I also have clients from as far as New York and New Jersey."
The following statements are from a few satisfied customers:
"

Mark and his team at Automotive Everything have serviced three of our vehicles. The diagnosis, repairs and follow-up are exactly what we are looking for in a service facility -- specifically, communicating priority of repairs that are needed in order to keep our vehicles safe and in good working order. We are very pleased that we can count on Automotive Everything and highly recommend them to anyone that has a vehicle in need of repairs and that wants those repairs done right."
"Mark did great during a very frustrating time. He had my transmission replaced much sooner than he had originally told me, (Finished in less than a day and a half!) and his estimate was spot on; no surprise costs after he started the work. Fair price, reliable work, and just a good guy."
As for Blackburn, he stated, "I'm very happy with how Mark has continued on in this business – and I know for a fact that my customers are happy, too!"
The next time your engine light comes on, be sure to give Mark Daniels at Automotive Everything a call at 207-655-3101 or email him at automotive.everything@yahoo.com. Be sure to also follow Automotive Everything on Facebook.