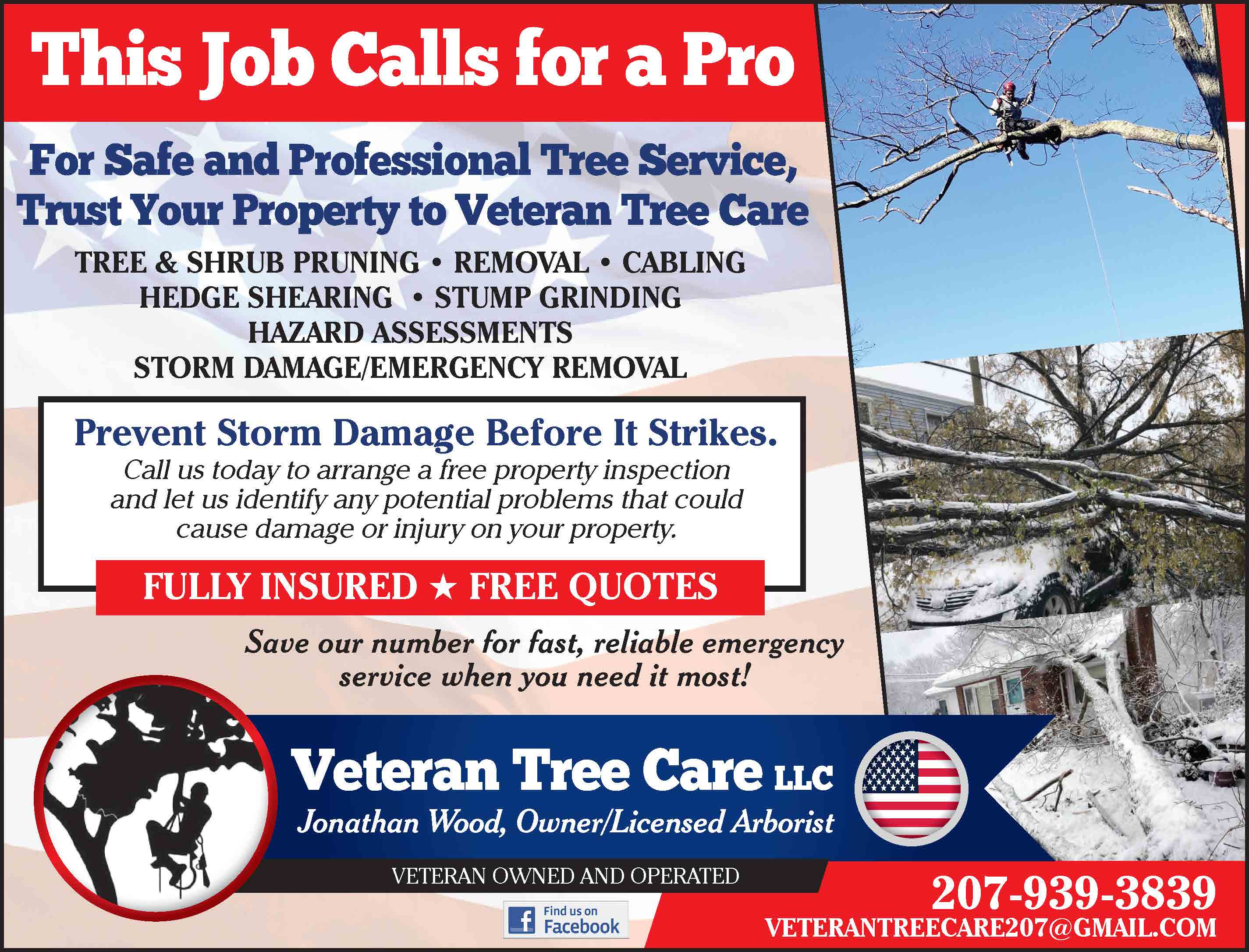 With ten years of experience under his tree climbing belt, Jonathan Wood of Raymond is making a
name for himself in the professional tree care business. Wood, who is a licensed utility and landscape arborist and owner of Veteran Tree Care, LLC provides knowledgeable, safe and professional tree care expertise – and provides it with a fast, reliable and personal touch.
Officially opening his entrepreneurial debut five months ago this past June, Wood is already at the helm of success as a tree "surgeon" and expert, answering many calls and requests that have come his way in the recent months. "I've been amazed and honored at how many requests I have received," stated Wood. "Since I began my company in June of this year, 70 percent of my business has come from word of mouth by my customers who are elated by the work I've provided for them."
Although Wood believes his ability to deliver high-standard customer service will win the hearts of his clients and prove his level of professionalism, he also knows that branding his skill, competence and dependable expertise will set him apart from the rest. "I have noticed recently that there are other tree care companies that are forming their own small enterprise efforts," Wood stated. "I applaud them because I know what it takes to start a new business on your own. But I wish to set myself apart from the rest by proving my ability as a trustworthy, ethical , honest and professional business owner and arborist. Because - that is who I am."
Jonathon Wood doing what he does best
There are many reasons why Wood stands out from the rest. First, it takes courage to start a new business and Wood knows a thing or two about courage. "I was always intrigued by the GI Joe enthusiasm of my youth," stated Wood. "As soon as I graduated from high school in 2000, I joined the Maine Army National Guard's 133rd Engineer Battalion in Westbrook and was sent to Fort Leonard Wood, Missouri for basic training and A.I.T (military job training).".
Within four years after his training at Fort Leonard Wood, Wood was deployed to Iraq in support of Operation Iraqi Freedom.
He returned to Maine a different man. He tried to find himself and his calling by exploring a variety of job opportunities. Wood discovered what that vocation was when he worked for a well-known tree company. "I was hooked as soon as I climbed my first tree," Wood stated. "Once I decided this was the career I had been looking for, my focus turned to educating myself in all aspects of
the job with the aspiration of owning my own tree care business one day."
"Between my love of climbing trees and seeing how happy people are when they see the completed job. I knew I had found the profession I was meant to do. I really love what I do for a living."
His passion translates in doing the best, most professional job possible. But just as importantly, as a husband and father of two children, he appreciates today's busy lifestyle and does his best to accommodate his customers. "I understand busy lives," Wood said. "I am flexible and do my best to meet the needs of potential customers. I work with future and returning clients to schedule meeting times for free quotes and do my best to provide fast, professional services when it's needed most."
Then, of course, are the Maine winters. They are notorious for cold temperatures, ice, snow build up and wind. These factors make winter a stressful time for trees, bushes and shrubs. Veteran Tree Care, LLC will help customers prepare for the winter by offering the following services and providing advice to protect property from tree damage.
Wood offers the following advice as we head into the winter months:
•Be mindful of pine trees near or over your home and driveway.
Wet, heavy snow and ice buildup could cause limbs to break, potentially causing property damage.
•Does the heating fuel delivery truck touch the branches over your driveway?
They will hang much lower with snow and ice on them. Consider having them pruned back and raised over your driveway to help prevent scratching your vehicle.
There is so much more that Jonathan Wood of Veteran Tree Care, LLC can offer. "I am already booking for the spring," Wood explained. "I am making appointments to meet with customers now to prepare for the spring and summer months so that homeowners can enjoy their yards all summer long – or to help them prepare to sell their homes."
Whatever the case may be, Jonathan Wood of Veteran Tree Care, LLC can improve the safety and beauty of your landscape and help homeowners reach their tree care goals. For more information, contact Wood by phone at 207-939-3839 or email at
veterantreecare207@gmail.com
.