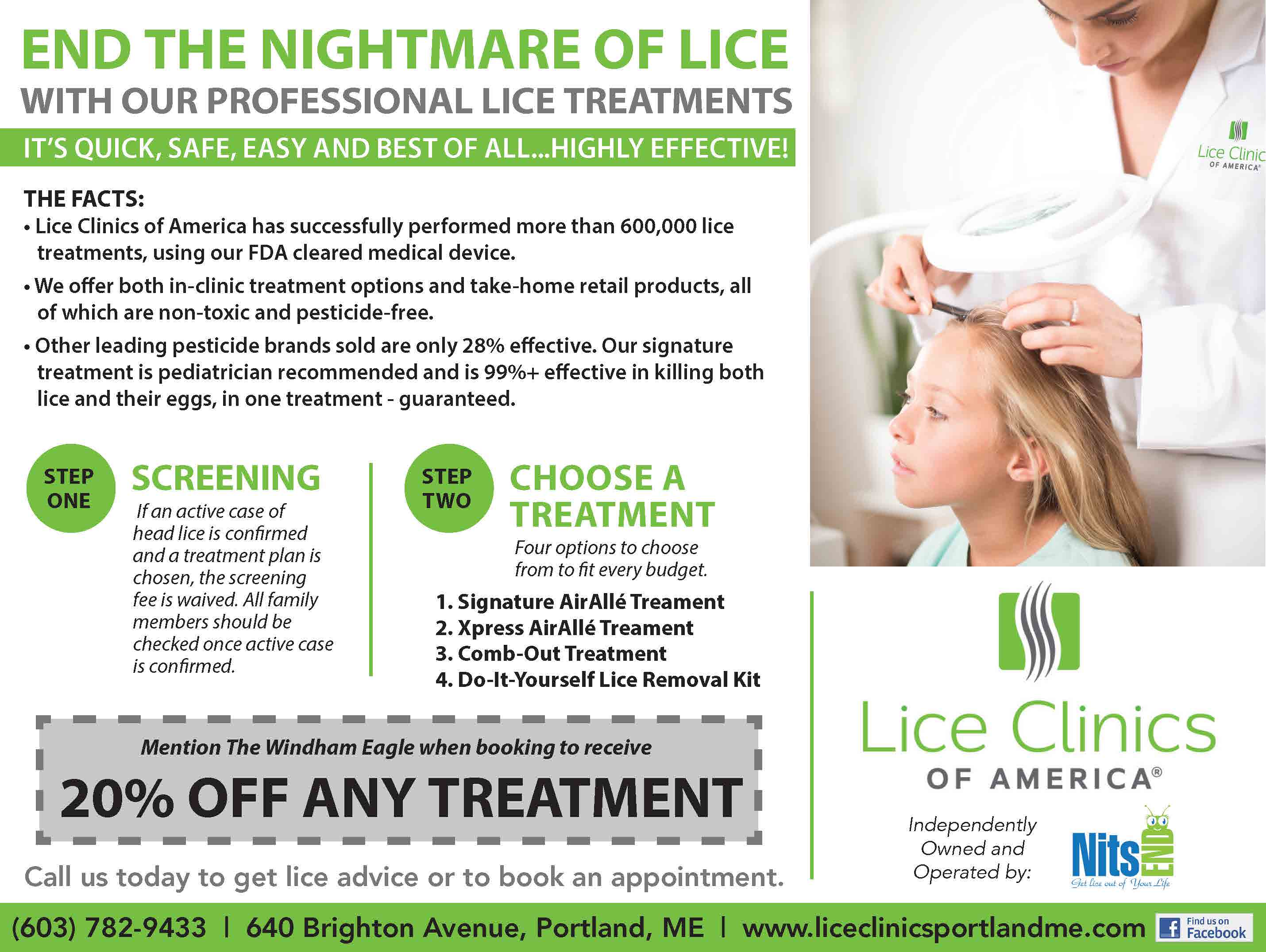 The word, "lice" conjures up many stigmas and fears which contribute to a parent's worst nightmare; discovering their son or daughter's scalp is populated with the head-scratching bug the size of a sesame seed. Because CDC reports between six to 12 million cases of headlice are diagnosed in children between the ages of three and 11 every year, Lice Clinics of America
in Portland is here to educate, inform, prevent and demystify many of the assumptions and false information surrounding this most feared childhood pest.
Located at 640 Brighton Avenue in Portland and serving all of southern Maine including Windham and Raymond, Lice Clinics of America
in Portland (also known as Nits End) works to empower parents with the safest, most successful methods to clear the family of head lice and provide education and prevention.
"It is our mission to not only offer a lice removal service option that is 99 percent effective, but to be a community resource to inform parents, and the public in general, on scientific and factual data to prevent or rectify lice outbreak," stated Owner Christine Cherry. "But perhaps more importantly, we want to be here for parents who feel isolated and don't know who to talk to or where to turn during this often-frustrating time."
Christine knows this feeling all too well. As a parent of small children, she found herself working tirelessly trying to rid her child from headlice. "Everything I tried, from chemical shampoos to organic methods, wasn't working," she began. "I opened this clinic because it was the option I wanted for myself but could not find in my area. I was spending so much time trying to eliminate the headlice but to no avail, it was extremely defeating and frustrating. I also was nervous to talk to other parents about my situation because of the stigma that comes with headlice. I didn't want to isolate myself or my child."
The fact is, lice is an equal opportunity bug, choosing anyone from all social and economic backgrounds as its host. Also, poor hygiene does not play a role in infestation. In fact, clean hair is what lice prefer as it is easier to climb from one hair strand to the next.
But whatever the circumstance, remaining quiet about a headlice situation due to embarrassment only perpetuates the problem. "This is where Lice Clinics of America in Portland comes in," Christine said. "We are here to help parents with an empathic ear – guiding and helping them choose the best option for their personal situation."
Education about lice prevention is the first and foremost measure to keep lice from spreading. Close interactive play, a hug, sharing clothing or hair items and that ever fun-loving selfie are examples in which headlice can crawl from one host to the other.
To rectify an infestation, Lice Clinic of America in Portland provides a variety of options that includes a medical device;
the AirAllé®. It is an FDA-cleared medical device that blows heated air through its applicator tip along the scalp and hair shafts. "It is a dehydration process that kills lice and their eggs," began Christine. "It is a quick louse removal method that is 99 percent effective and is non-toxic with no pesticides or other chemicals used."
AirAllé® has been proven to be such a success that the clinic guarantees this service for 30 days after treatment.
There are other options available to meet individual needs and situations. They include the following:
Screening - Clinicians will carefully inspect the hair and scalp. If an active case of head lice is confirmed, an individualized treatment plan is chosen.
The Signature AirAllé® treatment - This is a three-step process which includes a 30-minute AirAllé® treatment, a 30-60-minute comb-out to remove the dead lice and eggs and an oil application. Due to the success of this option, the clinic offers a
30-day service re-treatment policy
provided all family members have been checked for head lice and treated as necessary.
Express AirAllé® treatment - This option includes a 30-minute AirAllé® treatment and a 10-minute comb-out to remove some of the dead lice and dehydrated eggs.
Comb-out treatment – This is a strand by strand traditional comb-out to remove lice and eggs using only non-toxic products.
Do-it-yourself lice removal kit – This option includes all the topical treatment products you will need, a professional lice comb, and detailed instructions on how to properly perform the comb-out.
There are many five-star reviews for Lice Clinics of America. A Portland parent recently stated, "Christine answered my questions before we even came for our appointment. They are cheaper than their competitor and offer the same exact service! I hope I don't have to go back but I would if I need to!"
Lice Treatment of America also offers complimentary educational presentations for teachers and parent organizations/associations.
Whether you are in doubt about lice infestation, need someone to listen, looking for factual information, or wish to make an appointment for a professional screening or treatment, Christine and her staff will provide the service that best fits your needs. Call
855-648-7363
for an appointment or visit their website at
www.liceclinicsportlandme.com
for more information.