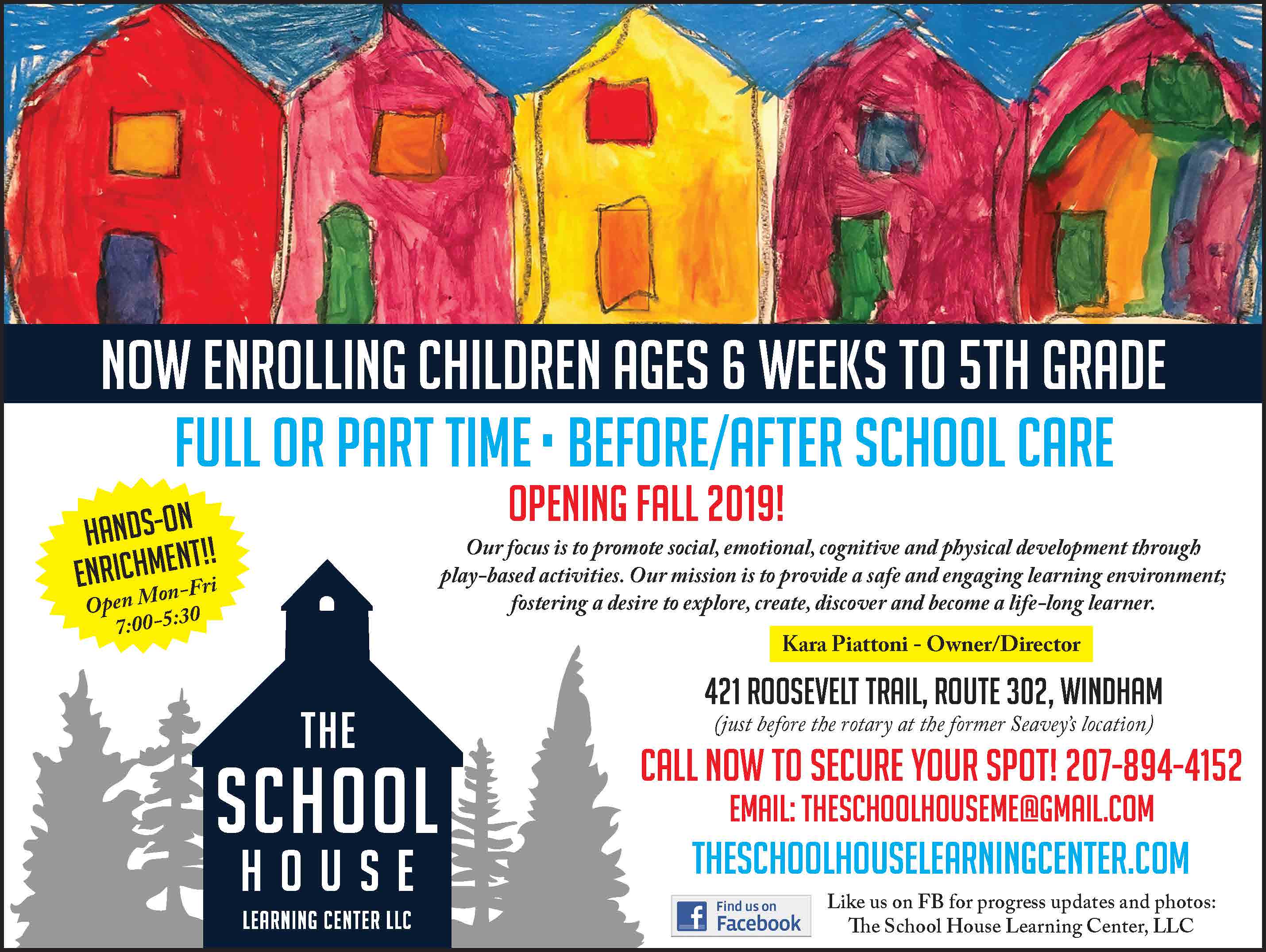 By Lorraine Glowczak
Preparing students for life in a flexible, yet ordered, environment where walls exist but do not confine the learner is one of the many approaches The Schoolhouse Learning Center, LLC takes to contribute to the growth and happiness of a child. Located at 421 Roosevelt Trail in Windham, the newly established preschool that was once the home of Seavey's Appliance store, is under construction and will be open for business prior to the 2019-2020 school year.
"Our educational philosophy and program are designed to prepare students cognitively, socially and emotionally," began Owner and Director, Kara Piattoni. "We do this by creating a sense of community where kindness and life skills, such as listening and following directions, are taught through an exploration method. Although we have rooms for each age group, we encourage the children to explore outside of the classroom walls in a variety of ways with the intent to engage with all children and teachers in a structured manner."
Piattoni
went on to explain that preschool education is so much more than learning your ABCs. It's about adaptation to life's situations - being emotionally, socially and cognitively ready for the next step in school, community and life. The Schoolhouse Learning Center's approach to obtain this goal is through structured, hands-on experiences in a variety of specific skill related activities and classroom settings.
"We will have a movement room where students learn to connect concepts to action and learn through trial and error," Piattoni said. "We also have a tinker room that will serve as a children's workshop and will include a variety of arts and craft tools for skill building experiences."
There will also be a learning library space that will include not only books for students, but the space will be used for quiet time and for teachers and students to work alongside each other on a one to one basis.
"But what I'm most excited about, coming from a family of restaurant owners and chefs, is our kitchen. The kitchen will feature a teachable space, giving students the opportunity to make snacks for their friends here. They will learn simple math, how to measure, and how to work in cooperation with one another. We will also host guests who are experts in the culinary field for demonstrations."
Perhaps more importantly, the students will learn the importance of food and its role in life. "In Sweden, all children learn how to cook at a young age and studies have indicated that they grow up to have a healthy relationship with food as a result," explained Piattoni
Kara Piattoni
Piattoni's experience and passion has gained a following of parents who have already enrolled their students in the school to be opened this fall. Jess and Todd, parents of children who were taught and lead by Piatonni state this on The Schoolhouse Learning Center Facebook page. "We were lucky enough to have had Kara teach our daughter and our son for a few years while they were

daycare age through preschool. She is an amazing teacher who truly cares for all the kids and helps educate them by learning in fun, creative ways.

We are excited to know she will continue to help other children with their development and education through the School House Learning Center! You will be lucky to have your child enrolled here."
Additionally, Piattoni has gained a following from former coworkers in the field as well. "People I've worked with in the past have called and are excited to work alongside with me again," she said. "I have hired many of them because I know their work ethic and I can honestly say I work with people I know, trust and am confident to teach the children in this school, preparing them in a way they will succeed."
The Schoolhouse Learning Center accepts infants and children, beginning at 6 weeks to 12 years old. Before and after school programs are available with transportation provided by the RSU14 bus system to and from the Windham schools. Hours are from 7 a.m. to 5:30 p.m. For more information or to enroll your child, contact Kara Piattoni at 207-894-4152,

via the preschool's Facebook page or the website at
www.theschoolhouselearningcenter.com/
. Mail completed application packets to: PO Box 788, Westbrook ME 04098.