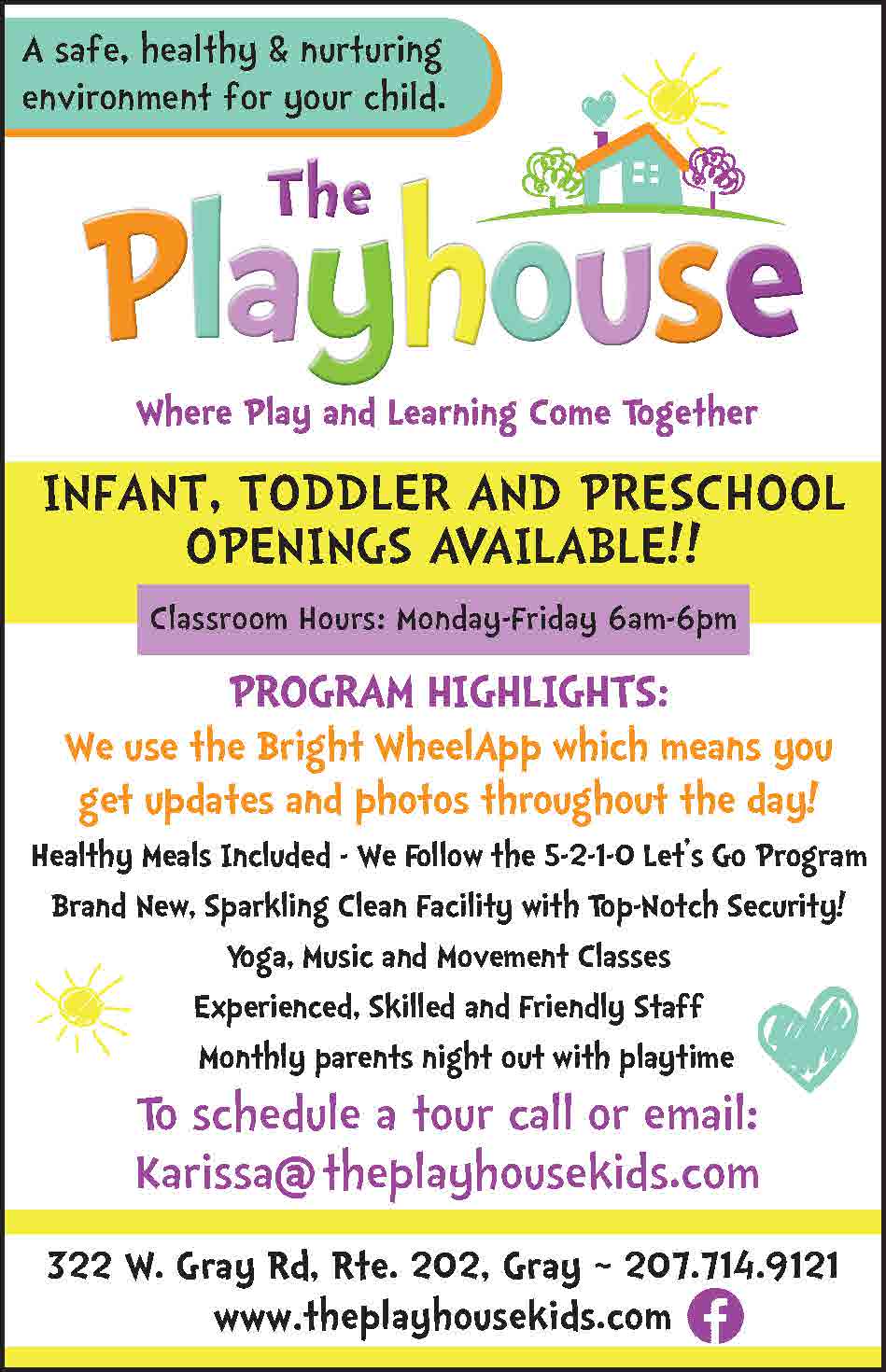 By Lorraine Glowczak
Preschools and early childhood education centers provide an environment for children to explore; gaining social, intellectual and self-confidence skills. Realizing the important contributing factors to their child's success, parents strive to find the best child care, but it is not always an easy feat. Often there are many hurdles to overcome: long waitlists and center hours that often conflict with work schedules. The Playhouse Child Care Center, located at 322 West Gray Road in Gray (with a Westbrook Location coming soon) is about to change all of that.
"As a grandparent, I began to see how difficult it was for my grandchildren to get into the highest quality preschools," stated John F. Chase, owner of The Playhouse. "I wanted to do something to offer my own grandchildren as well as to all other young folks in the Lakes Region community, a high-quality child care center without the long wait."
Also the owner of Chase Custom Homes and Finance in Westbrook, Chase reached out to a 15 year veteran in the early childhood business, Ashley Moulton, whose lifelong dream matched the mission of Chase.
Moulton, who will act as District Manager of the Gray (and eventually the Westbrook) location, stated that child care has been a passion of hers since she was a young girl. "Helping children begin the foundation to a successful life is something I've always dreamed of - and as an adult working with young children, working in this field has been the most rewarding job I've ever had."
According to the parent handbook, The Playhouse's mission is to provide a safe, healthy and nurturing environment for every child. Their philosophy is simple: allow children to learn through play. "At the Playhouse, children follow a formal curriculum, enhanced by meaningful play, which promotes the development of independence, creative thinking, healthy bodies, self-discipline, problem solving, and self-confidence. We realize that children are constantly learning through structure as well as play."
The play-based, hands-on programs will engage children in several ways that includes music and movement classes, yoga, sign language, arts and craft projects and more. All programs will motivate children to become involved in a variety of captivating and fun play-based activities, all the while learning very important skills that will prepare for their future and educational career.
"Every child learns and grows differently," Moulton stated. "We support and guide each child as an individual with a variety of programs from which they can choose and focus on what engages them the most. We also offer an outdoor classroom where children of all ages will be able to explore and learn together. While keeping with the play-based theme, we also want to prepare them for Kindergarten."
As a result, The Playhouse will adhere to and follow the State of Maine Early Childhood Educational Curriculum Standards. "We want each child to be prepared for a smooth transition into the school system," Moulton said. "We will follow the standards and curriculum guidelines by the state and will do so in a hands-on and fun way."
Parents have a lot of decisions to make when it comes to child care and who to entrust with their little ones. "We understand this is a very personal decision, so we are hiring staff with only strong backgrounds and many years of experience in child care," Moulton said. "Our lead teachers have degrees in early childhood education and assistant teachers will work towards earning a degree while taking continuing education classes. We will support our staff in paying for ongoing training and education."
Safety is another factor on parents' minds. They want to know their child will be loved, nurtured and most of all, safe during the day. "Security has been of the utmost importance in the building renovations and design," Moulton said. "Every family will have a key code and all classrooms will have cameras for security and safety purposes."
The Playhouse Child Care Center, "Where Learning and Play Come Together," will be opening soon and is now enrolling children from six weeks to five years old. Slots are filling fast! To learn more and find out about upcoming open house dates, visit their website at www.theplayhousekids.com and the Facebook page.
To request an enrollment packet for your child, contact District Manager, Ashley Moulton by email info@theplayhousekids.com. The Playhouse Child Care is still accepting applications for early childhood educators and infant teachers.
<