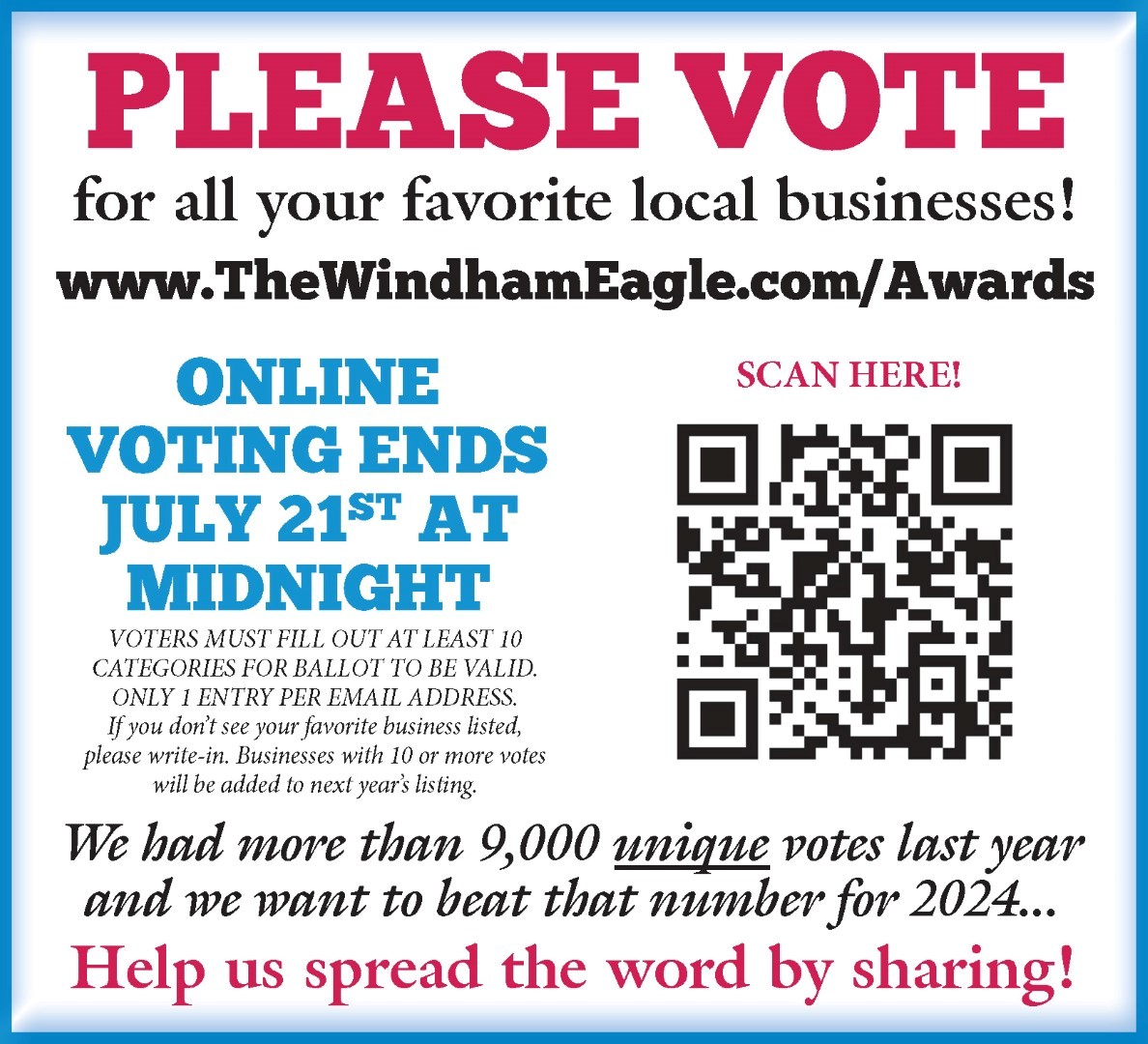 By Lorraine Glowczak
It has been the talk of the town, or perhaps more of a question posed to each other in the community:
"Do you know when the new sushi place on Route 302 in Windham will open?"
The answer is that Eagle Sushi and Steakhouse, 818 Roosevelt Trail, opened Thursday July 25, and is serving Japanese sushi and Teppanyaki style meals. The word on the street now? It was very much worth the wait.
"It took us awhile to find the right contractors and get everything together just as we had envisioned," stated Tinky, who manages the restaurant with her husband and Sushi Chef, Gordon.
Tinky and Gordon are from New York City and they met while working together at a sushi restaurant.
After marriage, they agreed they wanted to continue their career in sushi cuisine with the goal of managing their own restaurant. "My sister, [Fiona], is a Chief Design Officer and entrepreneur in the hospitality industry," began Gordon. "We put our visions together with Fiona, who is the owner, to offer the best sushi in the Lakes Region area.
Why Windham? "It was the big beautiful lake that brought us here," Gordon said. "We are learning to enjoy the quiet." Gordon and Tinky make their home in both Windham and NYC.
The newly updated space that once was the home of D'Angelo's, holds the sun's warmth that bounces from the ceilings made of wood. People were enjoying lunch at tables along the windows as well as a couple sitting at one of the Teppanyaki grills in the late afternoon while I sat down to talk to Tinky and Gordon.
Opened for almost two weeks at the time of this interview, Tinky stated that one young customer has already visited six times. "Each time she comes, she brings members of her family and friends. We have also had other repeat customers."
What keeps people coming back? "We make a lot from scratch. We steam our ramen noodles in real pork bone broth and there are no artificial flavorings. We make our own homemade house dressing that we put on the house salad." This is only the beginning.
What makes them stand out among the many sushi restaurants in the area who also serve hibachi-style food is the more realistic Teppanyaki experience of Japan. According to an upscale sushi restaurant in Manhassett, New York, "In the U.S., the phrase "hibachi-style" is occasionally used to refer to what is really teppanyaki cooking. Hibachi grills are small, portable barbecue grills that are made from cast iron. Modern hibachis in U.S. restaurants are electric so that they can be used to cook food indoors. By contrast, teppanyaki grilling involves using an iron griddle with a flat, solid surface to prepare the food and the heat source is propane."
Gordon pointed out that the exhaust goes down below and behind the griddle as opposed toward the ceiling. "This prevents you and your clothes from smelling like grilled food when you leave the restaurant," Tinky added.
Teppanyaki is also more personal, allowing only two to four people around the grill for a more private experience. There are, however, teppanyaki grills to accommodate six to eight people at a time.
I rarely mix business with pleasure. However, when my admittedly snobbish, sushi loving husband took the day off from work to finish a project on our home, discovered that I had an interview with Eagle Sushi and Steakhouse, he begged to join me.
As I was waiting for him to meet me, the couple sitting at the two person Teppanyaki grill when I first walked in was finished with their meal. After introducing myself, I asked them about their experience.
"We love hibachi food and we eat it wherever and whenever we can," began Julia Burns of Windham who was with her boyfriend, Stearns Wallingford of Raymond. "And to be quite honest, this is by far this best hibachi food we've ever had."
Our experience? We ordered and shared the house salad with the homemade salad dressing, gyoza (pan fried dumplings – we chose pork over shrimp), tuna tartare, a Tiger Roll and Dragon Roll. I had the small Miso Soup while my husband ordered the House Miso Soup (with the biggest chunks of seafood imaginable.)
My husband and I agreed with Julia Burns and Stearns Wallingford. "This is by far the best sushi experience we've ever had. It rivals sushi bars in Portland." It truly was worth the wait!
For more information or to order online for take-out, go to
www.eaglesushi.com
or visit them on Facebook page.