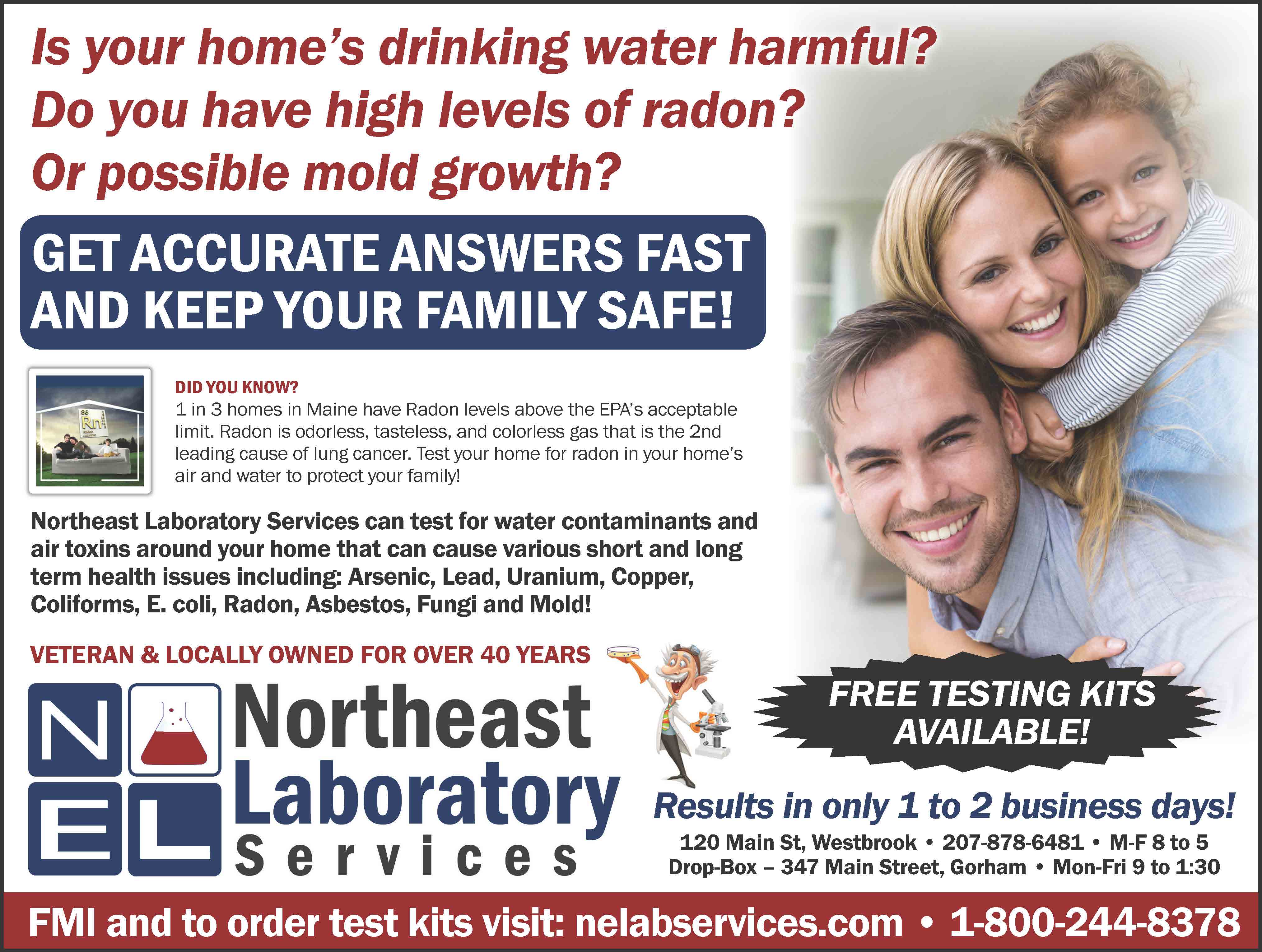 By Craig Bailey
Did you know radon is the second leading cause of lung cancer in America? Erin Bouttenot, Head of Indoor Air Quality at Northeast Laboratory Services (NEL) explained, radon is a naturally occurring radioactive gas that is released from the ground into cracks and drains in our homes. In fact, 1 in 3 homes in Maine have a higher level of radon than the Environmental Protection Agency (EPA) recommended limit. You cannot see, taste, or smell radon, but it can easily be tested for in your air or water.
In addition, Bouttenot reinforced there is often confusion around commonly used terms like "black mold" and "toxic mold", neither of which refer to a particular species of mold. Mold can come in many colors and grow in different ways, just like plants. Some fungi grows dark or black in color and may or may not produce toxins. The effects from mold exposure can vary greatly from person to person. Some individuals have an immediate or delayed response from being in a moldy environment, while others have no symptoms at all. The extent of mold sensitivities can also vary, whereas one person may be sensitive to most, or even all molds, another may only be sensitive to a particular type. The range of responses can present as irritation, allergies, asthma or infections.
Another important reality, shared by Zachary Smith, NEL's Chemistry/Microbiology Laboratory Technical Director, is that water quality can change quickly and without warning. In most cases naturally occurring compounds known to have adverse health risks are tasteless, colorless and odorless. Just because the water looks and tastes fine does not mean it is safe to drink. To identify health risks, a full water test should be performed at least every three to five years on existing wells and a basic safety test should be performed during interim years. Only a laboratory test-preferably by a State of Maine Certified Laboratory-can tell you if the water is truly potable.
As a small locally-owned laboratory, NEL's mission is to deliver accurate analytical data and superior culture media products to promote healthy home and business environments.
When asked, what sets NEL apart in the industry, Bouttenot shared that they are an accredited, full-service laboratory that is proudly veteran-owned and operated in the State of Maine. Their locations in Westbrook and Winslow provide diverse environmental and microbiological testing as well as mass-production of laboratory media products. Their clients range from private homeowners to large, nationally recognized companies.
As an example of the high-quality service NEL provides, Bouttenot mentioned that every day we receive calls or emails from homeowners worried about various environmental health risks. "We educate the public on guidelines and regulations from governing bodies within and outside the state of Maine. NEL provides a full scope of analyses for personalized testing in specific areas of concern. Our easy-to-use sample collection kits identify otherwise undetectable health hazards. Available sample collection kits include: environmental chemistry, water microbiology, radon in water, radon in air, and surface mold analyses."
Northeast Laboratory's analytical reports are tailored towards helping homeowners understand their data versus just having the numbers. For example, the analytical report for their Basic Safety water test provides a side-by-side comparison of results to the EPA limits with a green, yellow or red notation. "This aids our customers in determining steps to move forward. We also provide multiple supplemental materials on sampling and remediation," stated Bouttenot.
NEL's friendly, knowledgeable technicians and support team are available to help with any questions, support and laboratory needs. The company tests seven days a week and provide rapid turnaround with immediate reports via fax or email, as well as U.S. postal mail.
Bouttenot emphasized, "It is our ambition to exceed our customer's expectations while maintaining a safe, welcoming, and professional work environment. Whether you are at the beginning, middle, or end of your testing process, Northeast Laboratory can provide you with the answers you need," stated Bouttenot."
Do not hesitate to contact Northeast Laboratory with any questions related to ensuring a healthy home or business environment. NEL knows that every situation is different and values the time spent with customers to ensure each has the tools and information needed to determine steps forward. Even if Northeast Laboratory doesn't provide a specific service themselves, they are happy to connect you with someone who does.
To learn more visit www.nelabservices.com or call (866) 591-7120.
<