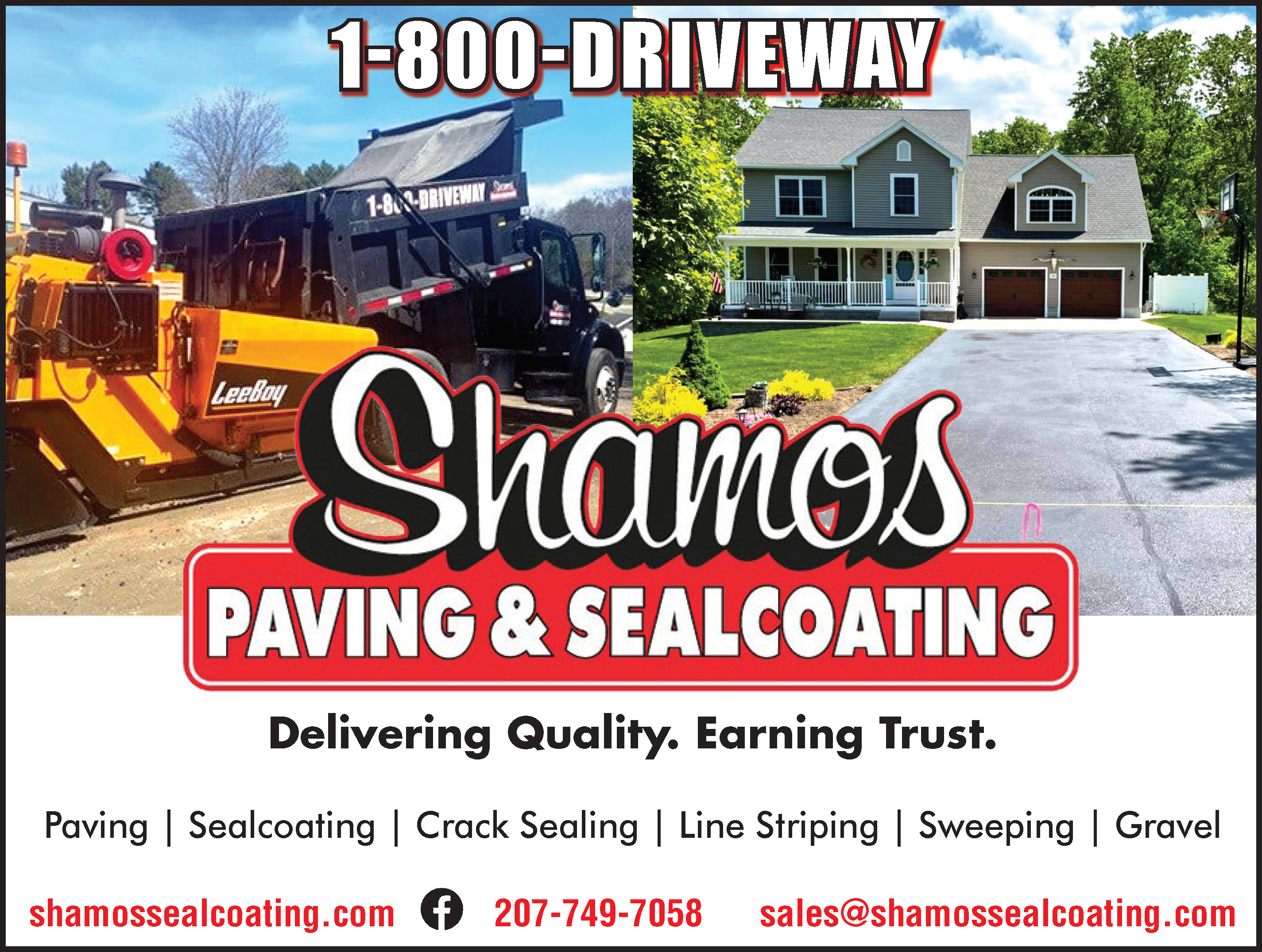 In the business world, a company's growth is not only a sign of success but indicates quality work
that is trusted by the community at large. Shamos Paving and Sealcoating has done just that, creating a reliable name for itself in the sealcoating industry – and now - in the paving business as well, providing both services to residential and commercial clients.
Andy Shamos first began his sealcoating company when he was only 18 years old. It was his summer job and he was able to make it successful through his college years. Shamos was a special education teacher for five years, doing sealcoating during the summer until 2011, when he moved the company to fulltime.
"I enjoy it. I liked growing it, so I stuck with it," Shamos said. Shamos Paving and Sealcoating now has 12 employees, the most they have had, which includes a fulltime office manager and a fulltime estimator. And – they are still hiring!
His crews not only work on patching, sealing, crack filling and line striping anything from a small path to a 100,000 square foot commercial parking lot but also provide pavement services as well.
Last year, we added paving to our list of options," explained Shamos. "Not only did I have the vision to expand my services to include paving, but it was often requested by many of our clients so it seemed like the perfect time to move forward."
Providing meticulous customer service is their key to success.
"One thing that we pride ourselves on is our attention to detail - from the first phone call, right up to the completed project - we focus on the big things, and the little things," stated Office Manager, Katie Sherman. "When it comes to sealcoating a driveway, or repairing a parking lot, or installing a new driveway - the details are what matter the most, and we work really hard to ensure our customers are satisfied with our work. We'll be carrying over that same attention to detail, and satisfied customer mentality, to our paving side of the company, too."
Shamos is a value to the community and a benefit for the individual families from a convenience factor. If the homeowner doesn't have the time or skills to do the sealing, they can rely on us while they go do something they enjoy like head to the beach or go play a game of golf. "You can hire us to come take care of it," Shamos said. "The homeowner doesn't have to worry about anything."
Whether one is a sealcoating customer or a paving client, satisfaction is guaranteed.
"In my 20s, I sealed close to 500 driveways with a large outfit, and can recognize a quality job," stated a sealcoating client, Jeremy T. "These guys were spot on with the prep and detail work around the house, steps, doors, and walkways. The transition lines from hand to spray were great and the fine work around the concrete was perfect.
The modern estimation, quote, invoice system was top notch. Really happy with the work and the price."
Owner, Andy Shamos
The same high quality work is admired by the following paving customer. "
"Amazing work," stated Karen W. "From the first phone call to the estimate at our home to the finale of the stakes out across the end of our driveway today, this was a very good experience. All the crew was friendly and very reliable.
So respectful and professional, I cannot thank them enough for their work. Highly recommended."
Shamos Paving and Sealcoating uses a commercial grade sealer and provides high quality paving products with precision. If a client is looking for a professional who is insured, Shamos fits that bill. "It's important to have good people around to take care of the clients," he said. Because of that, he takes care of his employees with health insurance.
"Call us if you're looking to get the best service for the best price. When comparing apples to apples, we do more for your dollar," he said. Shamos Paving and Sealcoating warranties their work for a year for any defects of sealcoating. "We stand by our work." They did over 900 jobs last summer and still remained detailed oriented, providing the type of service people trust.
In Maine, these values mean something, he said. "If you want quick and cheap, you aren't our customers."
For more information or to receive a free estimate, call 1-800-DRIVEWAY, visit
www.shamossealcoating.com
or call 207-749-7058.