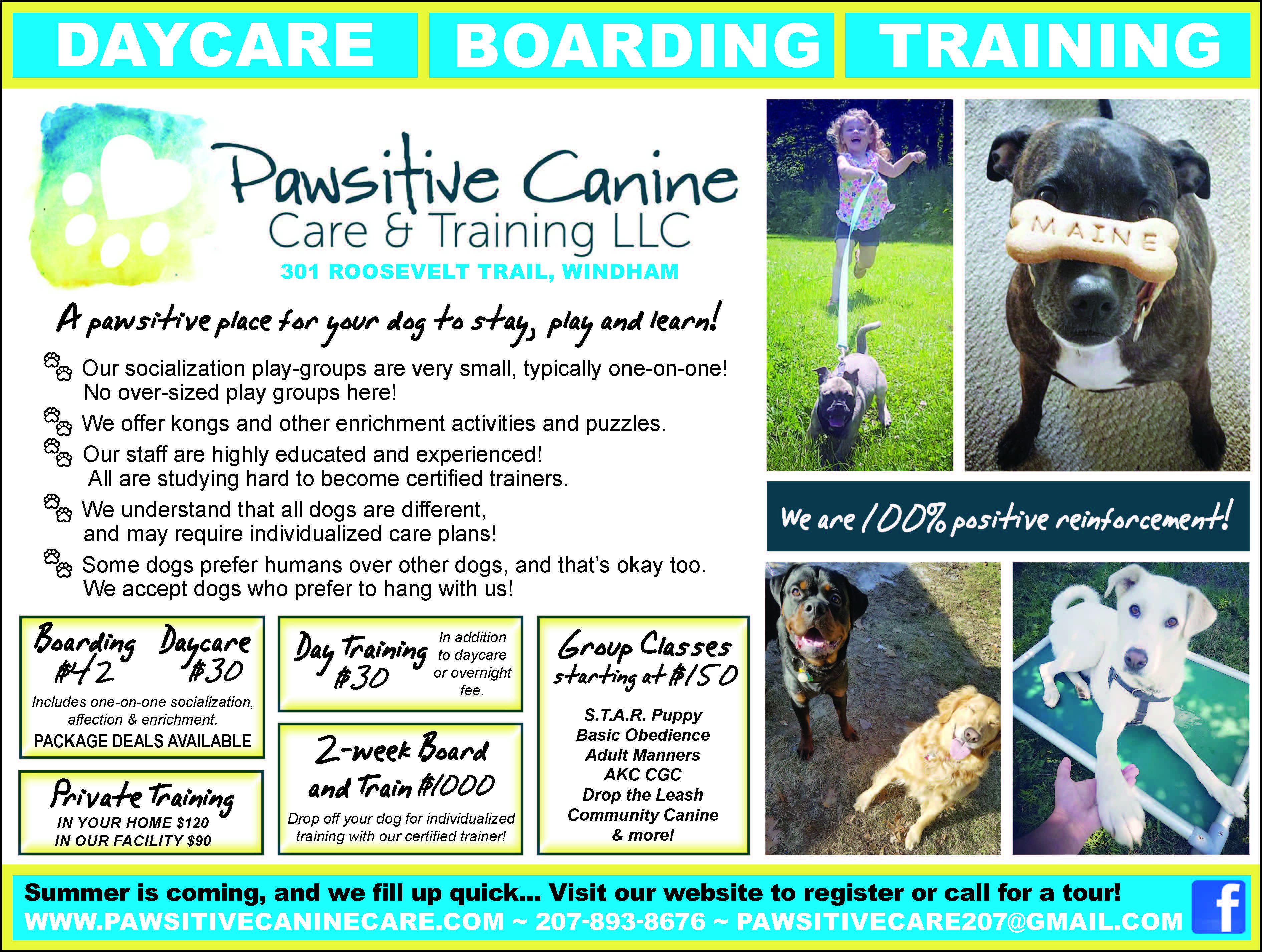 By Lorraine Glowczak
Although there are an abundance of doggie day cares in our midst who provide attention for our lovable pooches as we go about our busy work schedules, Pawsitive Canine Care and Training at

301 Roosevelt Trail in Windham

is a step above the rest. How?
"There are no official certifications or regulations in Maine in regard to dog training and care," stated KT Benard, who co-owns Pawsitive Canine with her husband Jon. KT is a

Certified Professional Dog Trainer - Knowledge Assessed (CPDT - KA). "To be certified takes about 500 hours of training and study as well as a four-hour intensive examination process that is difficult to pass."
Not only does KT hold herself accountable, nurturing the four-legged among us - but her employees are also either certified or are working toward their certification through internships, providing the same
meticulous

care.
"Since there is a lack of regulation, we want to become a dog training facility, offering internship opportunities for those who wish to become certified in dog care," KT said. "We provide opportunities for our staff to attend seminars and work closely with local veterinarians when medical intervention is necessary. Our staff is CPR trained and we have veterinary assistants on board with us. All of this, in turn, provides the ultimate and individualized care for the dogs who stay with us."
Pawsitive Canine Care and Training's "cut above the rest" proficiency doesn't end there. Not only is certification the key to their success, but hands-on knowledge and compassion play an important role, too. In addition to being certified, KT, Jon and employees also have long-term experiences with animal care.
For KT, her experiences began at the age of 18 when she worked at a dog daycare center. "From that center, I adopted a pit bull," she began. "I named her Diamond and she provided the greatest training possible for my future career. In fact, she is the motivating force in creating Pawsitive Canine Care and Training."
Although her calling in life was dog care, KT became a behavioral health care specialist working with homeless youth for the State of Maine. "As part of their personal recovery process, I was steering the children to work with dogs in shelters. It dawned on me after a while, that I was actually steering myself in that direction."
She left the field of young adult behavioral health and moved toward her vocation, assisting with dog adoption and behavioral training, working at various dog care centers, pet shops, shelters and veterinarian hospitals in the greater Portland area.
Jon, who is also trained as a behavioral health care specialist, had passion toward working with dogs, too. Due to Jon and KT's mutual inclination for dog care, their paths crossed, and they began working together in business and …in life, eventually getting married.
And thus, their dream of working together caring for dogs began.
Walty
Pawsitive Canine offers a variety of services from your typical doggie daycare and training options to more complicated behavioral health assistance. One of the most challenging, and yet endearing, stories include that of Walt "Walty" Whitman,
a canaan – which is a very ancient breed from the Middle East
. Molly Chancey and her husband, Michael, of Portland explain how KT and Jon prevented Walty from a death sentence.
"I credit KT and Jon with saving Walty's life," Molly began. "He was a sick, starving, traumatized puppy when my daughter rescued him from a war refugee zone in Amman, Jordan. She brought him to us when he was six months old. We love dogs, but after a while we were ready to give up. Walty was aggressive, fearful, and unpredictable. KT was recommended to us, and she worked with us to transform the situation. I am thrilled they have opened their business. They have made it possible for us to start healing this sweet dog's life! I can never thank them enough."
KT and Jon's level of knowledge, caring and commitment to a dog's life and that of their owners is impeccable. In just six months' time after opening their doors in December, the Benard's business has grown rapidly. They, along with certified trainer, Mim Coward (CPDT-KA) currently offer a variety of training services to include but are not limited to: Puppy Socialization and Manners, The Adolescent Dog, Family Dog and Adult Manners, Shy Dog Training and much, much more. For more information, call 207-893-8676, email at
Pawsitivecare207@gmail.com
or peruse their website at
www.pawsitivecaninecare.com
.
If Walty's story still does not convince you, perhaps Kate DiBiase, whose three dogs enjoy time spent at Pawsitive Canine, will: "We never have to worry if our babies are being taken care of. We drop them off in the morning and can go about our day. Everyone is super friendly and helpful, consistently going above and beyond. We always look forward to the end of the day, when we receive the report card- with pictures of them playing, notes of what they did, and who they played with. We are so grateful to have Pawsitive Canine in our lives."