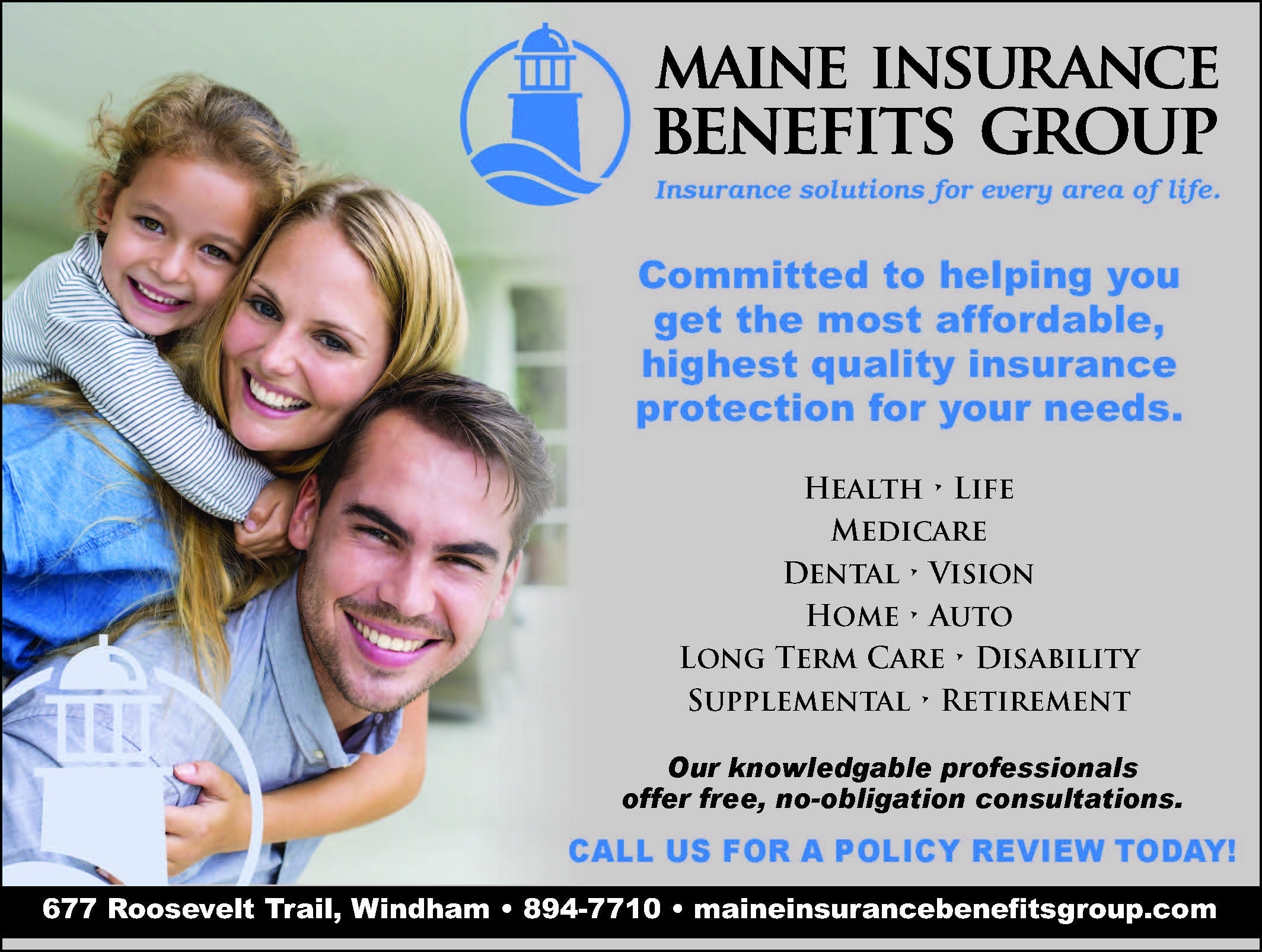 By Gayle Plummer
Wouldn't it be wonderful if there were someone locally to help you with your insurance? To answer your questions? To help you get the right plan? To help you save money? And wouldn't it be wonderful if that help was free? Well, it turns out there is a place to go for all that free help with the varied insurance products available - and it is Maine Insurance Benefits Group located right in Windham. Rand Clark, President of Maine Insurance Benefits Group (MIBG) is genuinely committed to helping people navigate and enjoy the world of insurance, as are all MIBG brokers. They simplify the how-to-process and navigate people through it all…showing folks how to choose the perfect insurance, custom-fit for their personal lifestyle in a manner they can afford.
Brokers are different from typical insurance agents in this way: MIBG Brokers can offer insurance plans from all available sources. They can select from Harvard Pilgrim, Anthem, Martins Point, WellCare, Mutual of Omaha, United Healthcare or Delta Dental and many others. While agents typically have one product to offer from the company they represent, MIBG Brokers can custom-fit your insurances to your needs and your wallet. They do not sell a one-size-fits-all type of product.
Clark shared, "It does not cost the client anything to use a broker because the insurance company pays the brokers, not you. Our clients get a tailor-made match rather than a random choice, which is much more of a perfect fit than they might end up with if they used an agent offering only one product. People will often sign up online, which is not a good plan because most folks don't have enough information to make an informed choice. For example: if you were to choose a company online for your insurance needs and you are a person/family that travels, but the company you selected doesn't cover certain travel situations or criteria – you could pay for coverage with a gap.
Typically the public is just not aware of the different options and offers that are available and plans change each year. Often folks end up with and pay for the wrong coverage for their needs. They are missing out on the perfect fit that makes the insurance process not be a painful one, but in fact, become a peaceful one. MIBG Brokers are helpful in considering who your doctor is, which medications you use, and your travel/lifestyle to fit the policy best suited to your needs. Our advice: Don't fly solo, let us help you. We stay updated on the changes in the market in Maine."
Clark goes on to say, "Our brokers offer much more than insurance options and education. We want to be there in a real personal aspect: answering your questions, listening to your needs, helping you choose products that work for your situations; and offer free yearly reviews of your changing lifestyles and modify your insurance coverage. We want to be your Broker! We want to be your Broker for life. We are there through all your life phases and stages. We are there before claims, during claims and after claims are settled. We guide the young couple just starting out, on how to gently begin the process by selecting products they can afford at the beginning of their lives – perhaps renters insurance. We are there to modify the plan as they grow into a family, to adjust to their needs as the children arrive and houses are purchased; coverage then will be needed for family, home and all vehicles – even snowmobiles and ATV's.

We are also there to help plan for Medicare choices, retirement, college funds, annuities and supplemental incomes to fit all life situations: medical, loss of life, accidents. Life changes for us all and so do the insurance needs."
Clark and all the Brokers at MIBG take personal pleasure in helping folks who are on fixed incomes. Often they can save these people money on their coverages. Many clients have called to thank the Brokers and tell them that they can now afford their prescriptions, or maybe the extra savings allows them to go out to lunch and enjoy life a little more. They are also affiliated with the Senior Planning Center and enjoy helping folks with more than insurance. They are pro-active in: getting people fuel assistance, welfare, MaineCare or anything to help people live a little better lifestyle. "Helping people makes us happy," Clark said. "We care about more than the insurance coverage aspect - we care about the whole person."
One of the many goals at MIBG is to recruit more brokers. They will provide one-on-one training for people in all age groups, no experience required. Clark stated, "We are here to help support a broker who wants to build his own, independent business. We hire brokers throughout the state of Maine."